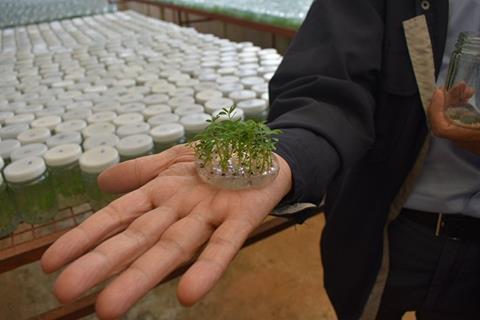 Ethicality, efficiency, and sustainability culpability is often pointed down towards the root of the packaging supply chain. Packaging Europe takes a focussed look at the pulp and paper industry with a visit to a key player on the global market, Asia Pulp & Paper.
Libby White finds out the latest from APP China's state of the art Ningbo mill, and receives a tour of the Hainan Jinhua Forestry Centre Nursery which supports the Group's vast plantations.
We uncover the fascinating journey from tissue culture selection to the final product; Laura Barreiro, sustainability & stakeholder engagement Europe, underlines APP's future goals and focus on sustainability; and we witness the impressive paper machine production line in action and gain insight into the market (both domestic and global) from Kevin Chen, export sales at the Ningbo mill located at Qingzhi Industrial Park.
We also meet leading forestry expert, Dr Wending Huang, deputy CEO, APP China forestry division, who passionately explains his directive on growing the fastest, straightest trees in order to achieve the highest yield- and discover if APP China follows such a direct and speedy path on its own growth towards achieving recognition in its responsible management of forests and ethical stance, as part of the Sinar Mas Group.
APP has received a lot of criticism in the past in association with deforestation in Indonesia but today is keen to point out the sustainability of its practices and investments.
Forestry insight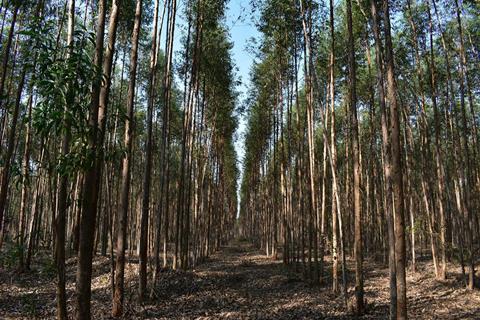 Dr Huang comments, "We manage 70 000 hectares on Hainan island, with approximately 2000 trees per hectare, and 140 million trees in total on Hainan. Overall, APP China has 300 000 hectares of plantation and 600 million trees in total."
Land is rented from local farmers and owners due to China's state or collective owned land and is distributed in mosaic-like patterns. 80 per cent of the forestry comprises of eucalyptus, and the remaining 20 per cent of acacia. APP trusts selective cloning as the best method for harvesting the ideal pulp from the eucalyptus.
Dr Huang explains the delicate process behind selection: "We choose tissue from the best and tallest specimens and cultivate it in our dedicated laboratory and nursery facilities- 25 clone seedlings are cultivated per jar from the selected tissue material. After 30 days, the best are selected and transferred into planting cubes. Then once they have grown to 25-35cm in height (around four months old), they are replanted in the fields. From the very beginning of the process to planting takes around one year.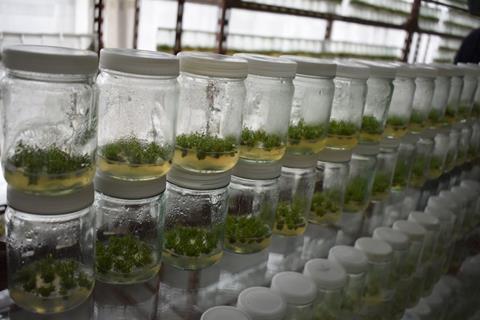 "The eucalyptus tree has short cycles of six to eight years for first generation growth, and typically a coppiced tree regrows in four years. Hainan is an ideal base due to its humidity for a highly renewable and sustainable planting system. We aim to grow the tallest and straightest trees with minimal branches in order to achieve consistent pulp quality and a high wood yield."
Taking a closer look at a specific section of forest plantation, it is PEFC endorsed and CFCC accredited with a 98 per cent survival rate of trees.
An established global player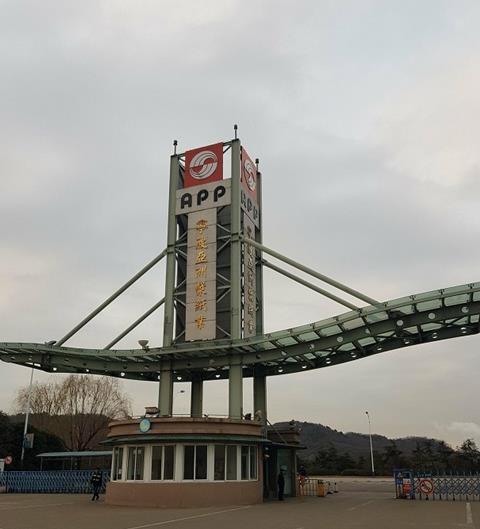 First steps into the Ningbo pulp and paper mill complex and the entrance is dominated by APP's logo signifying a rising sun. As one of the world's largest pulp and paper companies, Asia Pulp and Paper Group is responsible for delivering quality products to meet the growing global demand for tissue, packaging and paper.
In China, it is supported by three major mills- Ningbo Pulp and Paper with around 2 600 employees, Ningbo Zhonghua Paper, and Guangxi Jingui Pulp and Paper. On any given day, its products find their way into the hands of consumers in various branded forms from all over the world. Today, APP markets its products in more than 120 countries across six continents, impressive growth considering it installed its first paper making machine in 1972.
With a capacity of 2 100 000 tonnes per year and a site area of 1 769 999 m² the Ningbo complex is imposing to say the least. The main paper machine production lines adopted by Ningbo APP were custom made by METSO. The machine, equipped with five layers of fourdrinier wires, 8.1 metres in width, was designed at a speed of 900 metres/minute. It is equipped with an advanced quality control system and DCS automatic control system.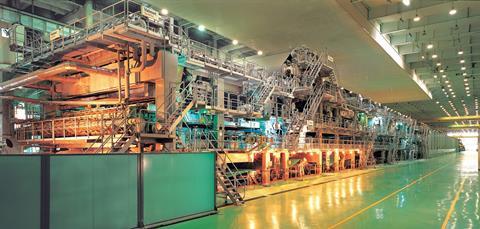 Recent figures across the group accentuate APP's success: in 2015, its capacity exceeded 20 million tonnes of pulp, paper and board, 4 million tonnes of which consisted of board. In 2016, APP achieved pole position on the market in terms of production and 2017 saw expansion through acquisition with a mill purchase in Eldorado, Brazil- expected to add a further 1.7 million tonnes to production.
Kevin Chen comments, "We have plans to expand production in the next two to three years in our Guangxi Jingui pulp and paper mill and are currently applying for the permit to install two new machines- with the expectation of adding 1 million tonnes of production per year. Our Guangxi mill is already home to the widest, fastest, longest, and most state-of-the-art paper machine in the world."
He explains the company's position on the market: "APP China's largest sectors are industrial, cultural, office paper, and tissue. We are the largest tissue suppliers in China and this is our biggest growth sector alongside industrial."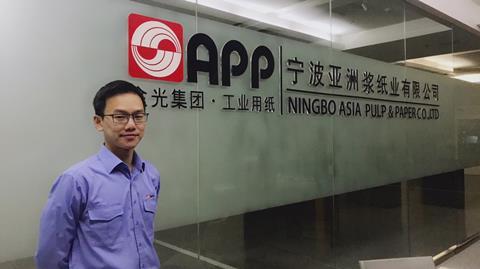 Kevin Chen, export sales
Market insights and European spotlight
APP China will continue to invest in board and tissue. Kevin Chen notes however, "We are witnessing a growing capacity and expansion of mills in Europe, alongside a trend of a switch from paper to board making. We believe the global board demand is expected to advance by 2.9 per cent on average based on a five year forecast from the RISI world boxboard study 2015 - mainly to support the packaging market."
China's shift towards environmental concerns, such as the government's ban on imports of millions of tonnes of plastic waste, a stricter policy on take-out packaging, and the closure of many small paper mills throughout 2017 as the government orders highly polluting, unsafe or energy inefficient plants to shut down, has given the above-board board industry a good opportunity to grow. Kevin Chen adds, "200 small paper mills closed in China and more closures are expected for the government to meet lower emissions targets."
He focuses on Europe, "Central and eastern Europe is our largest industrial board market, and we export around 15 000 tonnes per month, 4000 tonnes of which to western Europe. We have a commitment to our export customers and overall export 100 000 tonnes globally per month solely from our Ningbo mill, even whilst the Chinese market is booming.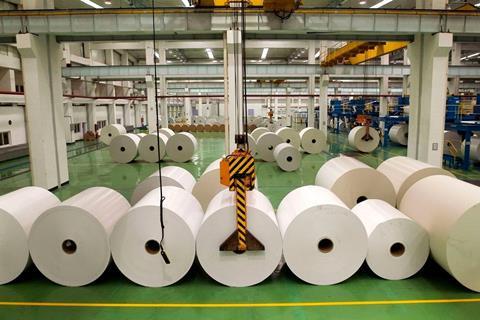 "Our competitors are focussed on the domestic market due to its growth however we export to over 120 countries from our 13 mills based across China and Indonesia, supported by 40 sales offices across the globe." He spotlights Russia and Turkey as important markets, whilst Spain and Italy are also important focuses in western Europe.
Laura Barreiro adds, "Our goal is to localise in our export markets that achieve consistent orders, such as the UK, France, Germany, Italy and Spain. There is a trend for premium packaging in Europe, whereas other markets tend to focus more on quantity. Our lead time to Europe is 30 days- so a cheaper price is reflected than European competitors. We will raise the standards in specific sectors such as on-the-go packaging and e-commerce."
Kevin Chen highlights why APP stands out in the marketplace, "Both APP and other competitors focus on the domestic Chinese market, however other competitors pulled out from the export market and focused solely on domestic China to take advantage of the skyrocketed price. Key ingredients supporting China's demand in industries like ours are the baby boom due to second child policy, growth in e-commerce and technology, growth in the pharmaceutical sector, and growth amongst the middle class with dispensable incomes.
"APP is still committed to the export market even though the domestic Chinese market is very alluring. This is because we as APP commits to customers, plan for the long term and never encourage spot basis selling."
A sustainable focus
APP offers a wide range of products designed to cater for diverse markets. Kevin Chen spotlights APP's higher-end quality Zenith range as most popular in Europe, of which they export around 20 to 30 000 tonnes per month. He comments that Ningbo Fold for general packaging is their most popular range overall and Ningbo Spark is their highest quality product. "APP prides itself as a one stop solution for all paper solutions (excepting paper money!)," He points out.
In line with its sustainable outlook, one of APP's solutions is particularly popular on the UK market: Delipac cupstock.
It is a 100 per cent recyclable, bio-degradable and compostable barrier board for food and drink packaging, and has won the prestigious Ecopack Challenge for best new innovation in sustainable packaging at Packaging Innovations trade fair 2017.
Delipac was unanimously chosen for its innovative use of an intricate bio-degradable eco-coating. The coating – an alternative to usual PE coatings and film laminates – ensures that Delipac is easily recyclable in any paper waste stream, without the need for dedicated waste collection or costly plastic separation. It is also fully compostable and biodegradable within 12 weeks.
Delipac cupstock is the result of a collaboration between London based Delipac Limited and the PT Indah Kiat Serang Mill, a member of the Asia Pulp and Paper Group. It is suitable for use with both hot and cold foods across a range of applications including convenience food, hot beverages and deep freezing. It is fully certified to FLEGT, EUTR, EU, UK and global standards for food, recyclability and sustainability.
Maintaining integrity
APP states on its website:
Maintaining the integrity of our supply chain is crucial to APP's operations as well as our commitment to sustainability. With our Forest Conservation Policy in place, our commitment to sustainability and transparency is a crucial part of our mission and values and is baked into our global business strategy.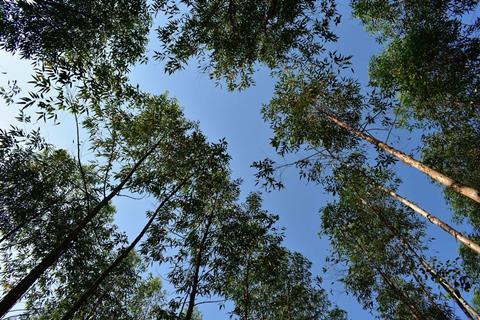 APP is currently in roadmap development phase with the Forest Stewardship Council. FSC has been developing the Roadmap addressing APP's non-compliance with the FSC Policy for Association. The roadmap provides APP with a framework for compensating social and environmental legacy impacts and improving its forest management practices to avoid re-occurrence of Pfa violation in Indonesia.
Laura Barreiro plants a budding seed of thought: "APP is ready to demonstrate as a company our commitment, raise the standard in Asia and become the leading name in sustainability. We are currently in the process of re-associating with the FSC body. It's a long journey with many steps, from informal to formal dialogue and we are agreeing on our RoadMap.
"Achieving FSC accreditation for APP would transform the industry on a business level, and it would be a positive step for the FSC to take a step into Asia. With APP onboard it would put the wheels in motion for other companies to follow our example."
In the five years since APP launched its Forest Conservation Policy, it has made significant progress in achieving its goals as part of its new way of doing business. Laura Barreiro underscores, "We not only aim to be the best in sustainability, we aim to raise the standards."