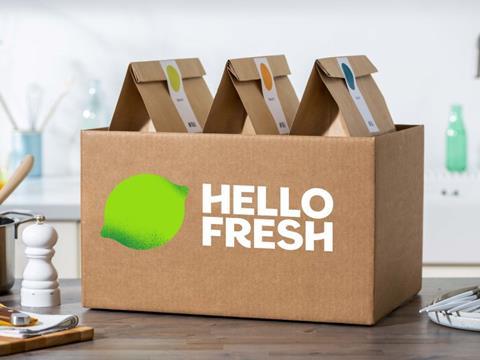 Mealkit provider HelloFresh recently presented their Sustainability Report for 2020, which details plans to further reduce food waste, managing supply chain efficiencies, continuous improvement of packaging solutions as well as ongoing collaborations with research partners. Elisabeth Skoda speaks with Head of Packaging Thomas Regenhardt and Tilman Eichstädt, SVP Supply, Product & Sustainability, to find out more about the company's recent packaging innovations and plans for the future.
Could you tell me a bit more about the pack types and materials you use in your meal kits? What proportion is recyclable?
Thomas Regenhardt: We are increasingly using paper packaging options and mono-materials, both of which can be recycled more frequently. On average, 85% of our packaging is fully recyclable with the exact proportions varying between countries. In the future, HelloFresh will move towards a circular use of packaging. We will work on implementing certified recyclable materials for all essential packaging in each of our markets.
Are there plans to move into reusable packaging?
Thomas Regenhardt: We have been closely collaborating with students and scientists for some time to develop new and innovative packaging solutions for HelloFresh. Together we have developed a reusable HelloFresh box, which is picked up by our delivery service or local postal services within the following weeks, filled with new ingredients and used again for another shipment. We are currently testing this concept in the Netherlands and in Australia. We are always looking for delivery partners that can help us implement these kinds of circular supply chains.
HelloFresh recently launched the Paper Pouch, a cooling bag made from recycled paper. Could you tell us more? How does the cooling performance of the paper bag compare to previously used bags?
Thomas Regenhardt: While developing a cooling solution for our meal kits we experimented with different rigid insulation materials, but also with foam and flexible liners before settling for a cool pouch. The first version of the pouch was made of wool and two layers of different plastics, followed by recycled PET material and now recycled paper. During our extensive research and testing processes we found that plastic or similar materials have a 20% lower thermal conductivity on average than paper and therefore guarantee a better insulation. To reduce our use of plastic, we were determined to switch to paper. As a first step we evaluated if a lower performance would negatively affect our ingredients. We questioned whether our assumptions or parameters regarding our supply chain were incorrect (e.g. critical product temperatures) and updated them where necessary. To solve the remaining lower performance issue of paper materials we explored new ways of transportation like chilled trailers, which compensated the changed insulation. Another way of how we improved the cooling performance throughout the supply chain was by designing the cool pouch in a way that keeps the ingredients close together and close to the ice packs. In scenarios like increased heat waves, which we experience nearly every summer, we adjust the amount of ice used in order to keep up the cooling performance.
Hello Fresh's packaging and ice configurators are programs that autonomously calculate the exact amount of packaging material and water ice packs required for each delivery. How does this work?
Thomas Regenhardt: The packaging configurator helps us to better utilise and save secondary packaging by using big data. We are currently calculating the volume of each SKU we use for our recipes. The packaging configurator takes this data and - using AI - determines the packaging size required for a specific combination of ingredients (including a security buffer).This way we prevent customers from receiving boxes, cool pouches and meal kit bags that are only half full. At the same time, we save packaging material, which means that we have to use less pallets and trucks in transport, which will essentially help us reduce CO2 and unnecessary costs.The ice configurator determines the smallest number of ice packs needed for any specific shipment based on a variety of factors. These include the length of the delivery route, the current weather conditions and the ingredients that need to be cooled. The ice configurator helps us to reduce the number of ice packs while keeping all ingredients at the temperature they require in order to stay fresh.
How does HelloFresh address the topic of food waste?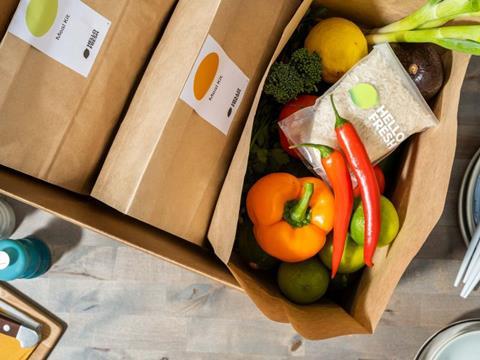 Tilman Eichstädt: Reducing food waste is a key element of HelloFresh's sustainability strategy. Our lean, make-to-order business model pulls exactly the right quantities from the supply chain based on customer orders, rather than estimating demand and wasting unsold stock. This prevents over-purchasing and creates much lower levels of waste than traditional food retailers. Inside our production facilities, less than one percent of food gets wasted. Once HelloFresh meal kits reach customers' homes, the pre-portioned ingredients will minimise leftovers and food waste. A study conducted by the Wuppertal Institute revealed that with a HelloFresh dinner, customers waste on average 21% less food compared to a meal cooked from scratch with ingredients bought at a traditional supermarket. We also continue to work closely with our suppliers to minimize inefficiencies in their operations. We are testing and implementing new innovations on a regular basis. Just recently we successfully tested the accessibility and acceptance of the Keep-it® shelf life indicator with Dutch HelloFresh customers. The smart sensor technology of Keep-it® constantly monitors the product's temperature over time, and shows the actual remaining shelf life. It's an innovative alternative to the rigid and often misunderstood "Best Before" and "Use By" expiration dates which lead many consumers to dispose of supposedly spoiled food. Our sustainability team was intrigued by the Keep-it® concept and wanted to test its viability for meal kits.
Are there any other packaging innovations in the pipeline that you would be able to talk about?
Thomas Regenhardt: We are currently working intensively on changing the packaging of dry goods (such as rice, quinoa, nuts, etc.) to recyclable paper in all of our European markets. We have been planning this for some time, and now we have finally completed the implementation. We will shortly be rolling this out to our customers.
Have you noticed increased demands due to the COVID-19 pandemic? How do you envisage the meal kit delivery industry developing in the coming years?
Tilman Eichstädt: HelloFresh was already on a strong growth trajectory at the end of 2019 and in the first quarter of 2020 before the pandemic. During Q3 2020 we reached an all-time-high of five million active customers, with the number of meals delivered increasing by 135% to more than 162 million.The trend towards eating more meals at home has accelerated during the pandemic and we consider the key drivers for this to have become permanent. The online food category is still years or decades behind other established categories such as electronics or apparel and it is expected to grow more than 100% in the next five years.In the mid-term we're looking to further grow our footprint by growing our total addressable market, including expansion to new geographies and launching new brands and by capturing a higher share of our customers' food budget.
Are there any challenges that have to be overcome to achieve further growth?
Tilman Eichstädt: On the one hand we need to make sure that our production capacities in some markets match our fast growth over the recent quarters. We've already made good progress by launching two new production facilities in the US and one new site in the UK and we will continue to expand across other geographies. In addition, we need to invest in continuous product innovation as we want to provide our customers with the best offering around convenience, health, sustainability, choice and price.