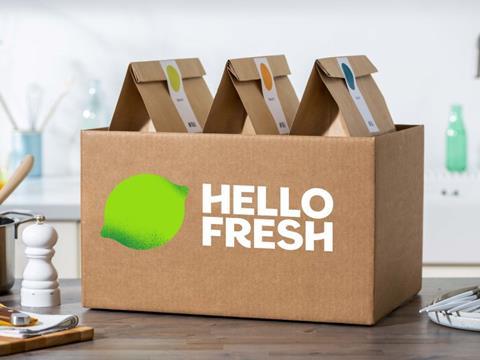 Tilman Eichstädt: Reducing food waste is a key element of HelloFresh's sustainability strategy. Our lean, make-to-order business model pulls exactly the right quantities from the supply chain based on customer orders, rather than estimating demand and wasting unsold stock. This prevents over-purchasing and creates much lower levels of waste than traditional food retailers. Inside our production facilities, less than one percent of food gets wasted. Once HelloFresh meal kits reach customers' homes, the pre-portioned ingredients will minimise leftovers and food waste. A study conducted by the Wuppertal Institute revealed that with a HelloFresh dinner, customers waste on average 21% less food compared to a meal cooked from scratch with ingredients bought at a traditional supermarket. We also continue to work closely with our suppliers to minimize inefficiencies in their operations. We are testing and implementing new innovations on a regular basis. Just recently we successfully tested the accessibility and acceptance of the Keep-it® shelf life indicator with Dutch HelloFresh customers. The smart sensor technology of Keep-it® constantly monitors the product's temperature over time, and shows the actual remaining shelf life. It's an innovative alternative to the rigid and often misunderstood "Best Before" and "Use By" expiration dates which lead many consumers to dispose of supposedly spoiled food. Our sustainability team was intrigued by the Keep-it® concept and wanted to test its viability for meal kits.
Are there any other packaging innovations in the pipeline that you would be able to talk about?
Thomas Regenhardt: We are currently working intensively on changing the packaging of dry goods (such as rice, quinoa, nuts, etc.) to recyclable paper in all of our European markets. We have been planning this for some time, and now we have finally completed the implementation. We will shortly be rolling this out to our customers.
Have you noticed increased demands due to the COVID-19 pandemic? How do you envisage the meal kit delivery industry developing in the coming years?
Tilman Eichstädt: HelloFresh was already on a strong growth trajectory at the end of 2019 and in the first quarter of 2020 before the pandemic. During Q3 2020 we reached an all-time-high of five million active customers, with the number of meals delivered increasing by 135% to more than 162 million.The trend towards eating more meals at home has accelerated during the pandemic and we consider the key drivers for this to have become permanent. The online food category is still years or decades behind other established categories such as electronics or apparel and it is expected to grow more than 100% in the next five years.In the mid-term we're looking to further grow our footprint by growing our total addressable market, including expansion to new geographies and launching new brands and by capturing a higher share of our customers' food budget.
Are there any challenges that have to be overcome to achieve further growth?
Tilman Eichstädt: On the one hand we need to make sure that our production capacities in some markets match our fast growth over the recent quarters. We've already made good progress by launching two new production facilities in the US and one new site in the UK and we will continue to expand across other geographies. In addition, we need to invest in continuous product innovation as we want to provide our customers with the best offering around convenience, health, sustainability, choice and price.