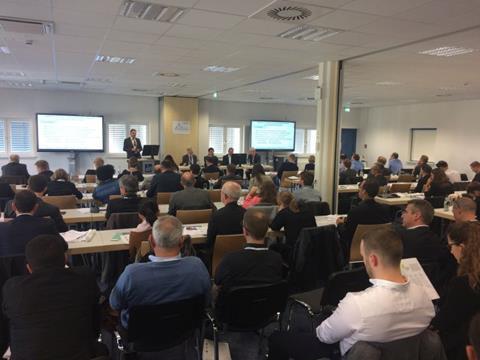 Brussels EDANA, the leading global association and voice of the nonwovens and related industries, has announced that once again the Nonwovens Innovation Academy (NIA), held from 25th - 26th October at STFI – Sächsisches Textil Forschungs Institut- in Chemnitz, Germany, delivered on its promise to help connect the industry and the nonwovens centres of excellence, from Europe to the Middle East, India and North America.
Over 100 R&D and innovation managers, product developers, researchers and students, all part of the broader nonwovens community, gathered to share knowledge and seek inspiration to contribute to the effort of the nonwovens industry in creating new solutions and improving current applications.
The first day started with a visit of the STFI research facilities in small groups to foster interactions and dialogue. Omar Hoek, Executive Vice President Ahlstrom-Munksjö, opened the conference with an inspirational talk, encouraging the research community to focus on the primary innovation mindset by getting out of their comfort zone and answering the tough question: "What are we really trying to solve?".
The conference programme was divided in to 5 sessions, addressing the industry's topical issues and questions of our time:
- Saving time and resources in product development by modelling and predicting new fabric properties first, rather than building and testing prototypes upfront
- Biopolymers' real benefits?
- New process developments saving energy and improving performances
- Lightweighting, recycling and their limitations
- Better understanding medical nonwovens for the benefit of both manufacturing and clinical practice
"As ever, the value of the Nonwovens Innovation Academy lies in sharing perspectives of various aspects of nonwovens with fellow researchers and industry representatives from across Europe and indeed beyond" said Steven Russell, Director Nonwovens Research Group, University of Leeds.
A key feature of the event was The Poster Competition for which students and researchers from a number of centres of excellence were selected to present their latest work within the broad range of topics. The academic posters displayed in the NIA networking area, provided stimulating interactions between the students and the conference participants.
"Subjects presented in the poster session were largely very topical and ultimately of real societal value, from cleaner air filtration, to regenerative spinal cord media, and improved fire protective wear to self-learning optimization processes that can be used to optimize multiple process operations" said Eamonn Tighe, Business Development Manager, at NatureWorks.
The NIA reception was the occasion for EDANA to congratulate and praise Wolfgang Schilde, Head of the Centre of Excellence in Nonwovens at STFI, for his 40 years of invaluable contribution to the nonwovens industry.
More info: