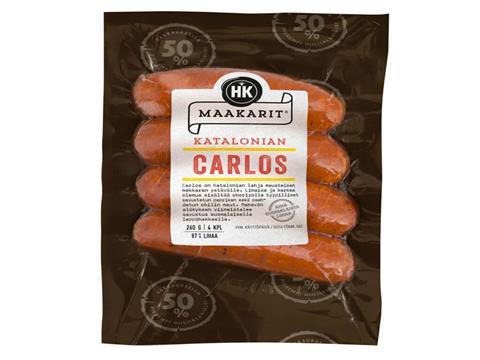 HKScan says it is furthering its commitment to a carbon neutral food chain by introducing Woodly's wood-based plastic packaging to the Finnish market for its HK grilled sausage series.
Earlier this year, HKScan announced that it would be collaborating with Woodly and Wipak to bring wood-based plastic packaging to the Finnish market – with HKScan having exclusive rights to use the material in Finland's meat product category.
Now, the companies say the new packaging will be available on the market from summer 2021.
HKScan adds that it has set a target for carbon neutrality across its industrial production by the end of 2025 and is aiming to be carbon neutral throughout the farm-to-consumer value chain by the end of 2040 at the latest.
With the introduction of Woodly packaging – which is reportedly carbon neutral – to the HK Maakarit's artisan grilled sausages and Kariniemen's grilled sausage series in Finland, the company claims that carbon dioxide emissions for the finished packaging film are approximately 50% lower compared to traditional plastic packaging.
Coniferous cellulose, the main raw component in Woodly packaging material, comes from sustainably managed forests and is a renewable alternative to fossil-based packaging materials, according to the company. It adds that Woodly film has the same properties as conventional film used in food packaging applications.
Mikko Järvinen, marketing director of HKScan Finland, says: "At HKScan, we are constantly improving the use of packaging materials in our product packaging.
"In addition, we map more environmentally friendly materials and create packaging solutions that reduce food waste and extend the shelf life of products."
Packaging manufacturers Wipak will be the developers of the packaging film. Wipack says it "focuses on renewable resources that are suitable for food applications", with the Woodly packaging for HKScan being a component of this commitment.
As part of its ongoing commitment to carbon neutrality goals, HKScan recently partnered with Mondi to deliver a paper-based packaging solution for its Falukorv 800g sausage – which used to be packaged in a plastic multi-layer material – on the Swedish market.
Meanwhile, Wipak continues to collaborate across the value chain on innovative and sustainable packaging solutions. Earlier this year, it worked with VTT, Arla Food, and Paulig to develop Thermocell, a thermoplastic film made from renewable components including cellulose and fatty acids, for applications such as injection moulding, coating paper and paperboard, and 3D printing.