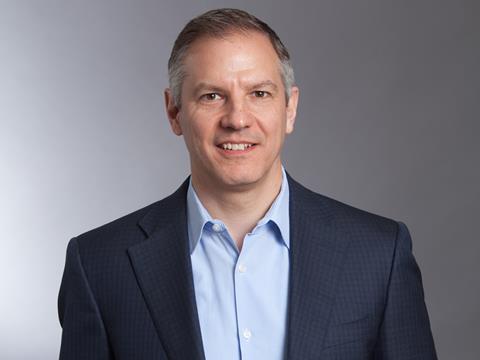 As this year's World Economic Forum annual meeting in Davos, Switzerland, comes to an end – and Amcor marks the second anniversary of its 2025 sustainability pledge – Amcor CEO Ron Delia reflects on innovation and collaboration, and the vital role packaging will play in the future.
As the global leader in packaging, Amcor has unlimited potential to deploy innovation and scale to benefit customers, investors, our people, and the environment. Participating in the 50th World Economic Forum (WEF) annual meeting reconfirmed to me the vital role packaging, and Amcor, will play in this new decade and beyond.
WEF is an opportunity to connect with leaders from the world's largest companies – many of which are Amcor customers and suppliers. It's also a time to mark our collective progress toward commitments to better protect the planet and to determine how to accelerate solutions.
Rethinking packaging
The positive impact companies have on people and the planet was a recurring Davos theme. The packaging we produce reaches tens-of-millions of people daily. It protects and preserves food, beverages, pharmaceutical, medical, home, and personal care products. It also promotes brands, reduces carbon footprint and product waste, and improves consumer convenience and safety.
From action to combat climate change to creating food systems that can scale to feed growing populations, a fundamental rethink of packaging and the plastics system is underway – and Amcor is active in that effort.
In a meeting with consumer goods industry leaders, we talked about new models of consumption and the need for rapid innovation and investment in waste management. Amcor's commitment to these areas is evident in our work to develop packaging that is designed, produced, distributed, consumed and disposed of in ways that protect the environment.
Our Global Commitment
It is two years since we made our 2025 pledge to develop our packaging to be recyclable or reusable, to increase use of recycled content and to drive increased recycling rates worldwide. In October 2018, we doubled-down by becoming a founding signatory to the New Plastic Economy Global Commitment.
As the consumer packaging leader, Amcor can effect meaningful change while delivering value for all our stakeholders. While most Amcor packaging is ready to be recycled – 97% of our rigid packaging already is recyclable – we continue to develop new materials, lighter-weight packaging, and products with post-consumer recycled content.
Recycling at scale requires collection of packaging waste and then facilities that can recycle it – including flexible packaging. Our work with organizations like the Ellen MacArthur Foundation, the Recycling Partnership in the U.S., and CEFLEX in Europe is already moving us closer to this reality.
In addition to advocating for recycling infrastructure, Amcor, brand owners and NGOs are also encouraging consumers to be more active in keeping waste out of the environment. Through reuse, recycling, composting or other means of responsible disposal, consumers are critical to an effective system. Well-known brands attending WEF are increasing their work to engage consumers with recycling including Coca Cola, Nestlé, SC Johnson, Unilever, and many others.
Amcor is making real progress. With industry-leading scientists and engineers innovating new solutions and our sustainability experts active in partnerships that are making a difference today, we are creating a better future for people and the planet.
Innovation and Collaboration
Amcor's commitments mean we stand shoulder-to-shoulder with the world's best-known brands and retailers. In Davos, two things became even more clear. First, we are aligned with customers and suppliers. Second, we are determined. WEF was an opportunity to share that determination with like-minded enterprises. I was pleased to speak on the role packaging plays in solving global challenges during a strategy meeting hosted by the Ellen MacArthur Foundation. I also had a chance to hear the perspective of numerous other business leaders in our value chain, including Alan Jope from Unilever, Jim Fitterling from Dow Inc., Aloke Lohia from Indorama, and Ramon Laguarta from PepsiCo.
Where we go from WEF
My time in Davos underscored the importance of what Amcor does today and solidified my belief that innovation and collaboration are the keys to achieving a more circular plastics system. Drawing on more than 160 years of experience, we will continue to innovate, adapt, grow and lead – making Amcor's responsible packaging a force for positive change. Our impact is magnified through Amcor's collaboration, as we collectively seek infrastructure solutions and advocate for greater consumer participation in recycling.
When we announced our 2025 commitment, we knew Amcor had the opportunity to make a positive impact in the world through better packaging. Today, I'm more confident than ever that Amcor is uniquely positioned to deliver on that promise.