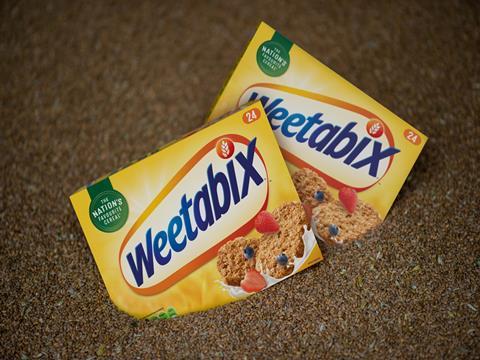 Weetabix Food Company is aiming for 99% of its packaging to be widely recyclable by summer 2022, putting the company on track to make 100% of packaging recyclable ahead of the 2025 deadline set by WRAP for the UK Plastics Pact.
This year, Weetabix has already transitioned the Protein line of its Weetabix On the Go breakfast drinks to PET bottles, apparently with 51% rPET content. The company says it underwent "extensive" trials to ensure the clear PET bottle can keep the nutritional properties of the drink from deteriorating in sunlight.
In addition, Weetabix is set to introduce paper wraps across its biscuits range, including Weetabix Original, Flavours, and Protein. It claims the paper solution keeps the cereal fresh throughout its shelf life while also being recyclable at kerbside and reducing emissions by 20% compared to the existing packaging.
John Petre, head of supply chain and technical at Weetabix Food Company, says: "Ultimately, all our packaging decisions are based on whether they reduce our overall carbon footprint.
"Since food waste is a big contributor to carbon emissions and environmental damage, our concern is always to balance packaging innovation against that risk."
"Facing down this milestone of reaching 99% recyclable packaging is a huge testament to the hard work of the team. We had to do a lot of research and testing with our On The Go Drinks bottle in order to launch the fully recyclable bottle last year and we're delighted to be rolling that out for our Protein range as well later this year."
Weetabix has also announced its 2021 Sustainability Report, which highlights the company's certification from UTZ for all cacao used in its products and its commitment to sourcing all wheat for its Weetabix Original range from within a 50-mile radius of its mills in Northamptonshire.
In addition, Weetabix has agreed on a deal with UK-based energy supplier Smartest Energy to supply factories with renewable energy generated by wind, solar, and water power. This will reportedly supplement the renewable energy provision already in place at the company's Burton Latimer site and help to reduce its Scope 2 emissions.
The company has also invested in a capex project, which it says will capture and reuse water that becomes steam during its manufacturing processes. This will apparently save over 1 million litres of water annually.
The packaging of cereal has also been targeted with innovative sustainability initiatives by other brands, including Kellogg's, who earlier this year announced plans to remove excess air from packaging and reduce carbon in its operations by 700 tonnes yearly. Meanwhile, in 2020, the supermarket chain Aldi unveiled plans to replace non-recyclable plastic inner bags with a recyclable alternative for its own-brand cereal packs.