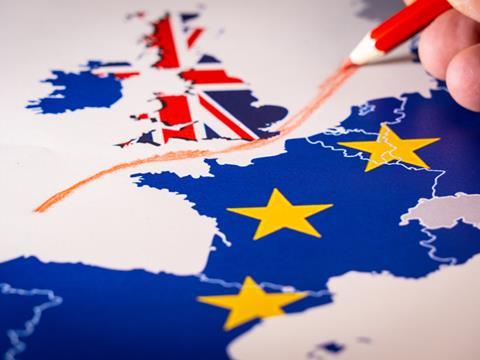 With the British parliament poised to debate the Brexit withdrawal agreement between the EU and UK just 17 days before the scheduled departure date, Elisabeth Skoda reviews the supply chain, economic, environmental and personal reasons that Packaging Europe strongly advocates continued cooperation and integration between European countries.
In the eyes of many an idealistic European (including me, who left Vienna to join Packaging Europe), Britain has long stood for openness, tolerance and pragmatism. This image has been dented since the fateful Brexit referendum and its narrow 52 per cent majority for leaving the European Union. What followed in the coming months and years moved further away from anything resembling these qualities. From an advisory referendum in 2016, two and a half years later, the two political options being offered by Theresa May's government appear to be a very hard Brexit with no single market membership and no customs union, and a no-deal Brexit meaning no formal relationship with the EU. The reasons for the spurning of both single market and customs union membership can hardly be found in business sense, but ideology. A populist anti-immigration impulse on the one hand, and a deregulation agenda on the other hand, appear to be driving the debate.
For the packaging industry, EU membership and with it membership of the single market has been crucial, ranging from smooth supply chains and the ability to participate in international research projects to labour access and sustainability.
Seamless supply chains
Like many other industries, the packaging supply chain increasingly relies on just-in-time (JIT) production, which cuts costs by reducing stock held at any given time. Supply chains across Europe work seamlessly with minimal paperwork and admin cost. Any delays due to regulatory divergence and additional bureaucracy in the form of border checks put this model in jeopardy. These structures have grown over decades, and will be difficult to unravel, costing businesses time and money. According to government reports, 70% of all food imported into the UK comes from the EU, with a threat of empty shelves in four days or fewer if supply is delayed or interrupted. In order to get food on the shelves, food and packaging have to work together seamlessly.
Movement
This leads to another significant challenge for the industry - migration. Freedom of movement has been another major contribution of the EU to the European manufacturing economy.
After Brexit EU citizens (especially seasonal workers) will face barriers to obtaining the right to work in the UK. Recruiting workers to pick and pack delicate fruit and vegetables or engineers to run packaging lines is likely to become more challenging. Optimists say that this could result in more innovation in the field of automation, or in companies paying employees better wages, but it is also likely to result in some businesses moving their operations to countries where access to temporary labour is easier.
Recruiting graduate level employees with specific expertise is also set to become more difficult following Brexit, and retaining EU staff could also be a challenge. On a personal note, as an EU citizen in the UK myself, after 13 years of living in the UK I have grown firm roots here, but the last three years of toxic debates and uncertainties have certainly taken their toll and have forced me to ask myself tough questions about where my home is and where my future lies.
What is surprisingly often forgotten in the ongoing Brexit debate is that free movement works both ways. Just as much as giving EU citizens the right to work here, free movement has given British citizens easy access to living and working in 27 other EU countries - a right that they are set to lose, making it more challenging for British citizens to build international careers and businesses.
Shared interests
The world faces grave environmental challenges, from climate change to packaging and food waste, and the key to solving these challenges lies in close collaboration and harmonisation of regulation across borders. Waste management infrastructure is fragmented, and addressing this fragmentation is a crucial step towards solving circular economy challenges. With packaged products being imported and exported, it is key that products meet the same standards across Europe so they can be efficiently recycled. Moreover, since the argument in favour of a hard Brexit or no-deal Brexit is that it gives us the freedom to 'make our own rules' (an argument driven largely by the anti-regulation right wing of British politics), this will erode efficiency of, and quite possibly actively undermine, efforts to work together.
While the European Commission attracts some justifiable criticism for flaws and pockets of inconsistency in its regulatory frameworks, the EU undeniably acts to catalyse action, setting the conditions for a race to the top, where disengagement from the EU increases the danger of setting off a race to the bottom.
The EU also serves as a platform for innovation and education. There is a plethora of European research programmes impacting on the strategic needs of our industry, from new packaging materials and extending shelf life to boosting recycling efficiency. What will happen to access to these programmes and research funding remains up in the air – both in a deal and a no deal scenario. Meanwhile, the Erasmus exchange programme has given millions of young people access to knowledge and unique insights into living abroad. I benefited hugely from participating in Erasmus and experiencing life in a different country first hand. Sharing of knowledge and meeting of minds is another benefit that may be diminished when a country decides to distance itself from pan-European institutions.
Collaboration across borders
Packaging Europe is based in the UK but has always had an international mindset, focus and readership. Our team members have enjoyed living in European countries, learning languages, and forging friendships and relationships. We have spent a lot of time traversing Europe, reporting on innovation. We like to think of our role as one of 'making the connections' in packaging technology – and often innovation relies on literal geographical connections. From Sweden to Italy, and Portugal to Poland, every day we encounter a spirit of cooperation where country borders don't act as barriers. It would be a tragedy if the UK were to shut itself off from all this.
We are convinced that Brexit will have and already has had adverse effects on the packaging industry, and advocate at the very least close alignment with the Single Market and Customs Union, free movement of people and goods. But whatever comes to pass in Westminster and Brussels over the coming days, weeks and months, Packaging Europe remains firmly committed to promoting international collaboration and a whole-European packaging conversation.