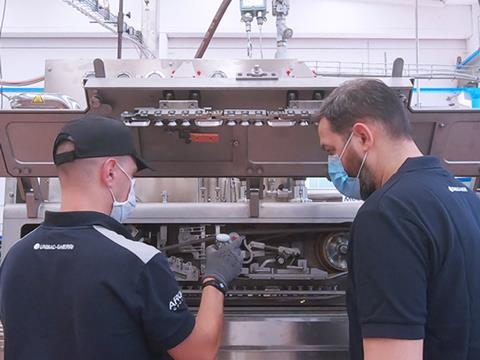 To find out how AROL Group has been tackling the effects of the coronavirus pandemic, we spoke with the group's general sales manager, Federico Zannier.
How has corona impacted your business?
All the companies of the AROL Group (AROL, MACA Engineering, TIRELLI and UNIMAC-GHERRI) in Italy and all the 10 branches around the world have adopted, since the very beginning of the emergency, all the possible safety measures in order to contrast and limit the spread of the virus by scrupulously following and exceeding the rules and regulations given by the competent authorities, tackling the COVID-19 issue with great attention and sense of responsibility for all our stakeholders and related families; and we succeeded in never having to stop production. The business has been impacted in some segments only (premium products for restaurants, beverage for events, etcetera) but some others improved (hand sanitizers and the food industry).
Has production been affected, or do you expect it to be?
Up until today, thanks to the efforts of many and thanks to a strong team spirit, our production schedules have not experienced significant changes, and thanks to organization and technology we have been able to guarantee remote assistance to those customers who cannot be reached in person. After the safety of our people, we safeguarded the continuity of our customers' business.
As AROL Group. we manufacture and provide aftersales assistance on closure systems for the beverage, beer, food, wine, spirits, personal and body care, chemical, household care, and cosmetics industries and turn key lines for food and cosmetics – all products considered among the essential goods that never stopped being produced. The food, hygiene, and healthcare sectors definitely needed the most support.
Has your supply chain been impacted, or do you envisage such challenges?
Sometimes, at the very beginning of the pandemic, we faced some troubles with our suppliers from specific areas of the world and with the logistics partners but, up to now, we've been able to almost offset the delays reducing the effect for the final Customer. Now the overall situation is back to normal.
Have any of your employees been infected and how are they now?
Since March 2020 we have created a specific "COVID Team" that was entitled to draw up a safety protocol, aimed at avoiding the spread of COVID-19 in our plants and branches, ensuring adequate levels of protection for our working people, suppliers, visitors and customers.
We have put in place daily sanitization activities in every area of our plants and offices, we have increased the availability of personal disinfectant hand gels at our sites, we have taught our people to wear a mask and to respect distances. Our top priority has been (and continues to be) their health and wellbeing. A dozen of our workers have been infected (none in our workplace) and recovered in a few days for the most with almost no symptoms.
How do you see coronavirus impacting more generally on packaging/FMCG, and do you have any suggestions as to how the industry can mitigate these impacts?
Our business has not been strongly impacted, even if the overall uncertainty situation impacted the decision timelines for some projects. Some of our customers delayed for some weeks the decisions on new investments just to be sure how things might have changed in the near future. Only some portions of the beverage industry market have been touched (restaurants closed and no events such as concerts, theatres, etcetera). This had an impact in the FMCG industry that we estimate to be, for us, approximately -10%.
Are there any broader lessons about packaging that industry – or society – should draw from the pandemic?
This situation strengthened our belief that our work, more than ever, is not only a right but also a duty: towards our clients (in order to guarantee as much as possible the continuity of their business) and towards our collaborators and partners (in order for them to count on the necessary resources to deal with these difficult moments). The world has changed in just a few weeks and, for the future, we must be prepared for unpredictable and unexpected fast changes – hopefully not just negative ones.