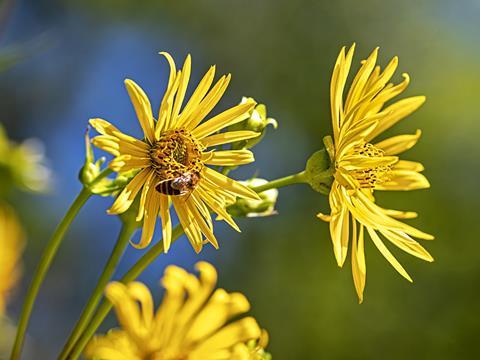 VPF GmbH & Co. KG is expanding its product portfolio to include a self-adhesive material made of paper derived from the silphie plant.
The silphie fibres, which make up at least 35% of the material, are obtained through a biothermal process without the use of chemicals. The paper is composed of the fibres of the intergrown silphie (also called Danube silphie) as well as conventional pulp.
The proportion of sustainable silphie fibres is currently at least 35%, a proportion that the VPF hopes to increased to up to 50% in the future.
Silphie has been cultivated in Germany for several years for energy production and the creation of biogas. The silphie plants used in this specific paper are grown on regional land in Germany.
The product is therefore "Made in Germany", from cultivation to paper production. As a result, the company says that transport distances are short and the CO2 footprint of the paper is further significantly improved.
The Danube silphie is harvested in autumn, then hibernates and sprouts again the following spring. It requires little care during cultivation and is characterised by a long and late flowering period - ideal conditions for bees and many insects.
The silphie paper (VPF 10664) is available in 100 g/m² and is finished at VPF with adhesives 925, 927 and HM709UV in combination with a separable white Glassine B700-473. The paper is also reportedly approved for direct food contact, while also being recyclable via conventional waste paper recycling streams.
VPF also says that the solution is easily printable via conventional printing methods and laser printing. The minimum order quantity is 1,000 m², and A4 samples and sample rolls are available on request from the company at any time.