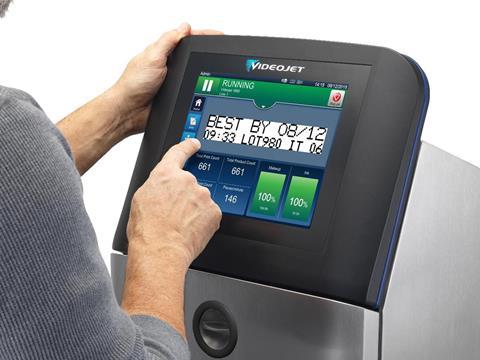 Innovation is the focus in 2017, as Videojet showcases four brand new products from three technologies at interpack designed to deliver maximum uptime, unprecedented reliability and attractive total cost of ownership figures. These four new systems take advanced technologies further than ever before, simplifying processes to allow operators to dedicate more focus to production-related activities. The stunning new Videojet 1860 continuous inkjet (CIJ) printer has been developed as a direct result of identified production line challenges. The 1860 features powerful on board intelligence and intuitive interaction that drives enhanced productivity. Key to this is VideojetConnect™, a remote service capability that gives operators direct access to the world's largest service network of technical experts at the touch of a button.
Videojet technicians connect directly to the line for immediate advice and remote problem solving, allowing for instant corrective action and minimizing reliance on in-house maintenance teams. Several built-in features, including a zero adjustment printhead nozzle and a safety reserve tank that holds an additional 20% fluid, help to deliver availability of 99.8%. This is smarter printing at its most advanced, giving customers high quality coding with minimal intervention.
Laser marking systems continue to play a key role in high speed, high throughput operations, and the new Videojet 3640 CO2 Laser has been engineered to process complex codes at the highest speeds, with the industry's widest mark field. Suitable for harsh environments where dust and humidity are a challenge, the 3640 CO2 Laser meets permanent coding needs today and in the future. Up to 2,100 characters per second and 150,000 products per hour can be printed and, as with the Videojet 1860, customers can take full advantage of VideojetConnect™ remote service.
Videojet's range of Thermal Transfer Overprinters (TTO) also sees two new additions unveiled at Interpack. The new DataFlex® 6350 and 6330 have been developed to minimize production downtime, reduce waste and increase code accuracy, incorporating Videojet's latest advanced technologies to ensure the highest quality assurance. Within these systems comes Videojet iAssure™ that automatically checks every code printed to ensure it matches what the printer expected to produce. iAssure™ also proactively identifies print defects and can detect situations where operator intervention is required, such as a dirty printhead that needs cleaning, a ribbon wrinkle that doesn't self-correct, or where an adjustment to the printhead is required to improve overall print quality. No other TTO printers on the market have these capabilities.
Chris Riley, President at Videojet Technologies, comments: "Videojet's commitment to the needs of its customers is reflected widely at interpack 2017. With four brand new technologies on display, our capabilities continue to broaden ahead of the curve, allowing customers to have an ever more hands-off approach to coding and marking and to focus on critical production activities instead. Videojet continues to revolutionize this space in terms of production efficiency and code quality, and in the development of specialist inks and fluids. This process is always ongoing for our experts and we are immensely proud to demonstrate these latest innovations."
More info: