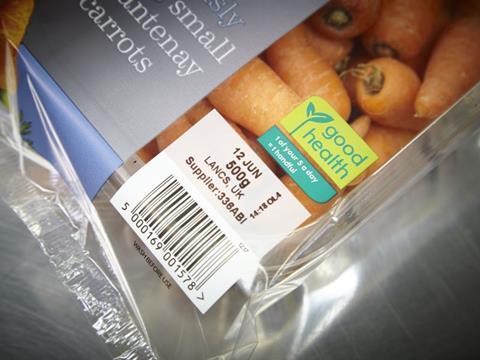 Videojet Technologies has introduced the Videojet 6230 Thermal Transfer Overprinter (TTO), which the company says can help manufacturers reduce flexible packaging coding errors, and improve Total Cost of Ownership (TCO).
Videojet understands that manufacturers require a reliable and adaptable solution that helps to ensure codes are printed correctly and accurately, time after time. The Videojet 6230 TTO printer is designed to meet these needs, and provides a solution that offers exceptional user experience with code assurance capabilities.
Utilising the latest in Videojet technology, the 6230 printer features a simple cassette design that allows for long production runs. Its 700m ribbon length is typically much longer than ribbons used for hot stamp printers, and requires fewer ribbon changes versus other competitive TTO systems. This helps to maximize production uptime, and when a ribbon change is necessary, the 6230 printer makes it safe and easy.
The simple maintenance of the 6230 printer helps to deliver an industry-leading low cost of ownership solution. Moreover, the airless printer design not only eliminates the need for compressed air, but features fewer wear parts through the exclusion of air hoses and connectors. Printer components are fast and easy to replace to help ensure that production is up and running as quickly as possible. The unique printhead is also designed for maximum uptime, since it's easy to change and requires no additional operator intervention to return to printing functionality.
Designed to withstand typical production line environments, and with its inventive composition, the 6230 printer easily integrates into most production lines, especially those with space limitations. "Manufacturers lack the flexibility when choosing how they want to operate their Thermal Transfer Overprinter," explains Heidi Wright, Business Unit Manager TTO, at Videojet Technologies. "With an intuitive, 5" colour touchscreen controller, and one-touch job selection functionality, the Videojet 6230 is an easy to operate printer and an ideal solution for manufacturers who wish to migrate from hot stamping technology. In addition, the Videojet 6230 offers manufacturers multiple options aside from the touchscreen user interface when choosing how to operate their printer, including via an Android phone."
Code Assurance comes as standard in the 6230 printer. Manufacturers can benefit from simple code creation with VideojetConnect™ Design or CLARiSOFT™ software, helping to reduce operator interactions resulting in fewer user errors and unnecessary product waste and rework. The WYSIWYG print preview functionality allows operators to confirm the correct code is selected, and a real-time clock stamp avoids date errors, helping to reduce recall risk. Available with optional Bluetooth® capability, and with the use of the compatible Bluetooth USB adaptor, the 6230 printer can also be controlled from an Android phone rather than a HMI. With this feature activated, manufacturers can use an Android phone OS 4.4.4 or higher as a graphical user interface, a memory stick to transfer jobs, and barcode job selection functionality. This simplifies operator interaction with the printer and production line. Wright concludes, "Videojet continues to invest in product research and development, and we are very pleased that this new Thermal Transfer Overprinter offers manufacturers a solution to help reduce flexible packaging coding errors, and improve total cost of ownership."