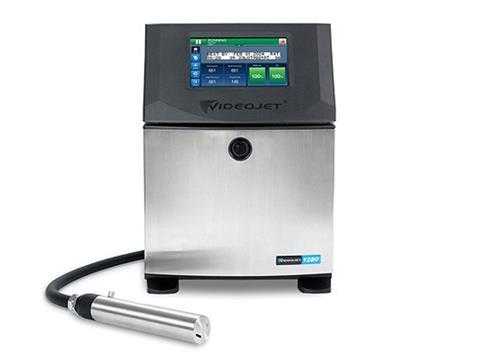 Videojet has revealed the latest addition to its CJJ range - the Videojet 1280.
The new machine incorporates Videojet printhead and fluid system technology, which the company claims can provide stable performance and reliability across a broad range of operating conditions, including variable volumes and production runs.
Engineered to help reduce unplanned printer downtime, the 1280 also features Videojet's Dynamic Calibration. The printer constantly monitors environmental conditions and automatically adjusts jetting parameters, with the aim of helping to maintain superior print quality and maximize uptime.
Alongside the Videojet SIMPLICiTY interface, the 1280's tablet-inspired 8-inch touchscreen display is designed to greatly reduce operator printer interactions to help eliminate potential user errors. This code assurance capability reportedly means that manufacturers don't need to be CIJ experts in order to manage their day-to-day CIJ operations.
Instead, the company insists that manufacturers can focus on their primary tasks of running the production line, knowing that the Videojet 1280 will continue to put quality codes on their products with minimal operator interaction.
With the 1280, Videojet reports that only five minutes of user-performed annual preventive maintenance is required, either every year or when the printer reaches 3,000 hours, whichever occurs first. The company also says that there is no need to be a CIJ expert for standard maintenance because, with predictable preventive maintenance, the 1280 can help to eliminate events that can cause unscheduled downtime.
"The Videojet 1280 has been built on our proven and innovative continuous inkjet technology, offering virtually error-proof operation and an easy-to-use printer," said Mithun Ramachandran, CIJ business unit manager at Videojet Technologies.
"The SIMPLICiTY interface greatly reduces operator printer interactions to help eliminate potential user errors through an intuitive, tablet-inspired eight-inch touchscreen interface. Combined with one, reliable and easy-to-replace Videojet SmartCell service module, the Videojet 1280 CIJ printer delivers class-leading reliability and easy usability."