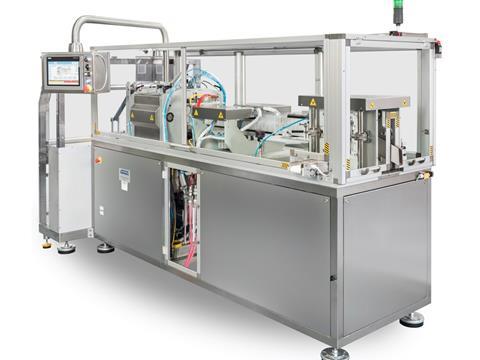 The dynamic Italian company, based near Modena, in the heart of the industrial district in Emilia Romagna, will present at the Düsseldorf trade fair an innovative solution for single-dose packaging that has been designed to meet specific market needs.
Designed equally for those who produce directly and for contractors, the Valmatic solution is suitable for a range of different sectors, including the food, cosmetic, chemical and pharmaceutical industries.
The single-dose: an increasingly popular choice
Primarily created to serve the pharmaceutical market, the single dose is now also widespread in the food and in the home & personal care industries, areas that increasing take into account aspects such as ease of use and waste reduction. Furthermore, producers are placing growing importance on the materials used and prioritising process costs. "The trend", says Graziana Tassinari, head of marketing at Valmatic, is moving towards the increasing use of single-dose products. Families tend to be much smaller and people are moving around more than ever however, especially nowadays, they are also much more attentive to waste. The key benefits of disposable products fully meet these needs: dimensions are minimal, the dosage of the product is appropriate to the relevant use and consumers are reassured that they are always fresh at the time of use. In addition, the single-dose solution allows less material wastage with reduced impact on the environment, therefore making it the ideal choice for producers".
Valmatic V75: created in Italy, a citizen of the world
The company from San Prospero has been investing heavily now for several years in the development of machines suitable for single-dose product packaging, designing and marketing solutions that anticipate the needs of customers who increasingly require flexible machines that are simple to operate and easy to maintain. Valmatic V75 was created to respond to these needs, offering the ideal solution for the single-dose packaging of a wide range of liquids and creams, marketing applications in heterogeneous sectors, from food to pharmaceuticals. Specifically, the Valmatic unit can package products such as detergents for home care, vitamins, dietary supplements, balsamic vinegar, olive oil, sauces, creams for cosmetic use and medications, to mention but a few. Essentially V75 appeals to the global market in the broadest sense of the term and it does so accompanied by strong mechanical and technological know-how developed over nearly forty years in the heart of one of the most important districts in global automation, namely in the Emilia Romagna packaging valley that has made the concept of "flexibility" its own distinctive mark.
Different uses, the same user friendliness
Just a few details are needed to comprehend the flexibility of the machine: V75 is in fact able to work at a speed of 30 cycles per minute, packaging liquids in vials from 0.5 to 150 ml, being able to work both materials coupled with aluminium and a wide range of barriered plastic compounds, such as PP/PET/EVOH/PE, PET/EVOH/PE and PET/PS/PE. V75 is also able to work very thick material, from 150 to 500 microns, ensuring cutting processes and the forming of packs that is always at the highest levels. The peculiarities of the machine in fact include the adoption of a latest generation cutter that was designed with a focus on flexibility and ease of use. This group can be changed quickly and easily to allow different types of cutting. V75 is also characterised by an extremely evolved operator-machine interface which greatly simplifies its use. Specific softwares were developed to make the operating, maintenance and format change operations extremely simple. In addition, intuitive video tutorials will be part of the PLC equipment to help the operator to identify the functions of the machine immediately. The machine is also equipped with a level control system with automatic removal of non-compliant products. Finally V75 has relatively contained dimensions meaning it can be easily incorporated within different layouts, including those of contractors who are traditionally attentive to optimising space as well as costs.
High technology and optional groups
While it is simple to operate and maintain, the machine has characteristics that make it suitable to the packaging needs of high-end products. For example, the Oxygen Transmission Rate (OTR) and Water Vapour Transmission Rate (WVTR) are very low and guarantee a product weight loss over 40 days of stability that is less than 1%: a performance that also optimises use of the machine for pharmaceutical liquids or high quality cosmetic creams characterised by high technological properties. V75 also offers a unique feature on the market. The machine can in fact also be equipped with an on line material printing unit, called the Valmatic Thermoprinter, that works in synchronisation with the packaging operations and was designed to print the exact quantity of material necessary for the machine thereby optimising use and reducing waste. Finally, the V75 is equipped as standard with a remote communication system that allows intervention of the specialist technical personnel for real time on line assistance operations using a simple LAN connection.
Valmatic will be present at Interpack from 4 to 10 May, at stand no. B21 - Pav. 08A.
More info: www.valmaticsrl.com