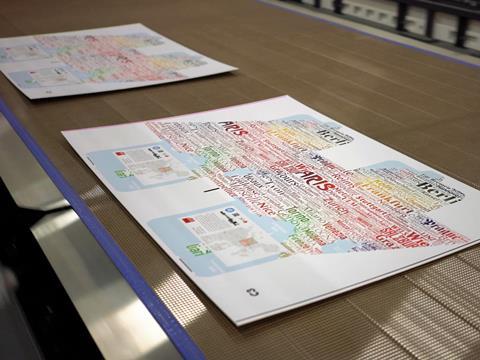 As well as talking about innovation at Packaging Europe, we like to practise it. That's why we have partnered with HP to create this digitally printed, versioned packaging for our own magazine.
Around the end of January thousands of subscribers throughout Europe will receive the next edition of the magazine in a corrugated box decorated with a stylised map of their region. The 20 versions of the box fit together to create a complete map of Europe – and a beautiful corrugated artwork prize to be awarded to 15 lucky subscribers.
"Early in 2018 I had the opportunity to view the HP PageWide C500 digital press for corrugated and was impressed by the possibilities this technology opens for personalisation and mass customisation, particularly in direct-to-consumer models," commented Tim Sykes of Packaging Europe. "Is this the ideal way for an international brand to engage with its consumers on a local scale? We liked the idea of exploring these ideas through our own packaging, as well as in our content. This was the simple idea behind a very innovative collaboration with HP."
The resulting project led to a bespoke, die-cut corrugated sleeve created by HP's marketing team. This was augmented with stunning graphic design created by Packaging Europe's Gareth Harrey. The design features a map of Europe covered with place names, and borrows typography strongly associated with local newspapers and mass transit systems of respective countries and cities. The boxes will be printed by LIC Packaging, based in Brescia, Italy, on their HP PageWide C500 Press, which was chosen for the project thanks to its offset print quality.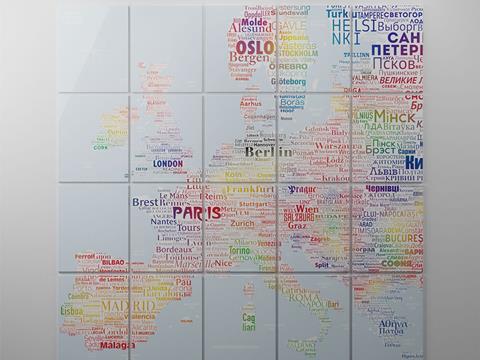 Win the complete artwork
As part of our experiment, we are exploring how digital printed customisation can generate digital engagement with the Packaging Europe brand by giving away 15 complete sets of our composite artwork. Win all 20 boxes and you can assemble them as a 110cm x 100cm, limited edition, stunning work of art for your wall.
There are two ways to enter the competition:
If you don't subscribe to Packaging Europe yet but you do work in the European packaging value chain, subscribe (for free!) by filling in your details at www.packagingeurope.com/subscribe. We'll send the complete set of 20 die-cuts to ten lucky subscribers.
If you're already a Packaging Europe subscriber, create an unboxing video when you receive your magazine around the end of January and post it on Twitter, tagged @PackagingEurope and #unboxingEurope. We'll reward our favourite five videos with the complete set.
Good luck!