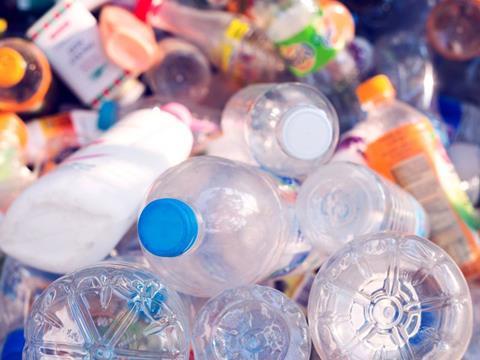 42 businesses, including major food, drink and non-food brands, manufacturers and retailers right through to plastic reprocessors and packaging suppliers, sign up to a world-first pact, which aims to transform the plastic packaging system in the UK and keep plastic in the economy and out of the ocean.
The UK Plastics Pact, launched by WRAP, is a unique collaboration which brings together businesses from across the entire plastics value chain with UK governments and NGOs to tackle plastic waste.
These Pact members are responsible for over 80% of the plastic packaging on products sold through UK supermarkets a figure based on WRAP estimates by weights and market share, using Valpak data. In addition, 15 other organisations have also shown their commitment to the Pact.
This collective has committed to hit a series of targets by 2025:
Eliminate problematic or unnecessary single-use plastic packaging through redesign, innovation or alternative (re-use) delivery models.
100% of plastic packaging to be reusable, recyclable or compostable.
70% of plastic packaging effectively recycled or composted.
30% average recycled content across all plastic packaging.
The UK Plastics Pact is the first of its kind in the world. It will be replicated in other countries to form a powerful global movement for change as part of the Ellen MacArthur Foundation's New Plastics Economy initiative. It is being led by WRAP.
WRAP CEO, Marcus Gover, said: "Together, we have a once-in-a-lifetime opportunity to rethink and reshape the future of plastic so that we retain its value, and curtail the damage plastic waste wreaks on our planet. This requires a wholescale transformation of the plastics system and can only be achieved by bringing together all links in the chain under a shared commitment to act. That is what makes the UK Plastics Pact unique. It unites every body, business and organisation with a will to act on plastic pollution. We will never have a better time to act, and together we can."
Ellen MacArthur, founder of the Ellen MacArthur Foundation, said: "We are delighted to launch this pioneering national implementation initiative with WRAP in the UK. This bold new pact will bring together businesses, policymakers and the public to create a circular economy for plastics that tackles the causes of plastics waste and pollution, not just the symptoms. Focussing on innovation, better packaging design and end-of-use systems will not only generate long-term benefits for the environment, but is also a huge economic opportunity. We encourage others around the world to help drive this momentum towards finding global solutions to what is a global problem."
Highlighting the importance of recycling
Plastics recycling will be boosted by the announcement of the UK Plastics Pact, according to The Recycling Association, but warns to focus on the importance of reuse and recycling.
The Recycling Association chief executive Simon Ellin said: "The UK Plastics Pact has the potential to transform plastics recycling. As part of our Quality First campaign, we have called on the supply chain to design packaging that is reusable or recyclable and we are pleased that these large manufacturers and retailers have signed up to do that by 2025. "It is good to see efforts to tackle single-use plastics and that the waste hierarchy has been taken into consideration to encourage reuse and recycling. In particular, a requirement for an average of 30% recycled content in all plastic packaging will help to ensure markets for recyclable plastics are sustainable.
"One concern we have is that the pact allows for plastic packaging to be compostable, and we would hope that manufacturers and retailers will focus more on reuse and recycling of plastics. There is a danger that compostable plastic packaging will make it harder to sort and recycle plastics. We must there ensure that this pact creates the highest quality recycled plastic to make it possible to meet the 30% recycled content target."
OPRL: Support and Collaboration
As the UK Plastics Pact is launched with 42 businesses, 23 of which are OPRL members, the recycling label not-for-profit, also a founding signatory, has set itself commitments in supporting its members to deliver against their pledges.
Stuart Lendrum, Executive Director of OPRL Ltd, said: "This important initiative brings together the key players in producing, distributing and reprocessing plastics packaging in the UK. OPRL members are at the heart of this initiative. We're committed to giving them the tools and support they need to deliver against those promises – for example, we've already taken action to address the urgent need to capture plastic straws in on-the-go drinks cartons by developing a new label with an INSERT STRAW call to action, seeking to avoid littering and increase the proportion of plastic that's recycled. Expect more announcements from us soon!"
Jane Bevis, Chair of OPRL Ltd, added: "Only by collaborative action can we bring about the shift in approach this transformative change demands. We need to normalise recycling behaviours and reinforce consumers' understanding of their crucial role in recycling packaging. We must work even harder to engage them in the process. They are the vital link in the custody chain – the only part of the cycle that is not in the control of companies or councils. "That's why we'll be targeting companies with a high proportion of plastics in their packaging to bring them into membership. We're delighted that key companies Amcor, Colpac, Nice-Pak UK, Taghleef and Unilever have all joined OPRL recently as collectively they will have a major impact, combined with our existing members."
More info:
www.therecyclingassociation.com