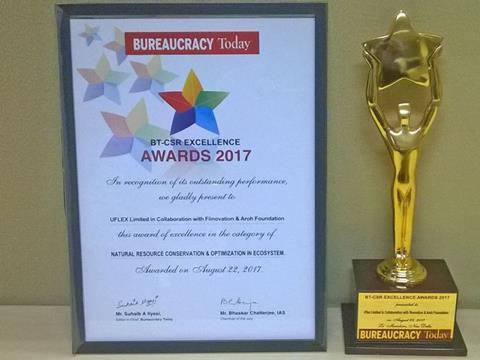 Uflex Limited, in association with its implementation partners Fiinovation and AROH Foundation was presented with the Bureaucracy Today CSR Excellence Award 2017 for its Environmental Sustainability intervention "Conservation of Natural Resources and Optimization of Ecosystem".
Notably the flexible packaging company has rolled out its Environmental Sustainability initiatives in a few villages of Gautam Buddha Nagar District of Uttar Pradesh and one village in Bhind District of Madhya Pradesh with an overarching goal of capacity building of the community to conserve and optimize the natural resource base through ex-situ rainwater harvesting and tree plantation adopting the Participatory Rural Appraisal methodology.
Special emphasis is laid on community training and sensitization for school children and other rural stake holders for judicious and responsible use of natural resources. The awardees were chosen by a panel of industry personalities comprising Steel Secretary Aruna Sharma, IAS, Heavy Industries Secretary Girish Shankar, IAS, eminent industrialist and philanthropist Aruna Goenka and IIMC Director General KG Suresh. Bhaskar Chatterjee, IAS (Retd), was the Chairman of the Jury. Chatterjee, who is widely acclaimed as the father of the Corporate Social Responsibility in India, was instrumental in framing and issuing the CSR guidelines for Public Sector Enterprises back in April 2010.
More info: