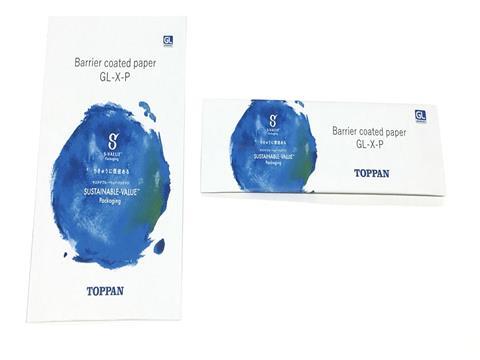 Toppan unveils GL-X-P, which it says brings high barrier performance and flex resistance to paper-based packaging across sectors, including food and toiletries.
The company adds that GL-X-P uses coating treatment developed from its GL BARRIER products.
GL-X-P's water vapour barrier can help to prevent quality deterioration caused by humidity, apparently making it suitable for a wide range of contents. Toppan claims that this can contribute to the reduction of food loss, as its preservation qualities prolong the shelf life of contents.
In addition, GL-X-P's barrier performance reportedly eliminates the need to use film or other materials. Toppan says that its new packaging can therefore make use of the "unique look and feel of paper".
The flex resistance feature of Toppan's GL-X-P also means it can be used for a variety of packaging shapes, according to the company.
Toppan says that both features enable GL-X-P to be used for a range of solid and powdered contents, including food products such as instant coffee, powdered soups, and chocolate. It adds that the packaging is also suitable for cosmetics and toiletries.
According to the company, GL-X-P is also heat sealable, which could allow for mono-material packaging that does not use plastic. Toppan claims that this could facilitate a reduction in carbon emissions of up to 35% when GL-X-P is used as an alternative to conventional laminated packaging structures that include plastic.
Toppan continues to make ongoing commitments to packaging solutions that combine innovative design with its sustainability goals. Last year, Toppan developed a barrier film for frozen food that reportedly preserves food quality while allowing some products to be stored at higher temperatures than usual, reducing food waste and energy usage.
More recently, Toppan also unveiled interactive packaging that connects to smartphones via NFC, which can be incorporated into paper-based packages.
GL-X-P will be on display at the Toppan USA booth at Pack Expo Las Vegas from the 27th to the 29th of September, and at the Toppan Europe booth at FACHPACK from the 28th to the 30th of September.
Sample shipments of GL-X-P to manufacturers in different industries will begin in September, with the launch of full-scale sales scheduled for spring 2022.