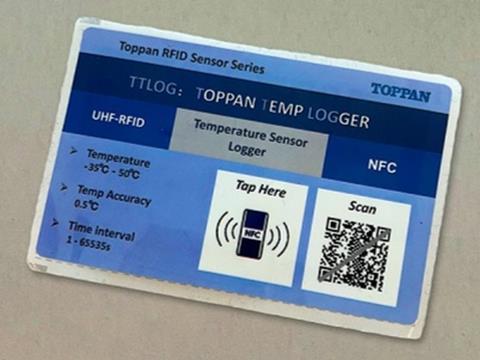 Toppan has developed a thin, card-sized temperature logger label that enables temperature to be measured and recorded at regular intervals during transport and for data to be sent to databases via wireless networks.
According to Toppan, the temperature logger label can be attached to freight to automatically record the surface temperature at an interval set by the shipper. There are apparently 22 options to select from when choosing an interval, including once a second to once every 60 minutes, with the latter allowing the history of temperature changes to be recorded over a six-month period.
The company adds that three temperature measurement modes are available. The "regular mode" apparently records the date and time of the measurement on the IC chip, while the "compressed mode" only records information on temperature while the date and time are added to the management system after the data is read. Toppan explains that "limited mode" only records temperature range classification, such as ambient temperature, chilled, or frozen, allowing the number of times information is recorded to be eightfold that of the "regular mode".
Toppan says that the temperature logger is available with two frequency bands: UHF, which facilitates communication over relatively long distances of about five metres, and NFC, which is often incorporated into smartphones. Toppan has developed an app to read the data saved in the temperature logger labels and a cloud-based management system that makes log data (e.g., record of date, time, and temperature) visible for chronological tracking and management during transport.
In addition, the company claims the solution includes an authentication function that prevents unauthorized access to temperature logger labels and a traceability function for managing the status of items being shipped.
Toppan's temperature logger label solution features a single-use battery and a smartphone app to adjust settings. According to the company, its simple structure and functions enable the label to be one-tenth of the cost of existing temperature logging devices that include a control panel and assume replacement of the battery.
This cost saving also apparently allows the Toppan temperature logger label to be used in new ways, such as recording individual temperature changes of every container and one-way usage where labels are not recovered after shipment is complete, which is especially suited for temperature management over long distances such as international shipping. This reduces the labour required to recover labels after use, according to Toppan.
Takamitsu Nakabayashi, senior R&D manager at Toppan's security business, comments: "This solution dramatically reduces the cost of managing and visualizing temperature during long-haul transportation.
"The lower price of individual temperature logger labels means that the number used can be increased to facilitate more detailed and accurate measurement.
"The solution is also easy to introduce because labels can be read with smartphones, expanding the scope of quality control to a wider array of settings.
"Going forward, we will also combine it with our existing ID authentication platform to deliver an end-to-end service for optimizing the entire supply chain, including elements such as product verification, traceability, and enhancement of customer touchpoints."
Toppan's temperature logger label was used by the Japanese Sake Cold Chain Consortium on a pilot test on food exports and the restructuring of the overseas food value chain, which was overseen by the Japanese Ministry of Agriculture, Forestry and Fisheries from October 2021 to March 2022.
As part of the trial, labels were attached to products from six major Japanese sake breweries, which were transported via truck from various regions of Japan to ports in Yokohama and Osaka, before being shipped to ports in Shanghai, Ningbo, and Shenzhen in China, and then delivered to logistics bases in each city. The temperature of the sake was reportedly maintained at 5oC or lower, and measured at 30-minute intervals.