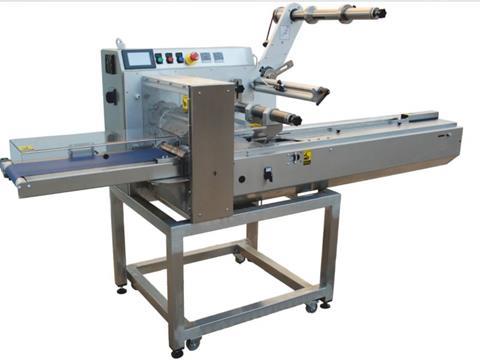 Tisomi Ltd has launched new, compact packaging equipment for the UK market to meet the growing demand for space-efficient flow wrapping technology from small to medium-sized businesses in the food and non-food sectors.
Flow wrapping is fast becoming the packaging of choice for many in fresh produce, bakery, morning goods and confectionery. However, factory floor space can be limited for some production lines – a challenge that can be overcome by Tisomi's high performance Compact ZA400 E3, a machine with a small footprint but big advantages.
Manufactured in Italy with the same attention to detail as its larger counterparts, the Compact ZA400 E3 is exclusively available in the UK from flow wrapping specialist Tisomi and is ideal for manufacturers with restricted floor space.
This versatile and robust equipment might be compact but its packed with the latest devices to help get products to market quickly and efficiently. A variety of automatic feeding systems makes it suitable as a stand-alone unit or as part of a fully integrated line. The Compact ZA400 E3 is no slouch and can wrap products of up to 90mm in height at impressive speeds of up to 100 packs per minute and can handle films as wide as 400mm. To cap it all the machine's rugged, hygienic stainless-steel construction reduces downtime by making it easy to maintain and clean.
Capable of handling food items from cakes, bread, biscuits and chocolate bars to cheese, fish and meat, the flow wrapping equipment is also ideal for odd-shaped and difficult houseware and novelty items, from candles, napkins and paint rollers to dusters, sponges, wipes, cloths and e-cigarette cartridges.
Flexibility is a key requirement for companies competing in an ever-demanding retail environment. They require quick turnaround, high performance, rugged construction and reliability from their packaging systems, coupled with superior levels of technical back-up.
Tisomi is renowned for its technical support before and after installation, offering comprehensive product trials of its range of flow wrappers at the company's Wetherby facility to ensure accurate alignment, a secure seal and the best possible presentation, in effect supporting the customer's needs from start to finish.
There is an alternative service for prospective customers unable to make the trip to West Yorkshire. They can send samples of products for flow wrapping to Tisomi, which will then be returned with a full packaging appraisal.
Supplying versatile flow wrappers designed to handle intricate parts and tricky dimensions is part and parcel of Tisomi's offering to retailers and manufacturers – along with a first-class customer service. The Compact ZA400 E3 meets the dual need of smaller producers for a cost-effective automated process that is also perfect for factory areas with restricted space.
More info: