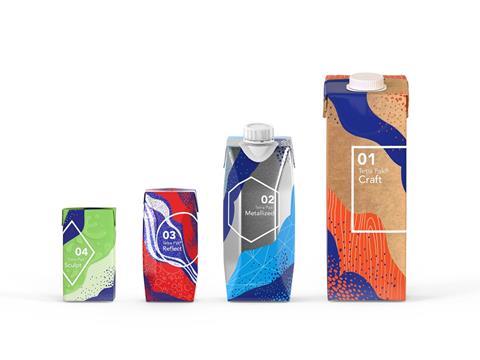 Material effects
Meanwhile, Tetra Pak has launched a suite of new packaging material effects, known as Tetra Pak® Artistry, to help beverage producers revitalise the look and feel of their products.
Artistry is a 'plug & play' offering, helping brands attract shoppers' attention without the need for the manufacturer to switch to a new packaging format or invest in new equipment. Each of the different effects on offer is created using different materials and processes.
'Reflect' incorporates holographic effects onto the package. They are created using 'holographic' films, which are applied directly on the packaging materials in converting factories. 'Metallized' creates a metallic effect thanks to the use of metallic films. The Tetra Pak Sharp® printing method allows unique metallic and holographic effects on the package.
The 'Craft' effect gives a package the natural look of bare paperboard with wood fibres. It is created using an uncoated, un-bleached paper board, which is then converted. The FlexoLine printing method is used to give the package a natural look of bare paperboard with wood fibres. More offerings are being developed, including 'Sculpt', an embossed surface texture for an innovative consumer experience. The first Sculpt pattern, which was customised for our Chinese customer Want Want, has been launched in China with initial positive market feedback.
The whole range of effects will be available for the majority of Tetra Pak® package formats and offered to customers worldwide.
Charles Brand, executive VP, product management and commercial operations at Tetra Pak said: "In a world where almost everything needs to be 'personalisable', we want to provide customers with something unique to help their brands rise above the noise and reach the shopper. The new suite of effects and expressions will help our customers enhance their brand at no additional investment, making it a cost-effective solution to their needs."
Slimline
A design trend still enjoying particular popularity among brands, according to Marcel Arsand, is the slimline can. "Brands are favouring the trendy, sleek looking cans because they are perceived as being more elegant and refined as well as being easier to carry around. Their lightweight nature makes them convenient to carry for consumers on the go as well as easy to transport for brands and retailers. Their shape means they are even more cube efficient than standard 330ml cans.
"It's a versatile format as well, making it a great choice not just for traditional soft drinks but also wine, mixed drinks, coffee and water. The likes of Red Bull, Minor Figures Coffee, CanOWater and Coca-Cola are just a few who are producing their drinks in this shape."
Smaller sized cans are also being offered to consumers in response to the healthy lifestyle trends. Mini cans of beverage still quench the customer's thirst but without as many calories. Customers are now being given a wider option of can sizes to suit their needs than ever before.
The overarching theme across materials, design, shape and size is to rethink conventional packaging for beverages – whether that means packaging a beverage in a new format, enhancing with new effects and printing techniques, or favouring more versatile designs that suit the modern trends of consumers.