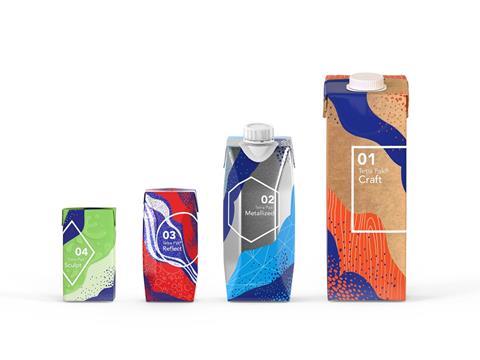 "Many people in the beverage industry are currently asking how they will become or remain competitive in the future," says Andrea Kalrait, exhibition director BrauBeviale- Europe's key beverage event this year (which took place in Nürnberg on 13-15 November), Libby White spotlights some of the innovations addressing the core challenge for beverage packaging today – how to grasp the attention of consumers in a competitive marketplace.
Canned water?
Chairman of the Can Makers, Marcel Arsand pinpoints a major disruption he sees in the market: the packaging of water in cans. "Canned water and flavoured water are two of several types of beverage that we are seeing disrupting the drinks market - we are seeing a greater variety of types of drinks being launched in cans than ever before," he enthuses. "Customers are being given alternatives to bottles and while canned wine or water for example may seem unconventional at first, it actually makes a lot of sense for the consumer, retailer and drinks makers.
"It makes environmental sense because drinks cans are sustainable with infinite lifecycles therefore reducing the amount of waste sent to landfill; it makes economic sense because the recycling process for cans is self-sustaining thanks to metal's high intrinsic value. Industry investment in recycling also means we have more than enough capacity to recycle every drinks can placed on the market."
Tesco is the first supermarket to offer canned water in its portfolio. By using aluminium the supermarket hopes to reduce its plastic waste and cater to its customers' desire for eco-friendly options.
"Aluminium cans have the highest recycling rate of any product out there and a recycled can could be back on the shelf as another one in just 60 days", says CanO Water co-founder Ariel Booker. The brand owners hopes the new 500ml cans of spring water will rival industry giants, while their minimal design and cult social media following will attract a younger generation.
It remains to be seen whether the premium image and the price premium associated with aluminium will be a winning proposition in the marketplace for the simplest of consumable products.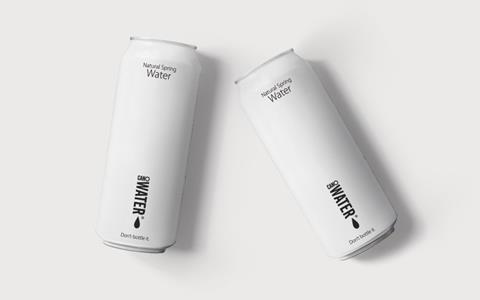 Digital opportunity
Aside from rethinking packaging formats, beverage brands are also leveraging the possibilities opened up by advances in digital technologies. Recently we have seen increased R&D in the quality and dexterity of digital print on glass (O-I's EXPRESSIONS offering late stage graphic and 3D customisation) and cans (for example, Tonejet's direct-to-can printing, introduced last year).
Velox has also pushed the boundary of digital offerings by launching a new technology as a replacement for conventional DTS printing, making possible for the first time both high volume and low volume runs with near-zero set up time.
"With the IDS 250 system, Velox has been able to find the Holy Grail for digital print. Digital is often a complementary technology, but the IDS 250 can be a replacement technology for analogue processes. Velox's Adaptive Deposition Architecture coupled with their proprietary inks achieve the productivity and speed that long production runs require, with the full on-demand benefits of digital without compromising on colour or image quality," says Amy Machado, research manager for Imaging, Printing, and Document Solutions, IDC.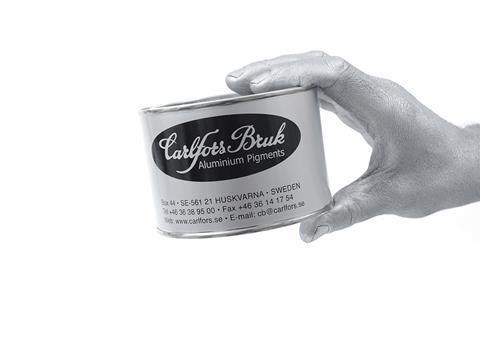 Marian Cofler, Velox CEO, adds, "Velox disrupts the conventional perception that mass production digital DTS is a technology of the future. Finally, batches of any size, with a cost per copy that is competitive with analogue long runs, are possible. This is an enormous breakthrough that can profoundly shake the industry – printing digitally direct-to-shape of any volume is now revolutionising how products are branded, produced, and marketed."
Digital technology is also elevating interactive consumer experience, conducive to brand-loyalty. Crown Bevcan has provided a first for the beverage industry with its CrownConnect™ technology. In conjunction with FACT - an all-natural sparkling drink- each can is marked with a 2D unique scannable code.
Crown partnered with entrepreneur Olly Bolton, to launch Almond, a blockchain platform that allows consumers to scan a unique hidden product code and rewards them by unlocking tokens that are redeemable for cash. The platform will also unlock details of FACT Water's story, giving unprecedented access to supply chain information- aiming to foster brand loyalty with consumers.
As well as producing the physical beverage can- CrownConnect™ technology provides the 2D codes beneath the tab of the beverage can that facilitate the engagement between consumer (via a scanning application) and brand. The platform, developed in partnership with IoT company EVRYTHNG then comes into effect, intuitively generating rewards and offers based on previous purchases and offering discounts and rewards to users based on their habits and the products they buy.
"The Internet of Things, and specifically blockchain technologies, will continue to drive the way brands interact with consumers and Almond is a very exciting step into this area for the beverage industry," commented Matt Twiss, marketing and business development director at Crown. "From a brand's perspective, the value lies in the ability to capture valuable data about when and where customers consume their products."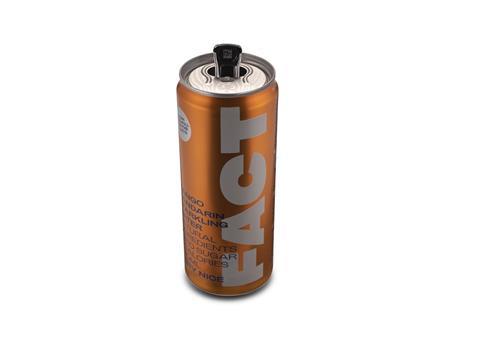 Material effects
Meanwhile, Tetra Pak has launched a suite of new packaging material effects, known as Tetra Pak® Artistry, to help beverage producers revitalise the look and feel of their products.
Artistry is a 'plug & play' offering, helping brands attract shoppers' attention without the need for the manufacturer to switch to a new packaging format or invest in new equipment. Each of the different effects on offer is created using different materials and processes.
'Reflect' incorporates holographic effects onto the package. They are created using 'holographic' films, which are applied directly on the packaging materials in converting factories. 'Metallized' creates a metallic effect thanks to the use of metallic films. The Tetra Pak Sharp® printing method allows unique metallic and holographic effects on the package.
The 'Craft' effect gives a package the natural look of bare paperboard with wood fibres. It is created using an uncoated, un-bleached paper board, which is then converted. The FlexoLine printing method is used to give the package a natural look of bare paperboard with wood fibres. More offerings are being developed, including 'Sculpt', an embossed surface texture for an innovative consumer experience. The first Sculpt pattern, which was customised for our Chinese customer Want Want, has been launched in China with initial positive market feedback.
The whole range of effects will be available for the majority of Tetra Pak® package formats and offered to customers worldwide.
Charles Brand, executive VP, product management and commercial operations at Tetra Pak said: "In a world where almost everything needs to be 'personalisable', we want to provide customers with something unique to help their brands rise above the noise and reach the shopper. The new suite of effects and expressions will help our customers enhance their brand at no additional investment, making it a cost-effective solution to their needs."
Slimline
A design trend still enjoying particular popularity among brands, according to Marcel Arsand, is the slimline can. "Brands are favouring the trendy, sleek looking cans because they are perceived as being more elegant and refined as well as being easier to carry around. Their lightweight nature makes them convenient to carry for consumers on the go as well as easy to transport for brands and retailers. Their shape means they are even more cube efficient than standard 330ml cans.
"It's a versatile format as well, making it a great choice not just for traditional soft drinks but also wine, mixed drinks, coffee and water. The likes of Red Bull, Minor Figures Coffee, CanOWater and Coca-Cola are just a few who are producing their drinks in this shape."
Smaller sized cans are also being offered to consumers in response to the healthy lifestyle trends. Mini cans of beverage still quench the customer's thirst but without as many calories. Customers are now being given a wider option of can sizes to suit their needs than ever before.
The overarching theme across materials, design, shape and size is to rethink conventional packaging for beverages – whether that means packaging a beverage in a new format, enhancing with new effects and printing techniques, or favouring more versatile designs that suit the modern trends of consumers.