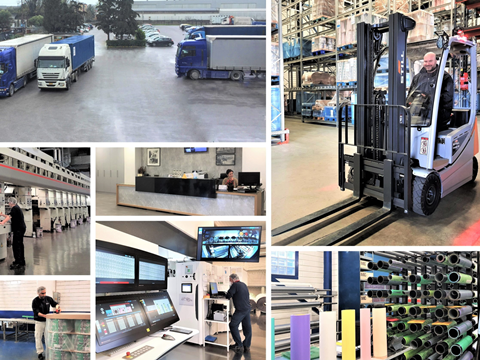 In the latest of our series looking into the effects of the COVID-19 pandemic on the packaging industry, a spokesperson from Greece-based flexible packaging producer Hatzopoulos gave us some insight into how the company is navigating the crisis.
How has corona impacted your business?
As the pandemic is spreading, we see day by day an unprecedented demand for flexible packaging, as a response to the needs of society. In some product segments the needs for products has tripled or even quadrupled. In segments relating to goods fighting the coronavirus the increase is impossible to measure. We have understood that this is a phenomenon across the flexible packaging industry which is essential for the supply chain of goods such as food, pharmaceuticals, etc. To keep up with the current demand, we have taken measures to keep our factories running without reducing capacity and production output.
Has your supply chain been impacted, or do you envisage such challenges?
Up to this moment there has not been a significant impact on our supply chain and operations, while the governments of our main export destinations have classified packaging as 'essential activity'. Nevertheless, the supply stream for essential materials for the flexible packaging industry is not intact and we are working hard to make sure all necessary actions are taking place.
Have any of your employees been infected and how are they now?
Thanks to the company's proactive focus on safety and protection we have managed to prevent infections within our organization and we are monitoring the situation continuously.
What measures are you taking to ensure you meet these challenges? Have you, for example, instigated home-working where possible?
In order to face this profoundly new challenge, our company has put into effect several measures that are based on our primary concern: the health and safety of our partners and our employees. All business trips for our employees have been cancelled, as well as all company events and planned gatherings, at least until the end of June. Many employees now work remotely from the safety of their homes. Furthermore, we have applied strict limitations on access to our premises to all incoming visitors, as well as truck drivers and couriers. The existing personnel hygiene measures have been intensified and appropriate training relevant to COVID-19 has been provided to all personnel.
In addition to protecting the physical well-being of our employees, we have also taken measures to protect their financial security, so that they are in a position to care for their health while also supporting our customers. The company's top management is closely monitoring the evolution of the situation, applying and adjusting our contingency plans as necessary, to enable us to continue our business engagements in these challenging times
How do you see coronavirus impacting more generally on packaging / FMCG, and do you have any suggestions as to how the industry can mitigate these impacts?
The coronavirus pandemic has affected our families and our private lives in general and it will have a long-lasting impact on every sector of the economy globally. It is a little soon to predict how flexible packaging is going to be affected by this crisis, but the fact that packaging plays a vital role in food safety and consumers' health has been broadly highlighted since the virus outbreak.
Are there any broader lessons about packaging that industry – or society – should draw from the pandemic?
Definitely: this pandemic has highlighted the importance of packaging in food safety across the supply chain. Furthermore, it brought to the surface the role of packaging when it comes to the issue of food waste. In general, and as the demand for packaged goods is skyrocketing, the current crisis should be seen, among other things, as an opportunity for us to re-evaluate our choices in order to a create a more sustainable-minded post-COVID-19 society.