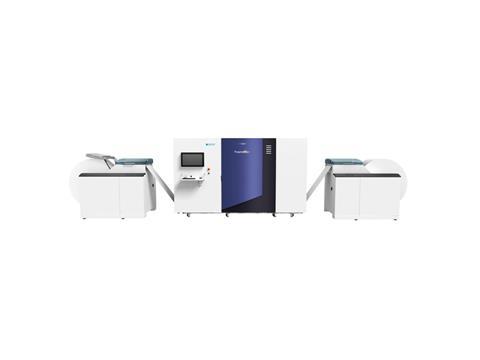 We speak to SCREEN about manufacturing and supplying digital printing equipment for a range of industry applications in the latest edition of our Rapid Interview feature.
Your elevator pitch: introduce and sell us your company in no more than 280 characters.
SCREEN is a leading manufacturer of prepress and inkjet digital printing equipment for the commercial printing, labels, flexible packaging, corrugated wide format and folding carton industries. SCREEN strives to streamline processes to create sustainable, innovative printing solutions
Where are your company's locations?
SCREEN's headquarters are located in Kyoto (Japan) but the Group has subsidiaries in all main global markets: Europe, America and Asia. In the UK, Inca Digital Printers are a leading manufacturer of wide-format corrugated and folding carton ink-jet digital equipment.
Are there any specific challenges or advantages relating to your geographical location that you could tell us about?
SCREEN is a Japanese manufacturer of high-tech equipment for the semiconductor and flat panel display industries deriving from photolithography, originally a part of printing technology. This provides unique know-how on electronics, software and inks development for innovation
Tell us a surprising fact about the market you work in.
Packaging converters are receptive to exploring new innovative technologies as they feel the pressure to futureproof their factories with the right printing technology configuration and increase agility. "Fear of missing out" overtakes "fear of failure" on digital transformation
At Packaging Europe we like to watch trends and areas of innovation as they evolve. Can you tell us something we might not be aware of that is driving technology in your sphere?
Inkjet digital printing is now a mainstream process in: commercial printing, direct mail and labels. Corrugated is on the rise. SCREEN's unique know-how in this field is driving innovation for larger industrial scale inkjet digital printing units with increased productivity.
What would you say is the biggest common misconception that you encounter in your business?
Myths about inkjet digital printing have been orchestrated by analogue printers as a self-preservation strategy. The reality today is that inkjet printing provides a high print quality comparable to gravure, is cost-competitive and job run length is increasing rapidly.
If the wider packaging industry could be transformed in some way, what kind of change would you like to see?
The packaging industry is undergoing a transformation in the right direction following two big mega-trends: digitalisation and sustainability/recyclability. SCREEN would like to see a rapid acceleration on adoption rate of digital printing technologies that can address both issues
…and how do you envisage your company changing the industry in the coming years?
SCREEN is closing the gap against analogue printing methods in terms of speed, cost-competitiveness, and flexibility due to rapid advancement in inkjet digital technologies and increased adoption rate. We are building bigger, wider and faster industrial inkjet digital platforms.