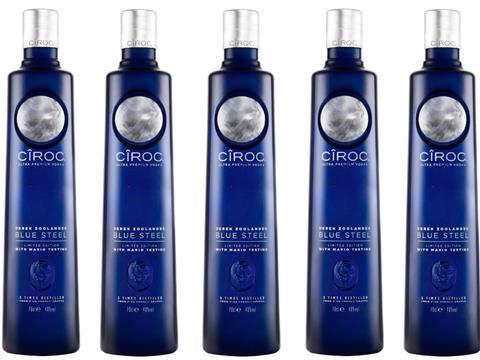 Fickle fashionistas are a notoriously difficult audience to engage. However, there is one lifestyle brand which continues to engage and remain fresh: Liberty of London. News that the original ice-cream with personality, Häagen-Dazs, has chosen to release its new 'floral' limited edition exclusively to Liberty's shoppers is a natural but forward-thinking match, writes Kim Van Elkan, managing director of Hornall Anderson.
Limited editions are a fun way for brands to reappraise their audience and surprise and reach new consumers. The traditional Häagen-Dazs look is very distinctive with the rich use of burgundy and gold. With fresh new artisan ice-cream brands emerging, Häagen-Dazs perhaps looks a little less exciting than it once was, when its clever adverts made consumers think that the brand would improve their sex lives. It became an aphrodisiac through branding, heavy breathing and heat sensitive imagery making the most of the 'hot' and 'cold' aspects of the brand.
The new floral limited editions of two special flavours 'Raspberry Rose' and 'Apricot Lavender' are presented in beautifully designed tubs which take their cues from the world of fragrance. But it's the partnership with quintessentially British fashion retail icon Liberty that makes it stand out. Being exclusive to Liberty of London adds to the cachet.
If Häagen-Dazs had been really clever, it would have gone the full hog and used Liberty print as the full packaging story rather than the more subtle 'perfume' look. The distinctive Liberty print can be found appearing in many brands, including the new Uniqlo fashion partnership, which has fused the London store's signature heritage floral prints with the fashion stores forward-thinking design.
Liberty print Häagen-Dazs tubs would be collectable – and provide a low price point into the exclusivity of the Liberty brand (rather than one of their scarfs or fashion items). Häagen-Dazs might even be able to look at creating mini Liberty print tubs to hand out during Fashion Week or at VIP events. It could even help the brand challenge against smaller, artisan ice-cream companies.
Thought-through limited edition partnerships can provide high desirability amongst shoppers. We saw this with the launch of the Vaseline special edition Crème Brûlée Lip Therapy, which partnered with Selfridges to become the fasting selling product in the store's history. It was a guilt-free affordable treat that allowed consumers a slice of Selfridges style.
Branding collaborations
The film and fashion industries often team up with alcohol and FMCG brands to great effect. The tie up between Cîroc vodka and Zoolander 2 for example, was a match made in marketing heaven. Cîroc vodka used the 'Blue Steel' pose made famous by Ben Stiller in the cult 2001 film Zoolander as its inspiration, creating an attractive limited edition bottle which resonated with its target audience. The Blue Steel Limited Edition Cîroc Vodka was ready in time for the premiere of Zoolander 2. It is one of the aspirational jet-set, Ibiza-loving club crowd's favourite drinks brands and is famously supported by hip hop entrepreneur Sean 'Puffy' Combs.
It's inspiring to see brands doing something different and unexpected, but you've also got to admire a brand that knows exactly who its audience is. Cîroc was bang on target with this limited edition. It markets itself to a glam crowd, who frequent hip bars and who give their looks a high priority. Cîroc wants Kim Kardashian and her fans to be seen quaffing Cîroc in exclusive VIP bars, whilst pulling a 'Blue Steel' and taking selfies on their mobile phones, then sharing these experiences on social media.
It's also encouraging to see brands that don't take themselves too seriously. Cîroc is a spirits brand that wants to have a laugh. It only launched in 2003, so it doesn't have any of the history that many spirits brands display on their sophisticated packaging and branding. Instead this is a brand yelling: 'Drink me and we can all imagine we own a private jet and holiday on Mustique.'
Earlier this year Bovril released a limited edition ahead of the release of the Dad's Army film, based on the much loved 1970s British comedy. The collectible jars highlight Bovril's heritage as an iconic brand, which was used as part of military rations for soldiers during World War II. Three Dad's Army-themed jars featured reinterpretations of some historic war time messages – such as 'dig in for victory', 'beef up for the home front' and 'Dad's Army wants you beefy'. Bringing together these two very British brands for a limited edition creates packaging which consumers want to keep and which will attract fans of both brands. Bovril was joined by fellow Unilever brand Colman's to deliver a competition to win prizes such as a holiday in Yorkshire; a trip for two to Bletchley Park, where messages were decoded by British intelligence agents during the war, and Dad's Army merchandise.
A tie up between Tia Maria and Grazia ahead of Christmas was a more unusual special limited edition, as it's not too common to see publications teaming up with alcohol brands, but bringing together a fashion and celebrity news magazine and a liqueur created a product with considerable appeal. The eye-catching limited edition gift packs were launched to celebrate Grazia's ten-year anniversary and it was launched ahead of Christmas to boost sales during the party. The pre-Christmas push for the attractive monochrome bottle was supported with campaigns across social, traditional and digital media. Billboards featured stylish and influential women (who were big on social media) and sported the catch line: 'All we want for Christmas.'
Teaming up two iconic brands will of course always help with a limited edition, whether that is Cîroc vodka and Zoolander 2, Dad's Army with Bovril and Colman's, Tia Maria and Grazia, or Häagen-Dazs and Liberty. Each brand can benefit from each other's story and retell it in a new way. And the collectible packaging is more likely to stay on consumers' shelves, as a reminder to buy the product again. By making a product truly exclusive, consumers are more likely to go out of their way to track down a limited edition - and it can push up resale prices on eBay, which is the test of truly special limited edition packaging. It is yet to be seen if the new packaging from Häagen-Dazs will be desirable enough to appear on eBay, but the ice cream tub is guaranteed to be empty, as one thing we do know is that ice-cream doesn't travel well. It's a shame, because cookies and cream surely is one of the world's best inventions.