Fully interconnected digital capabilities at every stage of a machine's lifecycle turn you from a machine builder into a full-service solutions provider. The modern marketplace needs you more than ever - according to Rockwell Automation.
At interpack in 2017, while visiting the Rockwell Automation stand, the Global Director of Automation for one of the world's largest confectionary companies was asked: "From a production and packaging perspective, what's the panacea in terms of what automation can help you achieve?" His simple, immediate answer was: "An economical batch size of one!"
The idea of hyper personalisation is a fascinating goal and one that will certainly be with us sometime soon. But, as a senior engineer at a large-scale global manufacturer, what he was actually implying – by stating a batch size of one – was the immediate need for enabling technology that would deliver incredible levels of reconfigurability; resulting in the agility and flexibility required for high-throughput, small batch, mass-customisation capabilities.
Couple this to real-time data interactions and changeovers in minutes – or even seconds – and we are heading closer to his dream: maximum throughput and complete flexibility with minimum downtime.
Upon further discussion, his list of capabilities revealed that – in every single instance – the ideas and technologies required for this approach are grounded in a highly flexible, digitally capable infrastructure; one which will see hardware and software working in harmony to remove the financial pre-requisites of economies of scale.
At the 2017 interpack event, Rockwell Automation showed how it has helped companies move a step closer, by showcasing several technologies that underpin digital transformations – backed up by its Connected Enterprise philosophy.
But what would have been on display at interpack 2020? And what will you see in 2021? Over the last three years, these technologies have evolved, improved and multiplied to such an extent that every step of a machine's lifecycle – from initial sales and design, through testing, installation, training and commissioning, and onto operation, maintenance and enhancement – are now encompassed by an Industry 4.0 framework. Rockwell Automation's approach not only redefines the OEM value chain, but also provides the foundation for digital transformation. The ability to deliver the prodigal batch size of one is now much closer.
Very few automation suppliers can deliver technology that encompass the entire lifecycle of a machine. As the world's leading provider of industrial automation and information technology – Rockwell Automation covers the spectrum and can help companies at any stage of their digital journey.
In the first instance – resulting from the collaboration between Rockwell Automation and PTC – is a suite of digital tools, gathered under the banner FactoryTalk® InnovationSuite, powered by PTC. Thanks to improved data preparation, more automated data discovery and functions that are more tightly integrated, FactoryTalk InnovationSuite gives users the ability to improve connectivity to operational technology (OT) devices on the plant floor while natively supporting rapid, scalable and secure connection of most industrial equipment.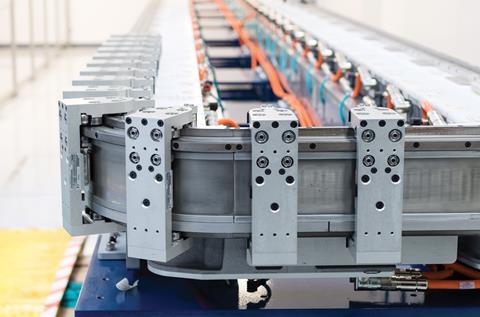 When combined with data from converged IT applications and systems, decision makers gain a complete digital representation of their industrial equipment, lines and facilities from anywhere in their enterprise.
FactoryTalk InnovationSuite provides the groundwork and data for the next step in the offering, digital engineering. Utilising advanced innovations in machine learning, the suite conceptualises and connects data to make it accessible and insightful for operations personnel. It is here that augmented reality (AR) and Digital Twins are used to maximum effect.
Dynamic Digital Twin technology is transforming the way OEMs and end users design, commission, operate and maintain their machines. At the design stage, engineers can use a digital twin to design and test the mechanics of machines before build, resulting in better machine performance, shorter development cycles and faster time to market – all of which lower costs and reduce risks. When commissioning, they can connect a machine to a control system – long before going onsite – in a virtual environment, where changes are much less expensive to make. In operations, real-time production data is combined with a digital twin, so operators – armed with far greater useful information – can make better production decisions. Finally, when it comes to maintenance, predictive models built from digital twins allow engineers to predict and schedule maintenance during planned shutdowns.
The software elements of any modern infrastructure can only feed off pertinent data if the equipment with which they are interacting is in itself, smart, which is why smart machines form the foundation of many of these advances. Smart systems help companies create more flexible operations, which in turn make companies more productive, more secure and allow them to become more sustainable.
Even a basic low-voltage commodity component can share data with higher-level systems. Even a simple 'go/no go' signal can have an impact… in real time or for historical trending following analytics.
Some of the greatest agility advances have been thanks to the advent of contemporary automation concepts. Indeed, smart software-based systems really come to the fore when matched to physical technology that offers commensurate levels of capabilities, especially in terms of flexibility. One such concept is intelligent cart technology, such as Rockwell Automation's iTRAK® linear servo solution.
Analogous to a model railway in the way it can be configured, iTRAK's servo based, pitchless operation allows engineers to create near limitless motion profiles for each individual carrier, which can iron out long dwell times, enhance traffic smoothing and significantly boost throughput. Unlike traditional fixed-speed conveyors, cycle times no longer need to be defined by the slowest process!
The latest model, iTRAK 5730, is a small-frame variant, which, thanks to its minimum pitch of 50 mm coupled to its small footprint, is ideal for primary packaging operations such as flow wrapping, end load cartoning, and form, fill, seal pouching. Safe torque off, a SIL 3, PLe safety rating and the ability to create safety zones, coupled to comprehensive object-oriented libraries make iTRAK the benchmark for future automation operations.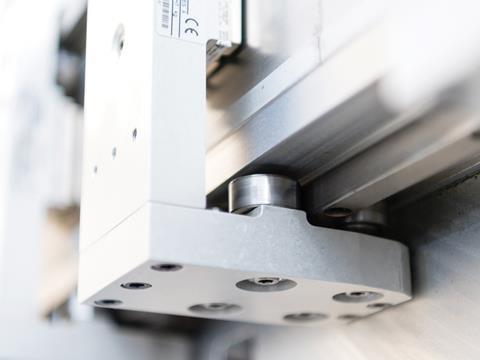 At every stage of a company's digital transformation, Rockwell Automation can offer the capabilities of its LifeCycle Services. Whether a company – big or small – needs to design, build, sustain or improve operations, the Lifecycle Services group at Rockwell Automation provides fully scalable support every step of the way.
Deliverables include: professional services to help package and modernise equipment; connected services, which focus on the OT space to help a customer sustain growth – from single networks up to a full OT cybersecurity program rollout across the globe; and more traditional services, such as on-site maintenance and support or remote technical support and training.
All of these services are driven by data and analytics, which underpin a foundational element for increasing productivity and reducing risk: understanding what assets you have in your facility or across your enterprise. The team can then help with equipment assessments, network optimisation, cybersecurity and analytics, which takes us full circle back to FactoryTalk InnovationSuite.
The consumer is demanding more choice, this leads end users to create more variety, which means machine builders and OEMs have to deliver more flexibility! In order to stay flexible, stay ahead and stay relevant you have to have agility, and it is in the space where an automation supplier such as Rockwell Automation can help.