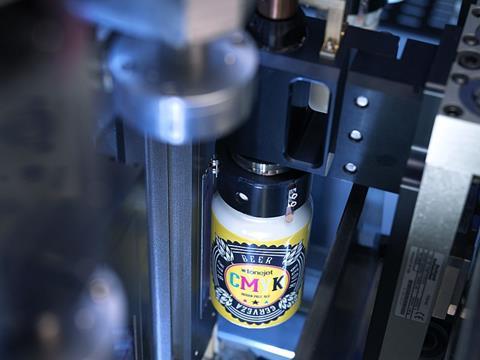 Tonejet's Cyclone can printing system is self-contained and designed for use by label printers or packaging converters who may previously not have dealt with this market, as well as by experienced can handling facilities. Cans are shipped from manufacturing facilities on pallets containing around 7,000 cans which need to be unloaded ahead of printing, and re-loaded onto pallets after printing. Customers from a printing or converting background will typically need a depalletiser, an oven for curing the over-varnish that is applied, and a repalletiser – all of which can be supplied by Tonejet or its partners. Customers in the can manufacturing or filling business may only require the core Cyclone printing system. Besides the physical printing, what else is being done to advance this process and why is this necessary?
Larger can manufacturers need to print onto un-necked cans, and require a robust but flexible print result which will survive the subsequent can necking process, in which the can is formed under pressure to create the curved neck before the lid is attached. Tonejet's unique process results in an image layer which is less than a micron thick (compared to around 20 microns for UV inkjet), allowing Tonejet-printed cans to run through the necking process with the decoration untouched. Craft beer and small to medium sized filling lines on the other hand, will buy in undecorated blank cans which are pre-necked. These cans are printed immediately before filling and present different challenges, as the external surface will be contaminated with necking oil and PTFE anti-slip materials used to prevent damage in transit. At Tonejet we have developed a can preparation process which removes the contaminants and leaves the surface of the can in perfect condition for printing, immediately before the image is laid down.
What industries are a fit for this technology, for example, craft brewers. And why?
Several different industries are showing a great deal of interest in the Cyclone digital printer. Traditional pressure sensitive and shrink sleeve label printers are keen to understand the new technology and how it fits into their business, as it can typically reduce cost per label by a half to two thirds. They see the growth in craft beer as a way to fund the acquisition of a new technology platform that will enable entirely new applications and markets as their customers start to understand the potential it offers throughout the beverage industry.
Tonejet is also talking to larger beverage brands who want to print directly onto cans in lower volumes as a unique way to communicate with consumers. We recently printed cans in very low quantities for the Tomorrowland music festival sponsored by Anheuser-Busch InBev. 10,000 cans were printed using 15 different designs featuring national flags in runs between 15 and 1400. The ability to digitally print directly to the cans made the project possible. Traditional printing would have been prohibitively time consuming and expensive.We also see strong demand from entrepreneurs and startups offering mobile filling and packing to the craft sector, or creating new beverage can converting service businesses