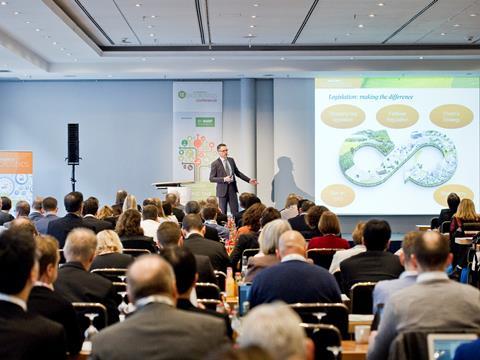 Tim Sykes:
Has there been increased interest in 2018 on the part of major brand owners and retailers in exploring or adopting bioplastics?
Hasso von Pogrell:
Over the past years, brand owners have shown an increased interest in the bioplastics industry due to the growing demand by consumers of sustainable products. For example, Lego has announced that the botanical elements such as leaves, bushes and trees will be made from plant-based plastic (polyethylene).
IKEA has teamed up with EUBP member Neste to produce bio-based plastics. Both companies aim to produce polypropylene (PP) and polyethylene (PE) from renewable or recycled waste and residue raw materials, such as used cooking oil, as well as sustainably produced vegetable oils. The pilot at commercial scale of PP and PE plastic, chosen to contain 20 per cent renewable content, started during fall 2018. It will be the first large-scale production of renewable, bio-based polypropylene plastic globally. The production of bio-based plastics will be based on Neste's 100 per cent renewable hydrocarbons.
Reverdia's Biosuccinium® has been used in the production of biobased materials for VAUDE's redesigned Summer 2018 Shoe Collection. Toe caps and heel counters of the shoes are made from bio-based thermoplastic polyurethane (TPU) using succinic acid.
Tim Sykes:
Some of last year's speakers presented very interesting R&D into biodegradable multilayer packaging film and biodegradable barrier coatings. Have there been any recent important milestones or breakthroughs in barrier packaging?
Hasso von Pogrell:
This is a very exciting topic actually, because biodegradable and compostable packaging offer suitable end-of-life' solutions for food packaging. When the packaging is mixed with food waste, mechanical recycling is hardly possible. The use of compostable materials makes the mixed waste suitable for organic recycling.
In 2018 we have also seen an important milestone with Danimer Scientific and PepsiCo, which jointly won the Innovation in Bioplastics Award for their industrial compostable snack bag. The snack bag meets the packaging requirements regarding feel, noise and performance of PepsiCo, and has been certified to be industrially compostable by TUV Austria
Tim Sykes:
What are your expectations of this year's conference? Are there any presentations that will be particularly significant from a packaging point of view?
Hasso von Pogrell:
The agenda of the thirteenth European Bioplastics Conference will cover a wide range of important areas, including the EU policy landscape, the latest technological innovations, as well as the brand perspective on the use of biopolymers. Also, European Bioplastics will publish the latest bioplastics market data update during the conference.
Some of the highlights of this year include Philippe Diercxsens, from Danone, presenting on the impact of packaging waste legislation, Stephen Elliot-Wetmore, from WWF South Africa, on driving partnerships and innovations, and Miriam Weber, from HYDRA Marine Sciences, on testing biodegradation in the marine environment. From the European Commission, Michiel de Smet (DG Research and Innovation) will speak about bioplastics' role in an innovative circular economy, and Rana Pant (Joint Research Centre) will share insights into the JRC's LCA work on plastics using alternative feedstock material. Additionally, Philippe Mengal (Bio-based Industries Joint Undertaking) will present on how to catalyse the growth of the EU bioplastics market, and María José Badenas Romero (AIMPLAS) will discuss how to verify food-contact compliance and questioning whether recyclates fulfil the requirements.
Furthermore, we will dive into a wide range of topics, including the latest updates and harmonisation efforts in standardisation for bioplastics, packaging developments from single-use to food-contact solutions, new technologies and process routes, as well as innovative bioplastics applications. Another highlight will be a major market introduction announcement, aiming to revolutionise the PLA market.
Tim Sykes:
Sustainability has been the number one issue in the packaging industry for some time but I don't think we quite anticipated even one year ago how the debate around plastic waste would explode in the European public consciousness. What is EUBP's perspective on the popular 'war on plastic'? What is your perspective on the regulatory approach to the circular economy, and in particular the EU's Plastics Strategy?
Hasso von Pogrell:
With regards to the EU's Plastic Strategy, we will also have an update at the EUBP Conference. We welcome the emphasis on the potential of bio-based plastics for feedstock differentiation in plastics production as well as the acknowledgment of the transformative role of innovative bio-based plastics already in the market. Equally important to us is the express call of the Parliament to define clear criteria for the use of biodegradable and compostable plastics. With regard to food packaging applications, this will boost organic recycling and thus help realise a circular economy across Europe. In this context, it is also very encouraging that the Parliament is taking a clear position against oxo-degradable plastics.
One of the most relevant tools we have to address the sustainability of a product is LCA. However, it is important to highlight that there is no general LCA available for all types of bioplastic. Each product is different and needs to be analysed separately. An additional challenge for LCA is how to integrate untapped potential of innovative and rather 'young' products, such as bioplastics, in a fair and comprehensive way. LCAs currently do not take into account the potential, which these materials and products have when they mature. Therefore, projections for improvements should be made and then included in LCA.
Tim Sykes:
What other activities or issues have dominated the agenda of European Bioplastics as an association in 2018.
Hasso von Pogrell:
We have been very active on regulatory issues, such as the revision of the EU Fertilisers Regulation and the new standard EN 17033 on biodegradation of plastic mulch films in agriculture developed by CEN/TC 249 on Plastics, which has been published this year.
Related to the topic of standards, we will have a session at the conference dedicated to new developments for biopolymers featuring NEN, OWS, ECOS, and bringing us up to speed on the status quo of marine biodegradation research presented by HYDRA Marine Sciences.
Finally, in our commitment to support research and innovation efforts in the biopolymer and bioplastics industry, we serve on the Advisory Boards of six on-going EU and national research projects. Also, as a member of the PolyBioSkin Horizon 2020 project consortium, we are currently working together with academic and industry partners in an effort to develop solutions for the bio-based economy of the future. Focussing on skin-contact applications, the project utilises the beneficial properties of biopolymers and innovative engineering and nanotechnologies to create performance and sustainability-improved bio-based and biodegradable mass-market products in the biomedical, hygiene, and cosmetic sectors.