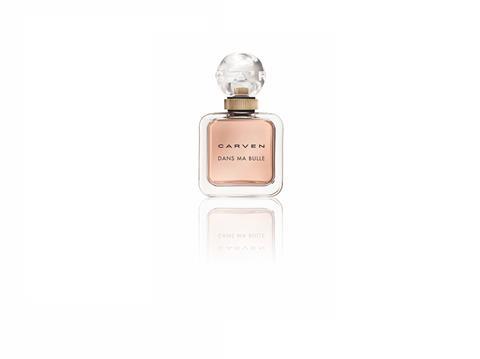 With its delicate juice and thick-walled squircle shaped bottle, "Dans ma bulle" is Carven's new scent of the season. For this launch, Texen created a cap made from injected Surlyn in two formats with remarkable proportions.
Targeting a young consumer and a broad audience, this Carven fragrance has a strong identity and a marked esthetic; its cap plays a major role both because of its volume and proportions and the relief lettering it features to spell out the brand's name. Two bubbles of different diameters were developed for the bottle formats desired by Carven, 30/50ml and 100ml.
Texen also produced the collar, made up of two parts: a functional deep black injected PP central part assembled onto a gold metallised outer ring featuring vertical stripes.
A single injection process
Texen used all of its expertise to create this cap, realising the Surlyn injection in a single part. After optimising the diameter of the injection point, the joints are practically invisible. To give the part its aesthetic aspect and crystal finish, Texen worked on cycle times, taking into account the material's mass, its quality and its path within the mould.
More info: