This summer the Loop zero waste shopping platform expanded to another geography, partnering with Tesco to launch a pilot e-commerce programme in the UK. Tim Sykes spoke to the retail giant's James Bull (head of packaging) and Giles Bolton (responsible sourcing director) to understand their aspirations for the collaboration and how it fits in Tesco's broader packaging and collaboration strategies.
Following initial trials in the New York and Paris metro areas, TerraCycle's widely discussed Loop concept has launched throughout Great Britain in partnership with Tesco. Via a dedicated website, consumers across the UK will be able to order branded goods packaged in reusable packaging for which they pay a deposit. Tesco will deliver, and then collect the empty containers for washing and reuse.
As well as leveraging its extensive home delivery resources to facilitate the online shopping partnership, Tesco is looking at Loop with a broader, omnichannel curiosity.
"The standalone e-commerce pilot will generate a lot of understanding for the participating brands about consumer enthusiasm for the Loop concept across the UK," Giles Bolton remarked. "However, we're also going to be running an in-store trial, which will be even more interesting in terms of the learning opportunities for us. We'll find out how our customers interact with Loop products, alongside with regular product offerings. Especially interesting will be insights into how we could make this model work – and how we could scale it up. We want to understand things like how we'd handle the logistics of customer returns, and ensuring customer transparency around how much they are paying for the product itself versus how much as deposit for the container."
This trial will effectively turn a handful of stores in one region, served by a single logistics centre, into a living laboratory studying customer interaction with reusable systems. Tesco has deliberately designed the experiment on a relatively small scale, limiting the volume demands on manufacturers, with the objective of learning quickly.
'Radical and old-fashioned'
The embrace of Loop fits under one pillar of Tesco's '4Rs' sustainable packaging strategy. The retailer has pledged to eliminate unnecessary packaging ('Remove'), such as rigid lids on cream pots, and has committed to eliminate a billion pieces of plastic by the end of 2020; it is also looking to optimise the amount of packaging used ('Reduce').
The third pillar is of course 'Reuse'.
"With the exception of the packaging materials you can eliminate altogether, reuse offers the best potential in terms of environmental returns," observed Giles. "However, if you survey the market, some of the versions of reuse you see are really quite hard to envisage working at scale. For us it's very important to make all our products sustainable and affordable, so solutions need to work across every element of our offering. I find the Loop proposition very interesting – it's at once radical and old fashioned. Loop is a radical reimagining of how an old logistical supply chain (the traditional 'milk bottle' model) can work in today's world."
In common with the strategies of many of the world's leading retailers and brand owners, Tesco's 4Rs represent a readiness to embrace more than one vision of a waste free future. As such, the business is pouring resources into the fourth pillar 'Recycle' in parallel with exploring the possibilities of reuse.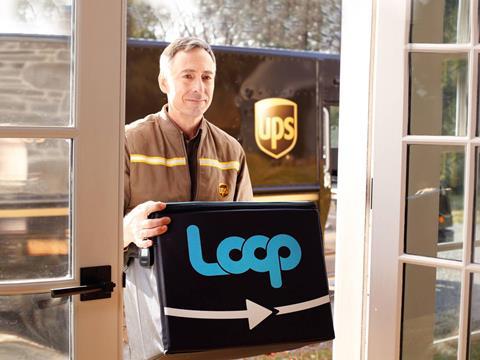 "We need to be aware of overall consequences of decisions," Giles Bolton commented. "The marine plastic problem is horrendous, and it's clearly something that the whole industry has to address, by ensuring that eventually all the packaging we use exists within a loop. More specifically, we are working towards making all of our packaging materials recyclable, while also increasing the amount of recycled material used."
As far as progress towards those respective targets in concerned, inevitably the former is within closer reach than the latter, given reliance on suppliers upstream in the value chain to increase PCR content in available packaging solutions. This touches upon a wider point, that there is only so much a single stakeholder (even as sizeable as Tesco) can achieve in isolation.
"We are also working hard on getting our packaging actually gets recycled at end of life," Giles continued. "A while ago Tesco pioneered a system where bags could be returned to the store for recycling. We're currently doing exciting trials on soft plastic recycling. We have to do our part – but we're also dependent on the wider recycling infrastructure, which as everyone knows is incredibly fragmented. As such, we act in coalition with key suppliers, not only to fulfil our responsibilities through the 4Rs, but to work with government to help achieve a more consistent ecosystem of collection and recycling. We're supportive of EPR. However, it's very important the money raised is invested back into recycling."
While the 4Rs don't explicitly address the challenge of decarbonization, climate crisis also informs Tesco's packaging strategy. A particularly significant initiative in this context is the retailer's partnership with WWF, which aims to halve environmental impact of food, by helping consumers eat more sustainably through the elimination of food and packaging waste. As with Loop, this partnership, which began in 2018, is a sustainability experiment with an emphasis on learning. It resulted a year later in the development of the Tesco-WWF Sustainable Basket Metric, which aims to better understand the food value chain by creating an innovative industry measure of the environmental impact of the average UK shopping basket. WWF has taken 20 of the most popular products sold at Tesco and used the Metric to track key sustainability criteria across production, transportation and packaging right through to consumption. It will be fascinating to survey the findings – and to consider the implications for packaging.
As for the Loop model, there are (sometimes contested) claims of potentially significant carbon footprint reductions compared, to single-use packaging.
"There's no perfect system for comparing diverse sustainability metrics, and a lot depends on the distances travelled, which vary enormously, so it's hard to measure relative footprints," remarked head of packaging, James Bull. "With a switch to renewable energy, we can envisage further improvements in carbon. However, our starting point is that Loop as a system will work, and there's no reason why it shouldn't be scalable."
The year of e-commerce
The Loop-Tesco platform has launched in a year when online shopping has surged for reasons none of us predicted in January. Indeed, Tesco has doubled its volumes of online delivery since the start of the Covid-19 pandemic. For years the industry has anticipated a point at which this home-delivery channel will change the design and purpose of primary packaging. Is that a trend that Tesco can already detect?
"In the future it's likely that products delivered to the door will look very different to the ones bought in a store," said James. "At the moment though we're still primarily focusing on using packaging that works well in both contexts: in the store and for home delivery. However, it's going to be very interesting to see when the tipping point will come. Having said that, the philosophy of Loop – approaching packaging as asset rather than a cost – opens up interesting possibilities in terms of adding value, functionality and consumer interaction. There are some impressive examples in the initial Loop offering, and I'm looking forward to seeing how brands develop their products based on their experiences."
We can only speculate whether Tesco will add its own private label products to the Loop platform: once again using experimental collaborations to gain insights, the retailer will scrutinize the learnings of from its in-store trials before considering such possibilities.