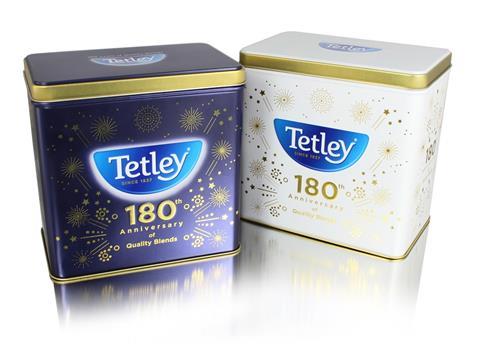 Since its founding in 1837, Tetley has helped foster consumers' love of tea by introducing unique flavour profiles and bag innovations that reduce mess and make the ritualistic beverage even easier to consume. So when it was time for the tea purveyor to commemorate its 180th anniversary, it was critical for the packaging to be just as distinctive as the product it contained.
The iconic brand – owned by Tata Global Beverages – turned to CROWN Aerosols and Specialty Packaging Europe, a business unit of Crown Holdings, Inc., for help creating a limited edition celebration tin. The two companies have a long history of collaboration, producing several collectible tins that are highly sought after by consumers.
For its 180th celebration, Tetley wanted a premium tin design that would be simple and clean while still clearly conveying the passion the company has for its products and its pride in achieving the rare milestone.
After developing a creative brief for the project, Crown's expert in-house design team produced several concepts that leveraged the vast array of features, print finishes and decorative options that are available in its portfolio. A mixture of varnishes were incorporated, for example, which allowed the designers to highlight areas of the design in different ways. Metallic inks with gloss and matt varnishes were used to full effect, while the logo and supporting message were embossed to further enhance the look and feel of the finished design.
In addition to lending a premium look and feel to the brand, Tetley chose metal as the format for this celebratory package as a means to convey its commitment to sustainability. The fact that metal is 100% recyclable and infinitely recyclable makes it a true contributor to the circular economy. In addition, the collectible nature of the tin makes it likely that consumers will reuse it or treat it as a keepsake once the product has been consumed.
The limited edition tins will be available in stores from October 2017.
More info: