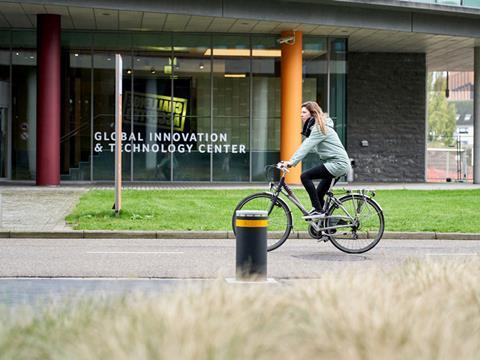 Earlier this month, alcoholic beverage giant AB InBev unveiled what it described as the world's lightest commercially available beer bottle. To learn more about this innovation, as well as the company's wider packaging sustainability ethos, we talked with Frederik De Graaf, global director of packaging development at AB InBev.
First things first, please could you introduce this new product to our readers?
We're very excited to announce this new innovation. Together with our scientists, academic partners, and external glass suppliers, we have developed and produced the world's lightest longneck beer bottle on a commercial production line. We hope that this will deliver a more sustainable one-way glass bottle, while still maintaining the quality of our beer in safe and secure packaging.
What was the motivation behind the creation of this bottle, and could you put it into context in terms of AB InBev's wider sustainability goals?
Light weighting our bottles has been an important initiative for many years at AB InBev. What some people may take for granted is that by reducing the weight of our bottles, we can also reduce their carbon footprint.
This new innovation is a key environmental and technological breakthrough, as we've managed to decrease the weight of the standard longneck beer bottle from 180 to 150 grams, contributing to CO2e emissions being cut by 17% per bottle.
With packaging making up, on average, 50% of our products' carbon product footprint in Europe, this invention could be a vital part of our Sustainability Goals, which include a 25% reduction in CO2e emissions across our value chain by 2025.
Could you give us an insight into the R&D process?
The bottle was developed at our Global Innovation and Technology R&D Centre, GITEC in Leuven, Belgium. GITEC is driven by a team of more than 120 passionate R&D talents from more than 20 countries. It works to revolutionise packaging, make the brewing process more efficient and sustainable, create breakthroughs in how our beers are delivered and dispensed, and offer new tasting and consumer experiences.
In terms of the development process, quality and safety are always non-negotiables and all new packaging innovations undergo extensive testing before they can be released to the market. Ultimately, a combination of state-of-the-art equipment, skilled operators, and process improvements are helping us to achieve this innovation.
You've said that this project was not without its challenges – can you break some of these down for us?
When reducing the weight of the bottle, we are faced with strength challenges – beer is, of course, a carbonated drink and inside pressure can build up due to the gas expanding under certain heat conditions. We also need to be mindful of the speed of our filling lines inducing high-impact forces on the bottle.
We are overcoming this through a combination of state-of-the-art converting equipment (developed in collaboration with our external partners), new glass coatings, new glass mold coatings to strengthen the glass, and state-of-the-art filling equipment.
What's next for the solution – how/when will it be rolled out?
We're very proud of this new innovation and are now exploring how to roll out at scale in Europe initially, in markets where we have one-way glass bottles, and then in additional markets.
In terms of AB InBev's wider packaging innovation efforts – could you tell us about any other solutions that are in the pipeline?
We are constantly looking for ways to increase the recycled content in our packaging, support recovery and reuse of bottles, lightweight our packaging and continue to advocate for returnable solutions. This also feeds into our carbon goals as well with packaging making up 50% of our carbon product footprint in Europe. We've also committed to having 100% of our products in packaging that is returnable or from majority recycled content by 2025.
To achieve our circular packaging vision, we focus on four key areas: Reuse, Reduce, Recycle, and Rethink. Reuse - we are increasing recycling rates around the world through the recovery and reuse of materials; Reduce - we are minimising the packaging material to conserve resources and foster a cleaner environment; Recycle - we are increasing recycled materials in our products and promoting recycling locally; and Rethink - we are reimaging our materials, introducing alternative products and processes to reduce our environmental footprint.
We have some exciting projects we're working on in this area and while we have to keep these under wraps at the moment while they're being developed, we look forward to sharing more news from our R&D centre, GITEC, in the coming weeks and months. These innovative solutions will close the full loop and reduce emissions in all our packages across the world.