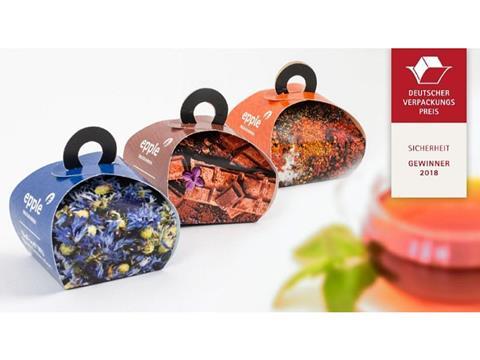 BoFood® Organic, a patent protected sheet offset ink will be awarded the German Packaging Prize at the FachPack in Nürnberg on 25. September 2018 in the category of safety. The concept of this ink system for inner side packaging printing convinced the jury of experts.
"Our passion for the best solutions and our dedication to the best products are the ingredients with which we have achieved the distinction of the German Packaging Prize 2018, in the category of safety. The interest shown by the market in our sustainable innovation is an absolute motivation for our work", explains Gunther Gerlach, Chairman of the Board at Epple Druckfarben AG. The award-winning safety concept is built upon migration harmless, coordinated Epple products from the BoFood® series, designed for printing on both outer and inner sides of foodstuff packaging, as well as a harmonised protective varnish effect finish.
With reference to the German Packaging Prize, organised by the German Packaging Institute under the patronage of the Federal Ministry for Economics and Technology, Epple submitted a package printed on the inner side with BoFood® Organic and on the outer side with migration harmless BoFood® Next Generation. EGGER Druck + Medien, Landsberg am Lech, produced the package, which was designed by the design agency Clormann Design, Penzing, in three versions under the implementationtechnology advice of Epple. Intense pictures of Chocolate, Herbs and Tea gleam from the outside of the folding box. On the inside there is product information on BoFood® Organic. The jury of experts who awarded the German Packaging Prize recognised that Epple have taken an unprecedented step forwards in the field of inks used for the printing of the outside of foodstuff packaging, with BoFood® Organic. At the moment BoFood® Organic is the only sheet offset ink which may be used for printing on the inner side of foodstuff packaging. BoFood® Organic opens up new possibilities for inner side printing of foils and folding boxes. Helmut Fröhlich, Product manager, Packaging at Epple, reports from the market. "Great interest is being shown by the confectionary and luxury foods industries. The odourless inks are perfectly suited for designing the inner sides of tea and sweet packages for emotive promotion".
BoFood® Organic: Inner side printing may begin BoFood® Organic consists exclusively of components which are also to be found and are permitted, in foodstuffs themselves. The BoFood® Organic offset ink series is toxicologically safe, in both the short and long term, as well as having low migratory properties and fulfils all statutory requirements regarding the printing of primary packaging for foodstuffs. They also exclude any Swelling-Effect (creasing or wave formations on the foil) and include an abrasion resistant organic dispersion varnish for non-coated box insides, which is also composed of 100% foodstuff components and/or additives.
Epple at FachPack: Hall 7A, Stand 7A-138