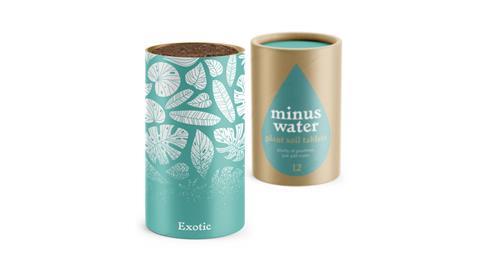 Global creative agency Anthem Worldwide's Benelux team are passionate about the role of design in creating more sustainable packaging solutions. Using insight driven design as a tool for innovation, this four-part series showcases a range of future focused concept designs looking to reduce the negative environmental impact of packaging.
Minus Water concept design is inspired by three key insights. Firstly, modern living spaces are getting smaller – curating such compact living spaces is a big market and includes the design of clever storage solutions. Secondly, the current consumer trend for all things green shows no signs of slowing down – the indoor and small green space plant market is booming. Thirdly, existing potting soil products come in huge and heavy plastic bags – the smallest of sizes typically starts at 4 litres and anyone who's had the displeasure of dealing with such a bag knows the extraordinary mess they make.
The market is crying out for a potting soil solution that is compact, lightweight, easy to use, easy to store and overall fit for modern day consumer needs.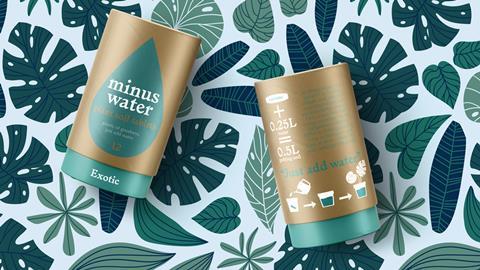 Minus Water addresses all such existing gaps in the market and also provides an additional sustainable benefit making it extra special. 'Minus Water' is exactly what it says on the tin – without water.
Through the process of dehydrating traditional potting soil, one can create compressed water free tablets. Such tablets can be re-hydrated in the home to provide ready-to-plant soil. Interestingly, such tablets or 'pellets' are already available in the market, though they're not marketed as consumer facing products or brands.
The product solution removes water from the supply chain, helping to reduce CO2 emissions. Importantly, by removing the moisture from the soil, the tablets no longer need to be stored in plastic – providing a more convenient product for consumers and the possibility of a better packaging solution for the planet.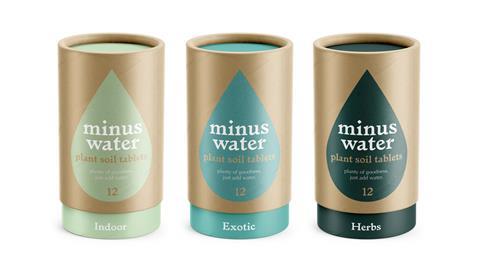 The physical packaging of Minus Water is a simple cylinder tube made from recycled cardboard – cardboard that is also recyclable. Each tube houses 12 individual potting soil tablets. There are three variants; Indoor, Herbs and Exotic – each soil variant provides particular nutritional benefits for different plant groups. This is further amplified on the design of the different inner tubes.
On front of pack the brand name is held within a water droplet, acting as a holding device for the brand communication focused on the products intended use. The graphic design is clean, bold and contemporary to appeal to a modern consumer audience. The back of pack design works to further strengthen the brands philosophy and purpose - a commitment to reducing environmental impact and walking consumers through the simple steps to rehydrate the soil tablets in the home.
Designer Carmel Klein comments:
"Minus Water is easy to transport, easy to use and easy to store. A simple, elegant and sustainable solution of potting soil for the modern plant grower."
To read more about Anthem's approach to design as a tool for innovation click here or join the Packaging Europe team at this year's Sustainability Awards.