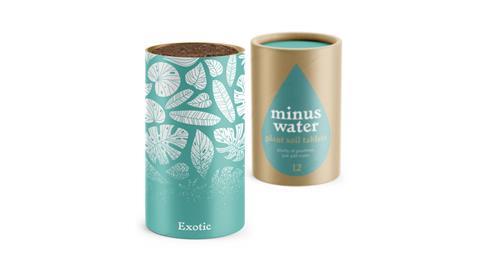 The physical packaging of Minus Water is a simple cylinder tube made from recycled cardboard – cardboard that is also recyclable. Each tube houses 12 individual potting soil tablets. There are three variants; Indoor, Herbs and Exotic – each soil variant provides particular nutritional benefits for different plant groups. This is further amplified on the design of the different inner tubes.
On front of pack the brand name is held within a water droplet, acting as a holding device for the brand communication focused on the products intended use. The graphic design is clean, bold and contemporary to appeal to a modern consumer audience. The back of pack design works to further strengthen the brands philosophy and purpose - a commitment to reducing environmental impact and walking consumers through the simple steps to rehydrate the soil tablets in the home.
Designer Carmel Klein comments:
"Minus Water is easy to transport, easy to use and easy to store. A simple, elegant and sustainable solution of potting soil for the modern plant grower."
To read more about Anthem's approach to design as a tool for innovation click here or join the Packaging Europe team at this year's Sustainability Awards.