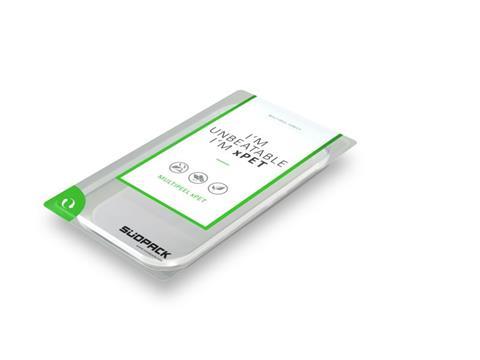 At this year's FachPack, Südpack Verpackungen GmbH & Co. KG demonstrates how its packaging can offer added value for products, consumers and the environment.
The motto of the booth in Hall 7, booth 7-242, consequently is "Respect generates sustainability". High-performance films like Veraplex offer maximum protection for perishable products, they can be produced with up to 50% less material. SÜDPACK will also present their latest development in the field of peelable films at FachPack: Smart Peel can be easily opened using the SÜDPACK peel system and thanks to its white colouring, offers plenty of space for attractive designs.
Sustainability is a top priority at the family-owned SÜDPACK company – and this didn't just start with the current debate about plastic packaging and its impact on global ecosystems. "Protecting products, people and the environment has always been a key factor in our work," explains SÜDPACK Managing Director Johannes Remmele. "All three aspects are closely interlinked. Our film solutions protect fresh food from spoiling. This is not only good for consumers, who expect high product quality. It also conserves valuable resources and contributes significantly to minimising food waste and reducing CO2 emissions."
Convenience and environmental protection go hand in hand at SÜDPACK. The company invests heavily in research & development with the goal of creating high-performance, easy-to-use films, while continuously reducing material input and improving recyclability. These efforts must take place across the entire value chain to be successful. "We are proud to have made tremendous progress in all areas over the past ten years – and we aspire to do more", says Remmele. "For example, we recently opened our own compounding centre where we regranulate our recyclable plastics." The new sustainability report presented at FachPack provides detailed insight into the company's latest achievements and takes a look at how SÜDPACK plans to move forward with its sustainability efforts.
Thin – safe – sustainableAccording to the expert, reducing material input and film thickness while ensuring consistently high product protection make a significant contribution to sustainability in the packaging industry. For example, the Veraplex and Veraplex Plus films exhibited at FachPack require up to 50% less material compared to previous solutions. Veraplex film is ideal for top webs and flowpacks. The extremely tear-resistant Veraplex Plus is used as a top web for large packaging. Despite reduced material input, both films offer excellent technical properties including high barrier.
SÜDPACK also uses less material for its resealable Multipeel range. This series of resealable films covers a variety of uses, from top webs to flow packs. Multipeel xPET offers excellent sealing properties as low as 145°C for use in mono APET applications. It also ensures secure sealing on crystalline, silicone or antiblock treated PET and is available without reseal as Peel xPET.
Combining the best of two worlds – sustainability and convenience – SÜDPACK Multiclose is a resealable solution made from a top and bottom film. Multiclose requires less material than conventional resealable hard-shell packaging for cheese or meat products. It's also convenient. The wide pull tab and SÜDPACK's own Easy Open sealed seam make Multiclose easy to reseal: the top and bottom film do not have to be perfectly aligned to protect the contents of the package.
Easy opening and maximum product protection thanks to Smart Peel
Smart Peel, another practical solution by the Ochsenhausen-based company, is making its debut at FachPack. With its high white coverage, this peel solution protects sensitive contents, such as dairy products and fruit spreads, from external influences without the need for additional white printing. The white coloration also offers plenty of space for attractive designs. It safely seals different packaging formats ranging from fruit jam to buckets for the catering industry. Consumers can open the packaging easily without tearing, thanks to SÜDPACK's own peel system.
Laser perforation options
Along with state-of-the-art products, SÜDPACK offers customers a wide range of supplemental services. For example, the company uses its own laser system to enhance film packaging as a way to make life easier for consumers and attract attention at the point of sale. SÜDPACK technicians can pre-perforate composite films for easy opening, a selective gas exchange or integrating add-on elements such as valves. These finished films can be processed on standard packaging machines.