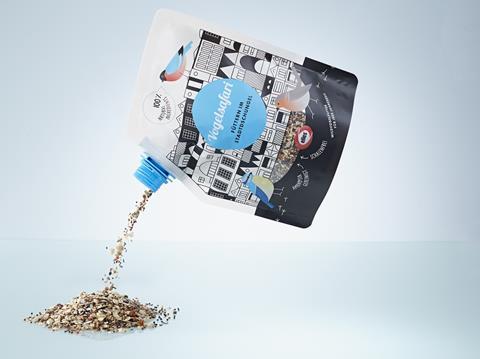 Julie Eller enthuses, "We have taken a close look at the criteria we need to fulfil- moisture barrier for sensitive products, oxygen barrier, stand up (and out) on shelf which traditionally relies on the strong polyester material, haptics, and forming effectively on a machine (which also previously relied heavily on a strong polyester material)."
To address the scope of mechanically forming pouches Ampacet has introduced new products which allow for smooth production. LAMSLIP 754 is a specific masterbatch for example which has been designed in order to solve some well-known problems existing in the industry.
"The problem with laminating polyethylene films and PET to make pouches is the consistency in slip properties before and after lamination," Francois Thibeau says. "This masterbatch has been developed to allow predictable and consistent low friction and good slip properties, allowing pouch manufacturers to produce films with low COF of 0.2. Being highly efficient at low addition rate, it limits converting and packing problems typically linked to fluctuating slip properties of the packaging film and prevents efficiency losses during automatic packaging process. This innovative masterbatch technology reduces the quantity of off-specification and scrapped films and decreases the risk of claims from converters and end-users that makes it a reliable solution for laminated packaging and pouch applications."
Towards closed loop
The packaging industry strives towards closed loop models and companies such as Ampacet divulge they are close to launching products designed for favouring circular economy models for high barrier packaging.
Julie Eller highlights the next step of RPC bpi protec's focus. "We have been working alongside our customers towards a closed loop model. With our recyclable films, industrial waste can be collected from our customers and recycled into a resin we have established called Sustane. We have developed a 100 per cent recyclable shrink film made of 30 per cent PCR. We look towards expanding the possibilities of this resin in the near future."
Although RPC bpi protec is striving to address sustainability concerns – Julie Eller underlines the responsibility of the industry is to deliver packaging that is recyclable – a comprehensive plan is needed from governments and authorities to support a holistic approach for the industry.
Mondi is also focused on providing solutions that reduce plastic waste and is taking steps to close the gaps in the circular economy such as minimising material and energy usage, and towards a closed loop system. As Judith Wronn concludes: "Pouches are part of the solution."