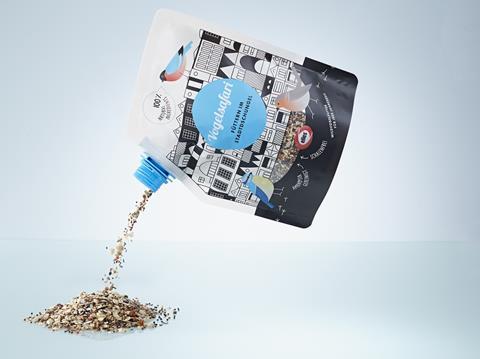 The stand-up pouch market has rocketed – prominently within the food sector, where the packaging type holds a number of stand-out properties addressing issues such as food waste. According to the Smithers Pira 'the future of pouch packaging to 2021' report, global pouch packaging consumption was projected at just over 324 billion units in 2016. It is forecast to grow during the period 2016–2021 at an annual rate of 4.7 per cent to 407 billion units.
A shift from light weighting to recyclability
Pouches became a popular choice swept along by the trend of light weighting and a move away from heavier alternatives such as metal cans and glass containers. However, a turn in the tide towards the trend of recyclability has shone an intense light on the downside to pouches developed for the market in the past. Libby White spoke to RPC bpi protec, Mondi and Ampacet to discover how pouch developers are meeting current concerns and reimagining pouches towards sustainability goals.
The pouch has many advantages as a form of packaging, which Claudia Feldgitscher-Ruess, head of product development at the Austrian Mondi plant in Korneuburg highlights, "Pouches are convenient, for example they are easy and light to carry from the supermarket to the home. These properties also give advantages for transportation and logistical efficiency- and translate well into e-commerce applications with regards to product preservation and protection. Easy-opening solutions can be applied- meaning consumers do not need any exterior tools to open the packaging. To help combat food waste, pouches offer single-serve portions and reclosable zippers or seals. They also eliminate odours during storage. On top of this, the pouch offers shelf appeal and consumers can see the actual contents through transparent films.
"A great example of a pouch application is for baby food- you can easily rip the pouch to access the contents, the packaging will not break and can be stored in a bag, and also the baby can hold a single-serve snack themselves."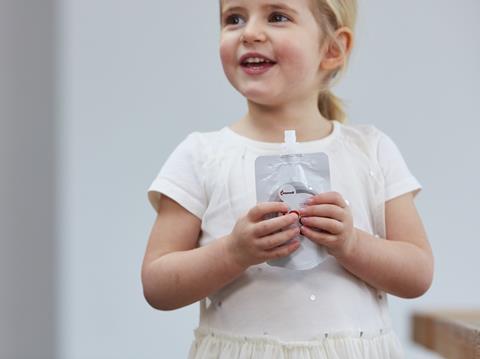 The current issue however in the face of the industry is obvious. A strong focus on plastic waste is shifting the development of the pouch solution, and causing developers to optimise their previous offerings.
Julie Eller, sales director, consumer products at RPC bpi protec comments, "Push back against the popularity of pouches is due to the change in focus from light weighting to recyclability. Traditionally, the materials used for pouches have been mixed and unrecyclable. The market is now questioning itself- what was a great idea a few years ago now has some downsides."
Judith Wronn, senior communication manager, Mondi Consumer Packaging weighs in on the shift in focus, "Our customers are facing increasing pressures. We believe flexible plastic packaging is ideal for specific applications when it is intelligently designed- that is the key aspect."
Optimising solutions
The industry is focused on developing sustainable solutions in a competitive market which still provide the advantages of previous offerings. One of Mondi's latest solutions is the BarrierPack Recyclable- a fully recyclable solution constructed by two layers of polyethylene film- which provides a gas barrier that greatly extends the laminate's breadth of potential applications. Claudia Feldgitscher-Ruess sums up: "High barrier pouches are the way forward- increasing shelf life and reducing food waste addresses sustainability concerns."
Ampacet has focused on developing special masterbatch solutions to enable new material constructs to meet previous demands. Francois Thibeau, strategic business manager, Ampacet shares, "We have developed special UV barrier solutions for transparent packaging as consumers like to see the packed contents. Fatty products such as peanuts, delicatessen products etc are sensitive to UV light so a transparent pouch or window needs to provide protection. Our special masterbatch called UV block is designed for polyethylene and BOPP films. We have also developed solutions which mimic closely the aesthetics of aluminium foil. This allows the pouch manufacturers to minimise thickness without detriment to the shelf appeal."
RPC bpi protec has positioned itself to offer a solution that can fulfil all the prophecies of laminate and non-recyclable pouches- but is also recyclable. It most recently launched the X-EnviroPouch as an environmentally-sustainable alternative to the traditional Doy sealed pouch. The single layer co-ex film solution means that further energy is saved as there is no requirement for lamination. This in turn can offer a reduction in lead times as traditional laminates require an extended curing time.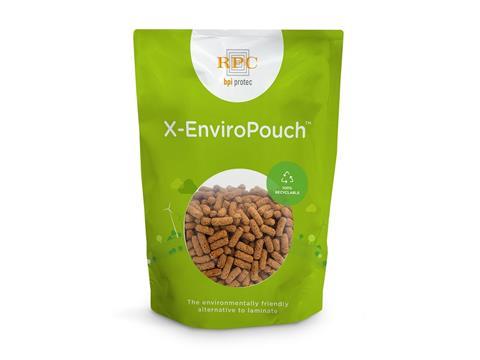 Julie Eller enthuses, "We have taken a close look at the criteria we need to fulfil- moisture barrier for sensitive products, oxygen barrier, stand up (and out) on shelf which traditionally relies on the strong polyester material, haptics, and forming effectively on a machine (which also previously relied heavily on a strong polyester material)."
To address the scope of mechanically forming pouches Ampacet has introduced new products which allow for smooth production. LAMSLIP 754 is a specific masterbatch for example which has been designed in order to solve some well-known problems existing in the industry.
"The problem with laminating polyethylene films and PET to make pouches is the consistency in slip properties before and after lamination," Francois Thibeau says. "This masterbatch has been developed to allow predictable and consistent low friction and good slip properties, allowing pouch manufacturers to produce films with low COF of 0.2. Being highly efficient at low addition rate, it limits converting and packing problems typically linked to fluctuating slip properties of the packaging film and prevents efficiency losses during automatic packaging process. This innovative masterbatch technology reduces the quantity of off-specification and scrapped films and decreases the risk of claims from converters and end-users that makes it a reliable solution for laminated packaging and pouch applications."
Towards closed loop
The packaging industry strives towards closed loop models and companies such as Ampacet divulge they are close to launching products designed for favouring circular economy models for high barrier packaging.
Julie Eller highlights the next step of RPC bpi protec's focus. "We have been working alongside our customers towards a closed loop model. With our recyclable films, industrial waste can be collected from our customers and recycled into a resin we have established called Sustane. We have developed a 100 per cent recyclable shrink film made of 30 per cent PCR. We look towards expanding the possibilities of this resin in the near future."
Although RPC bpi protec is striving to address sustainability concerns – Julie Eller underlines the responsibility of the industry is to deliver packaging that is recyclable – a comprehensive plan is needed from governments and authorities to support a holistic approach for the industry.
Mondi is also focused on providing solutions that reduce plastic waste and is taking steps to close the gaps in the circular economy such as minimising material and energy usage, and towards a closed loop system. As Judith Wronn concludes: "Pouches are part of the solution."