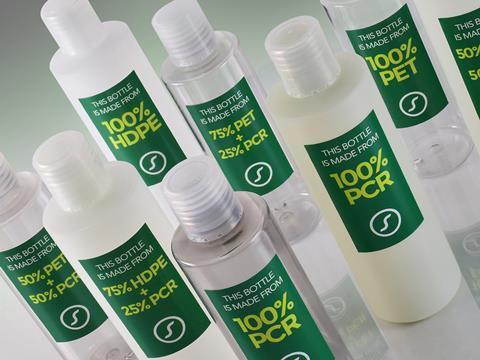 Spectra has reported an increase in customers using their Post Consumer Recycled (PCR) materials for their packaging.
The company has made great strides in providing environmental alternatives for brands seeking a sustainable outcome, with PCR orders growing rapidly according to Gavin Chenery, Commercial Director at Spectra.
"We've witnessed impressive take up for our PCR materials as brand's look to offer environmentally savvy consumers product packaging that helps make a difference. Customers are definitely buying into the sustainable benefits it provides".
Available in both HDPE and PET, PCR provides a sustainable pack that can be recycled again. Minimising or replacing the use of virgin materials, PCR consists of recycled resins that could potentially end up in landfill sites.
However, the benefits don't just stop there. Because PCR has already been processed originally from a fossil fuel to plastic, the reuse of that plastic into a new PCR bottle doesn't require any further depletion of new fossil fuels, providing a closed loop packaging solution.
PCR materials are also gathering interest with brand owners and retailers as Gavin went on to point out.
He said, "Recycled options are proving increasingly popular with brands because it's an environmental strategy that the consumer understands. Additionally, the use of sustainable packaging is a compelling proposition for the growing number of brands making products using natural ingredients, the two are an ideal marriage".
The production of PCR begins with the collection and sorting of recycled plastics in commercial and residential recycling programs. The discarded plastics are ground, washed, dried and pelletized ready to be used again. The materials are then stringently monitored by Spectra to offer reassurance and traceability, something they regard as a key factor in the process.
Gavin added, "We like using materials recycled in the UK, otherwise the process is pointless if we are increasing our carbon footprint by importing an environmental material from the other side of the world. We can track our recycled materials back to the local council waste depot in the UK who originally supply the materials and this gives us total traceability".
Spectra's PCR products can be made available in varying strength let-downs, right up to 100%. However, there are some colour variations from batch to batch, especially when customers opt for a higher let-down. Because PCR originates from discarded coloured plastics, there can be a small number of inclusions in materials, something Gavin was quick to offer reassurance on.
He said "Whenever any of our customers look at moving to recycled plastics we always provide expert advice and extensive testing to ensure they are happy with the end result. That said, the combined sustainable benefits and our commitment to ensure no compromise on quality and design has proved hugely popular with brands looking to take the environmental leap".
More info: www.spectra-packaging.co.uk