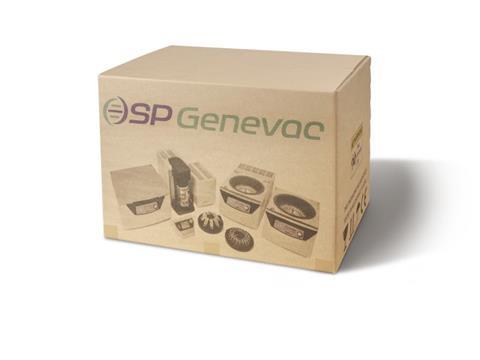 SP Scientific Products (SP) has announced a new approach to product packaging with its new task-specific packaging that the company says is designed to enhance productivity, alleviate labour costs, and reduce environmental impact. The new packaging reportedly has reduced packing time from 30 minutes for one set of accessories to just 30 seconds.
Initiated by the SP Ipswich operations team for the SP Genevac evaporation product range, the recyclable boxes have been customized to fit the accessories they carry. This increases packing efficiency to enable earlier dispatch, and also protects and holds valuable products more securely, so ensuring they reach customers both quicker and without any damage.
The improved custom packaging system resulted from ongoing rebranding initiatives which included a review of the packaging process by the SP operations team. Eliminating individual wrapping, plastic and tape, SP products and accessories are now securely shipped with a protective foam layer inside recyclable boxes constructed entirely of cardboard. The boxes feature new SP branding with part numbers printed on the outside, meaning customers can be immediately certain that they have received the correct order.
"Our new packaging innovation is a part of our drive for continuous improvement and enhanced customer experience," said Robert Tremaine, Director of Operations (UK) & Site Leader, SP Industries. "Not only does the time saved on packaging improve productivity to ensure our products arrive with customers faster, but by using recyclable materials and removing a large amount of wrapping, plastic and tape, SP is also aiming to reduce environmental impact."