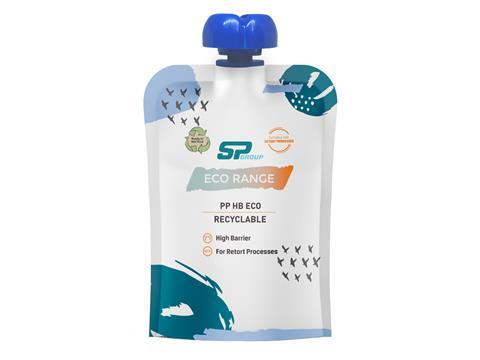 In this Innovation Spotlight, SP GROUP, a Spanish company specialising in the manufacture of flexible and rigid films for thermoforming, introduces its new PP HB ECO material, which it says represents a revolution in the packaging sector.
Behind this revolution was the inability of recyclable materials to withstand high temperatures during heat treatments. Fortunately, SP GROUP was able to tackle the problem head on, creating its first recyclable material that can withstand high temperatures and is even able to withstand retort processing.
This new material has been independently tested by cyclos-HTP and certified for recycling in the PP stream in several European countries. The PP HB ECO doypacks have received an AA score, with and without zip, which means that 90% of the packaging can be recycled because it consists almost entirely of polypropylene.
As for the PP HB ECO spouted bags, Cyclos-HTP evaluated them using the rigid recycling pathway for PP streams, and certified them with an AAA score, which means 96% recyclability of the containers. These sorting tests are carried out because collection and recycling structures are in place in some countries such as Austria, France, Germany, Italy, the Netherlands and Norway, and more countries will soon implement them to increase recycling rates.
This mono-material structure can replace non-recyclable packages that contain aluminium films and metal coatings, as well as multi-material structures that are not mechanically recyclable today.
The material's ability to withstand heat treatments, such as retort processing, is essential for prolonging the shelf life of food products, reducing food waste, and vastly improving environmental sustainability.
For this reason, the new recyclable material is included in SP GROUP's ECO range, designed to meet the goals set by the European Commission for the Plastics strategy 2030, when all plastic packaging must be reusable, recyclable or compostable. This represents a challenge for both consumers and companies, who are looking for completely recyclable structures that lengthen and maintain the shelf life of the product.
As regards formats, the new PP HB ECO can be used with stand-up pouches (Doypack), 3-weld pouches and the classic pouches with caps used for baby food. This means it is ideal for products such as sauces, pre-prepared dishes, baby-food and on-the-go snacks, – as it allows zipper closures to be incorporated –, as well as wet pet-food products. Another of its advantages is that it can be printed using the four different printing systems: offset, flexography, rotogravure and digital printing, ensuring it adapts to any need clients may have.
To summarise, SP GROUP is still a pioneering company in terms of sustainability, as it seeks to create new cutting-edge materials that comply with the guidelines set out by the European Commission. Their primary objective is to provide their clients with real solutions that help them meet those guidelines. This is a company that is still committed to innovation and producing versatile, customised and sustainable packaging.
This content was sponsored by SP GROUP.