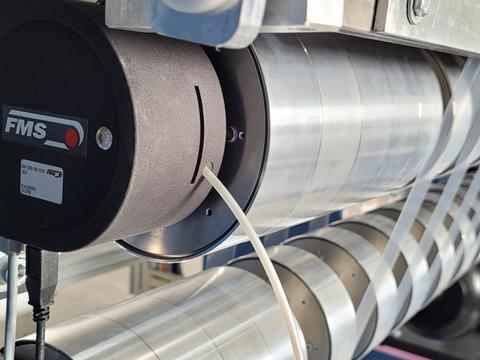 In this Innovation Spotlight, FMS Force Measuring Systems introduces the world's first segmented tension-measurement roller set to boost quality and productivity in converting industries.
Do you know the tension of your material across the entire width of your web? Whether you're operating a secondary slitter/rewinder or a coating machine, the answer is almost certainly 'No'. And that means you're risking both quality and productivity.
That's why Swiss-engineering firm FMS has launched the world's first segmented web tension measurement roller – FMS-segFORCE.
In contrast to conventional tension monitoring systems with a force sensor at each end of the roller, the FMS-segFORCE features multiple independent force sensor segments that monitor the smallest tension deviations from segment to segment. It allows you to measure the tension of individual, parallel web sections in your slitter/rewinder. Or in coating applications, you're able to see the tension profile across the entire width of your web.
This pioneering device can be customised to fit your requirements. It provides flexibility in terms of overall length of the roller as well as the number, width and position of segments. It can measure up to 50 tension values across the web.
The sensitive and sophisticated monitoring that the FMS-segFORCE offers is especially valuable when processing elastic, sensitive or high-value materials such as high-end foils, adhesive tapes, battery separator foil and capacitor foil. It allows machine operators to spot variations in tension as they arise and address issues right away to protect quality and productivity while reducing waste.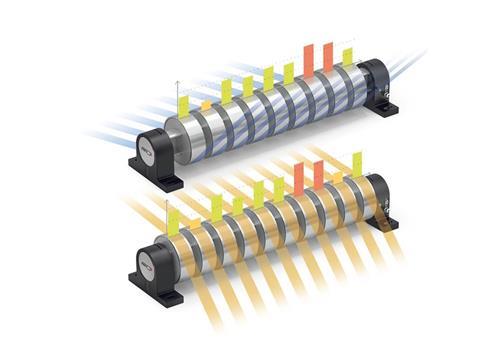 Spotting slitter/rewinder issues in real time
When using secondary slitter/rewinders, operators have no way of measuring material tension in individual web sections. Deviations in the thickness and elasticity of the material in the parent roll as well as environmental influences, mechanical parameters and component wear can all lead to wide variation in tension between sections. This in turn can cause a range of defects in the finished product.
That all changes with the FMS-segFORCE. It enables operators to precisely measure the tension of up to 50 individual web sections, even with very thin and elastic materials. As a result, they can spot the smallest of deviations – all in real time.
Improving coating results
To achieve excellent results in coating lines, it is vital that the tension across the web of the different substrates is stable, especially when processing extremely sensitive materials. This is often made difficult by inconsistency in the raw materials or damage in transport or storage. In addition, temperature and humidity fluctuations in the plant can greatly alter substrate behaviour.
With up to 50 measuring points along a measuring roller, the FMS-segFORCE displays the material tension of the individual segments in a high-resolution tension profile that maps tension across the entire width of the material web. Any irregularities in the quality of the raw material or problems in the manufacturing process can be identified at a glance and resolved quickly.
With such clear benefits in both slitter/rewinder and coating operations, it's no surprise FMS product manager Norbert Schilling calls the FMS-segFORCE a "game-changer" for web manufacturing. "It means converting companies can make precise, real-time measurements of tension profiles instead of having to rely on guesswork," he adds.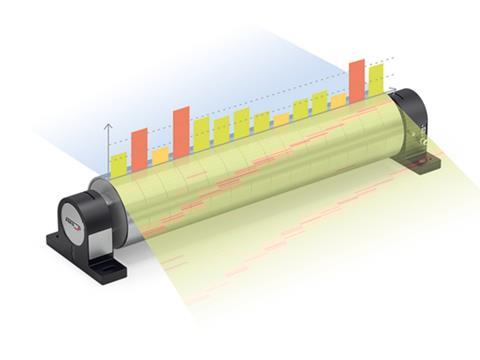 Maximising machine productivity
The FMS-segFORCE is the latest in a long line of high-end solutions produced by FMS since 1993 for machine builders and plant operators in a range of industries.
Utilising the latest technology, high-quality components and unrivalled engineering know-how, the Zürich-based firm helps customers maximise the productivity of their machinery.
As well as being the world leader in solutions for web guiding and web tension measurement and control, FMS is known in the wire and cable industry as a maker of systems for force measurement, data processing and closed-loop tension control. In addition, its conveyer belt scales are in wide use in bulk materials settings, including quarries, gravel works and construction sites.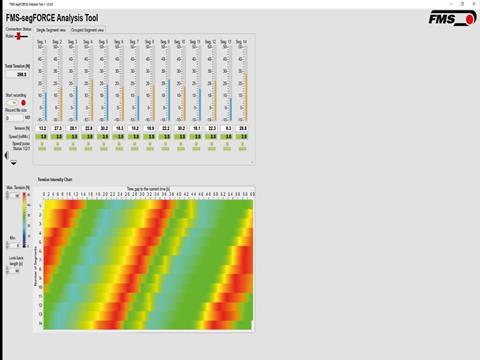 How do they do it? Inside the FMS-segFORCE
The FMS-segFORCE measuring roller consists of a rigid shaft on which individual movable segments are arranged. The segments are securely locked in place pneumatically via a central connection. The segments each contain a force sensor, a compact measuring amplifier and a bearing.
The segments are supplied with power and signals are routed via the rigid shaft. Not a single cable needs to be disconnected or reconnected for repositioning of the segments.
The measuring roller is connected to the machine frame on both sides via functional brackets. One of them also contains the electronics, well protected from dirt and environmental influences. The power supply and the required compressed air supply are also connected to one of the brackets.
An ethernet interface (Profinet or others) is available for data transfer to a PC or the machine's main control panel. An intuitive visual display makes all the data easy to monitor.
FMS's own software allows easy configuration of the force sensors and the display.
Learn more about the FMS-segFORCE: https://www.fms-technology.com/en/our-solutions/web-tension/segmented-tension-roller?utm_source=The+spotlight&utm_medium=campaign&utm_campaign=Packaging+europe+spotlight
For more information, please contact:
Norbert Schilling, Product Manager
+44 44 852 80 79
norbert.schilling@fms-technology.com
This content was sponsored by FMS Force Measuring Systems.