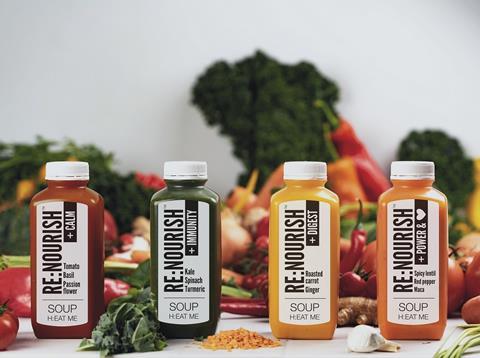 M&H Corby, a company of Berry Global has provided its custom-moulded bottles for Re:Nourish, from the prepared soups market.
Re:Nourish offers four soups made only from natural ingredients including vitamins and micronutrients that deliver particular health benefits. A unique feature of the soups' offering is the 'grab and go bottle' that allows the contents to be heated in a microwave. This enables consumers to quickly enjoy a snack whether at home, at work or on the move.
The rectangular-shaped bottle was conceived by Re:Nourish founder Nicci Clark and developed for manufacture by Design. Blow moulded in transparent polypropylene, it creates a strong impression on-shelf with the soups clearly visible to emphasise their natural properties. The large decoration area features high-impact black and white labels to establish a powerful brand identity.
In addition, the 500ml bottle is strong but light weight to ensure effective protection of the soups while providing safe and easy handling for the user. It is also fully recyclable.
"With these soups, we are breaking all the rules and reinventing them," explains Nicci Clark. "We see soups as the new 'juices' in delivering a flavour-filled experience that is both delicious and healthy. As part of this, the right packaging was essential. M&H Corby has done a fantastic job in producing a quality bottle that projects strong brand messaging, maintains the freshness of our soups and provides the simplicity and ease of use that busy consumers demand."