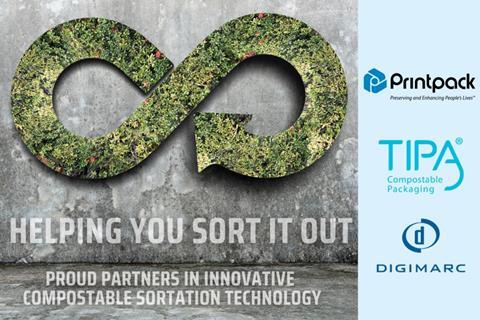 Longstanding AIPIA member Digimarc has partnered with fellow member Printpack, a major US packaging converter, and Israeli compostable packaging specialist, TIPA on a successful proof-of-principal for a new sorting technology aimed at compostable packaging.
They claim to have developed the first digital watermark for compostable packaging which acts as an imperceptible, machine-readable code that allows the package to be scanned by consumers to instruct and incentivize disposal in the proper bin. Additionally, the technology enables compost operators to scan and sort certified compostable packaging with food and organic waste.
Consumers scan the package to receive sortation instructions per material, alleviating consumer confusion regarding responsible disposal. Composters can utilize the technology to enhance their sorting capabilities and mitigate the possibility of look-alike packaging entering their process.
The technology would expand consumer access to composting, say the partners. This would help to reduce landfill waste and the accompanying methane, a greenhouse gas that is more potent than carbon dioxide. Currently over half of the food waste in the US ends up in a landfill, and the US is the third-largest global emitter of methane gas.
The first milestone is to demonstrate the ability to identify compostable packaging among mixed food and organic waste while non-compostable packaging is extracted for proper disposal. The partners report that the technology passed the first step, demonstrating that the watermark is detected when compostable packaging is stationary, whether it is presented as clean and flat, clean and crumpled, or heavily contaminated and crumpled.
The next stage of development will seek to evaluate the performance while in motion and will simulate the mixed organic materials moving on a sorting conveyor belt. The team is currently reaching out to machine providers to identify interested partners to participate in development. Further development of picking apertures and diversion mechanisms will be needed before the platform is ready for trials on commercial equipment
By making sortation simpler and more effective, TIPA, Printpack, and Digimarc seek to demonstrate the mechanisms for infrastructure to scale to bring composting access to every household in America.
Gary Robinson, director of public affairs at TIPA said, "This is the first time we have seen this technology applied to compostable packaging, and we are extremely excited to see its potential impact. Brands and consumers are seeking packaging innovations that deliver solutions to their lifestyle while helping the environment."
Emily Stolarcyk, global sustainability leader for Digimarc added, "We are excited about what this partnership has achieved so far and what is to come. This pilot further demonstrates the variety of solutions that digital watermarking can provide for circular economies."
Alan McDowall, Sr. product stewardship engineer of Printpack commented, "New technologies mean there are numerous packaging materials on offer that move us towards a sustainable, circular economy. Through this new digital watermark technology, we hope to play an active part in developing the infrastructure innovations that will remove roadblocks, create wider acceptance, and make it simpler than ever to switch to these types of packaging."
This article was created in collaboration with AIPIA (the Active and Intelligent Packaging Industry Association). Packaging Europe and AIPIA are joining forces to bring news and commentary about the active and intelligent packaging landscape to a larger audience. To learn more about this partnership, click here.