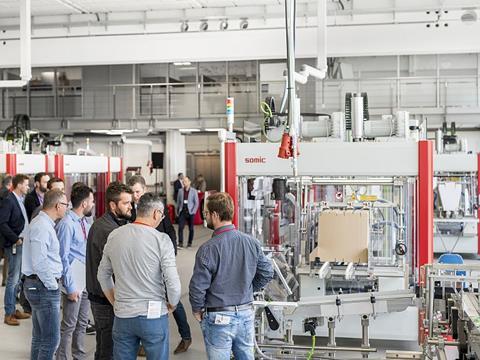 At an In-House Exhibition on 23 May 2019 to mark the 45 year anniversary of the company's foundation, SOMIC presented the world-first SOMIC ReadyPack – a compact machine for single-component case packaging. It provides a protective cover for pre-packed food, pet food and healthcare products, among other items.
The company says that SOMIC ReadyPack heralds a new era at the medium-sized company as an entry-level and supplementary model. Up to now, the family company has been considered a specialist for individually tailored machines in the medium-to-high performance range. With SOMIC ReadyPack, a smaller packaging machine for standard tasks that can be delivered very quickly ex-works is now available for the first time.
'With this new development, we primarily want to appeal to customers in the Eastern European markets and emerging economies, who are increasingly converting from packaging by hand to automated packaging,' explained Stefan Julinek, Director Sales, in his speech. But the machine also offers an ideal solution for bottlenecks in the packaging process.
The In-House Exhibition was rounded off with different machine demonstrations, professional lectures and an 'adventure narrative' from the extreme mountain climber Reinhold Messner, who is known worldwide, entitled: 'Successful through strategic risk management'. In the evening, the guests came together for a hearty Bavarian buffet with a brass band – an unforgettable experience for the visitors from abroad in particular.
Open day for the surrounding area
There was also a great deal of interest in the new development, the SOMIC ReadyPack, at the Open House event that took place two days later on 25 May. With numerous machine demonstrations, more than 1500 visitors from the surrounding area found out how their food is packaged for transportation to supermarkets. Furthermore, SOMIC presented new premises for electrical construction. Another highlight on the tour of the company was the new apprentice workshop, where apprentices in technical professions will gain practical experience for the future. SOMIC is currently training 25 apprentices in six trades and is also one of the most important employers in the region.