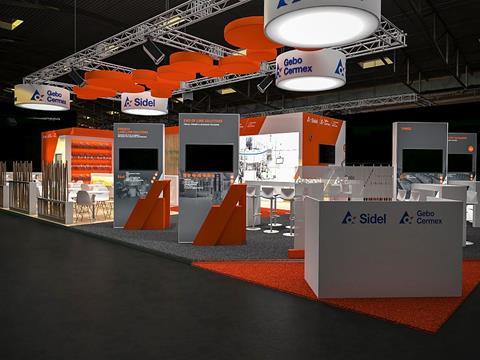 At BrauBeviale, taking place in Nuremberg from the 13th to 15th of November, Sidel and Gebo Cermex will highlight how high performance coupled with optimal sustainability and agility is the ideal recipe to win in the beverage market.
The beverage market in Europe is set to experience a number of considerable changes within the next three years: the industry is anticipating a trend towards smaller size containers coupled with an overall movement towards the multiplication of SKUs and a premiumisation of the package. These trends require utmost flexibility in the production process while simultaneously reducing the Total Cost of Ownership (TCO) in a sustainable setting. As a one stop shop for drink producers, the Sidel Group is uniquely positioned to answer these upcoming challenges by offering future-proof solutions, design expertise, and advanced technology that secure performance over time.
Highest levels of line efficiency with no compromises on product quality
At Booth 7A-223, Sidel and Gebo Cermex will be showcasing their unprecedented flexibility to adapt to changing consumer demands with their future-proof solutions. Among them are the new Sidel EvoDECO labelling solutions: designed for total flexibility and optimised for unmatched performance, it gives producers the ability to choose technologies based on their specific labelling needs and output levels. Additionally, Sidel will highlight Sidel Actis™, the plasma coating solution extending the shelf life of beverages bottled in PET, while enabling package lightweighting.
The latest addition to the Sidel filling portfolio, EvoFILL Can, will also be featured prominently at the booth. Francois Lejard, Vice President Sales Europe and Central Asia at Sidel, explains, "At Sidel, product quality and an advanced level of performance are important drivers for our innovations. With the new EvoFILL Can, we are perfectly meeting these requirements: the solution tackles all needs of being sustainable, hygienic and flexible, getting producers ready for future challenges in canned drinks production."
Gebo Cermex, long-time expert in the beer processing market, will focus on AQFlex®, an all-in-one product handling technology, able to accommodate any product, whatever the application, whatever the market, in all container materials, formats and shapes, full or empty, while also enabling automatic changeovers and ensuring total care of product integrity. Louis Merienne, Commercial Director Europe at Gebo Cermex, explains, "Thanks to its radically new approach of conveying and accumulation, AQFlex delivers unprecedented packaging line performance. It offers this, together with unique agility and smooth contactless product conveying and accumulation, in a very compact space."
As proof points of the company's secondary packaging expertise, visitors to the Sidel Group stand at BrauBeviale will have the opportunity to get a hands-on experience of the Gebo Cermex's WB46 - a wrap-around case packer that offers excellent performance in terms of flexibility, hygiene and ergonomics – and of the company's EvoFilmTM shrink-wrapping system. The latter one is a robust, versatile, highly compact and energy-efficient solution that is drawing on the company's 50 years of experience in this field.
Maintain and improve performance over time
Louis Merienne continues, "Visitors to our booth will also appreciate how our EIT® (Efficiency Improvement Tool) is ideally established to maintain and improve packaging lines' performance throughout their lifecycle. This market-leading data acquisition and plant intelligence system is designed to ultimately decrease unplanned downtime, reducing waste and costs, and increasing the plant's output, as it gives employees at all levels real-time access to relevant and actionable information on production-related issues." Francois Lejard adds to this, "Through continuously understanding our customers' challenges, the Sidel Group delivers reliable and superior performance of packaging lines to meet the needs of the most demanding production environments."