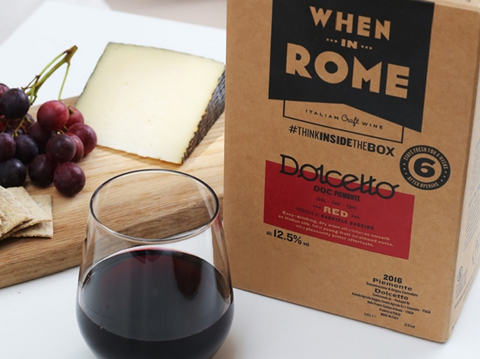 Smurfit Kappa's three-litre Bag-in-Box packaging design has received Amazon's 'Frustration-Free Packaging' (FFP) certification. This is a world first for a generic packaging design, applicable for a wide range of products.
Businesses selling on Amazon Marketplace can now use this ready to go, pre-certified Bag-in-Box design avoiding the need to go through costly and time-consuming testing at a specialized ISTA certified laboratory to gain FFP certification.
"With the Bag-in-Box FFP pre-certified solution it's the first time our customers can sell on Amazon within the FFP programme without having to go through rigorous testing and validation procedures," confirms Herwin Wichers, Market Development Director at Smurfit Kappa. "Basically, they can go and sell immediately when choosing this solution."
The solution
We asked Smurfit Kappa to tell us a little more about the process behind the design of its Bag-in-Box solution and the Amazon partnership.
"A Bag-in-Box consists of three parts: bag, tap and box," says Herwin Wichers. "In order to fulfil the rigorous validation requirements of Amazon FFP ISTA 6, and keeping in mind an optimal use of materials for sustainability reasons, an intensive study was done looking at technical design and raw materials used. This process was run in close cooperation with our ISTA certified testing facility in The Netherlands and our multi-national design team.
"In partnership with Amazon we found a way to get the packaging itself pre-certified, where in normal situations this can only be done on a SKU level (specific packaging with a specific primary)."
And what makes this solution stand out when it comes to aspects such as material reduction, logistical efficiency, product protection and recyclability?
"Bag-in-Box not only provides perfect product protection during transportation, but keeps fresh much longer than other types of packaging such products as wine and juices. The square shape, as well as the minimum occurrence of void (empty space), makes it the ideal solution for any supply chain, and especially for the ecommerce supply chain. The intensive study run to find the optimum balance between the needed ecommerce supply chain performance and the use of raw materials enabled a solution that is both very strong but very efficient on material usage.
"In order to survive the rigors of the ecommerce supply chain, it became clear we needed to use the Vitop® Compact tap and not a standard full size tap. An additional benefit of this type of tap is that it saves an extra 2.7 tons of plastic per one million bags compared to the standard full-size tap. The Bag-in-Box solution uses on average 75% less plastic than rigid plastic packaging and has easy to separate materials, therefore guaranteeing high recycling rates."
The brand owner perspective
The British wine company When in Rome is one of many that will benefit from the announcement. The company has already been selling its boxed wines and successfully on Amazon since July 2020, but CEO Rob Malin anticipates these pre-certified designs will make it easier for eco-friendly wine brands to grow the market share of bag-in-box wines.
"In Scandinavia, for example, boxed wine already makes up something like 65% of the market. In the UK the market share was around 3% pre-Covid and about 5% now. We hope that moves such as this by Amazon will help that dial move up much quicker than it has been."
This frustration-free solution automatically eliminates a layer of packaging. But Rob is also very clear about the general environmental benefits of boxed wine over bottled. "From an environmental perspective boxed wine is really part of the solution. We often quote the LCA analysis carried out by the Scandinavian Alko Inc, which concludes that, roughly speaking, drinking wine out of a box produces 10 times less CO2 than from a bottle." (Click here for more details on this analysis.)
Assuming, then, that the Smurfit Kappa / Amazon partnership is successful – and that's probably as safe a bet as any – it's quite possible this may be the start of a wider collaboration.
Herwin Wichers concludes: "As this is a first in the world, together with Amazon, we've been working hard on finding a process to make this a reality both on the packaging side and on the Amazon systems. Now that we know how to partner on this together, we are looking into additional packaging solutions which could be FFP pre-certified. We cannot go into detail yet, but there will definitely be something coming!"