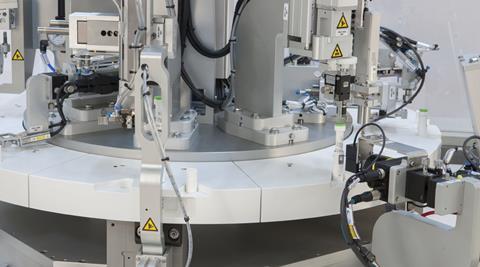 The pen assembly machines from Moeller & Devicon are designed for standard four-piece disposable pens consisting of a pen cap, a cartridge holder, the cartridge itself and a dosing mechanism. The machines for auto-injectors are designed to assemble either all single components – upper part, lower part, the syringe and the tool to hold the syringe – or a combination of pre-assembled and single components. Thanks to a scalable level of automation, the assembly equipment can be adapted to different requirements and processes. When it comes to first clinical trials, small manual workstations are an ideal solution. Once the trials have been realised successfully and a switch to commercial production is needed, semi-automated or fully-automated assembly machines can be used. Thanks to the scalable approach, process validation of the equipment can be transferred from one machine to another. This saves a lot of time and costs when production enters the commercial scale.
Building a competence triangle
The machine portfolio from Moeller & Devicon enables manufacturers to establish flexible assembly processes with a minimum of downtime between batches – resulting in more cost-effective production processes and ultimately in faster delivery times. The modular design of the machine platforms makes it possible to adapt and retrofit them easily for future market requirements. For example, the integration of robots for specific process steps can be accomplished with only minor adaptations. In line with Bosch's pharmaceutical line competence, the assembly machines can be complemented by equipment for container handling, filling and closing, inspection, labelling and end-of-line packaging.
Moeller & Devicon teams up with pharmaceutical companies and pen manufacturers at an early stage to define all necessary parameters of the final product and the matching assembly equipment. Working together in this competence triangle makes it possible to develop the best solution for each purpose and accordingly align the machine design to the exact requirements – always with the aim of delivering devices that make self-administration as convenient as possible and make patients' lives a little bit easier.