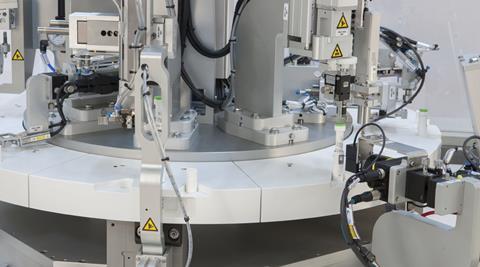 Our lifestyle is becoming more and more individual, agile and independent. This also influences the way we view and use medication. Self-administration is trending wherever possible, giving patients a maximum of autonomy and flexibility. While self-administration of insulin already is state-of-the-art in diabetes care, it is also advancing in some areas of oncology or hormone therapy. The growing demand for pens and auto-injectors calls for extremely flexible assembly machines that allow for a fast time-to-market of a large number of different products. Michael Andersen, sales director at Moeller & Devicon, shares the story of the Danish Bosch Packaging Technology company's mission.
Diabetes has become a global illness with 415 million adult patients worldwide. The reasons are manifold: genetic precondition, lifestyle and eating habits, as well as the social environment play decisive roles. Patients can find some comfort in the fact that diabetes has changed from a deadly condition to a chronic one. Thanks to elaborated therapies and application technologies for insulin administration, diabetes patients today have the same life expectancy as their peers. Nevertheless, the forecasts are alarming: by 2040 the number of people suffering from diabetes is estimated to rise to 642 million. While the dimensions of diabetes in Europe and Northern America are already dramatic, the numbers in Southeast Asia, China and India have exploded recently. With 50 million patients, India has turned into the "diabetes capital of the world".
Rising demand for insulin pens
Along with the globally increasing number of diabetes patients, the market for insulin is growing continuously – and with it the demand for pens and other injection aids. Pens are currently the most widely spread system for insulin injection, mainly due to their ease of use. Instead of using insulin in vials, which requires a syringe to inject the fluid and a considerable amount of experience in dosing and syringe injection, pens are loaded with insulin-filled glass cartridges. The rear end of the cartridge is closed with a rubber stopper, while the front end is closed by an aluminium cap with a puncture membrane, into which a needle can be inserted. At the top, the device is further equipped with a dosing mechanism, which can easily be turned to adjust the amount of insulin that needs to be injected.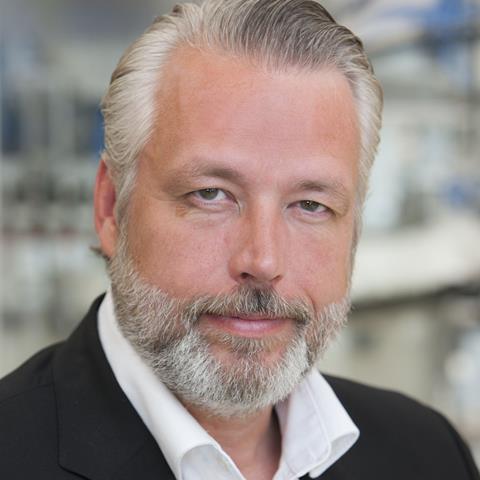 Easy and safe handling of the pens is the most important criterion for patients, as it gives them more flexibility in their daily life. Thanks to today's self-monitoring of blood glucose, patients are able to calculate their individual insulin dose. Pens are used as multiple application systems, usually containing insulin for several bread units. Depending on the individual requirements, one pen can last for up to a week; only the needles must be replaced for hygienic reasons. Due to the efficient design, pens can be taken anywhere conveniently, and can be applied without much effort – even by kids.
The flexibility of auto-injectors
Auto-injectors pursue the same trend as insulin pens, consequently leading to a higher use. One reason is the general trend towards biological drugs, which cannot be administered orally but need to be injected. On the other hand, there is a major shift from standard syringes to auto-injectors, which follows the pursuit for self-administration. Besides for allergic shocks, auto-injectors are increasingly used in other areas such as the treatment of orphan diseases in oncology or hormone therapy, where multiple doses are needed over time. Rather than having numerous doctor appointments to receive injections over several weeks, patients have the possibility to administer the medicine more conveniently at home.
Even though auto-injectors are often more expensive in production than standard syringes, both patients and the health care system benefit from this new freedom of self-administration. The number of medical appointments is reduced in the long run, and patients gain more flexibility in their daily life. This trend has already spread in western countries, and is now also picking up in markets such as India, China, Southeast Asia, the Middle East and Latin America. The need for this kind of medication is expected to grow even further over the coming years – leading to a rising demand for these devices, as well as for corresponding manufacturing solutions.
A scalable approach by Moeller & Devicon
When producing auto-injectors or insulin pens, drug manufacturers need assembly machines that match their individual requirements. Although many injector and pen types have a similar composition, they still vary in design, shape and size. Pharmaceutical companies producing for different regions and markets usually obtain their pens and auto-injectors from different manufacturers and therefore require platforms that are able to handle a lot more than just one specific device. As a result, they are looking for highly flexible machines in the medium output range. The Bosch Packaging Technology company Moeller & Devicon has specialised exactly on this segment and has developed a comprehensive machine range with a compact design, a clear overview of all stations and good accessibility. The result: batch changes can be accomplished quickly, without loss of time for cleaning. This allows manufacturers to be as agile and flexible as possible in rapidly changing markets.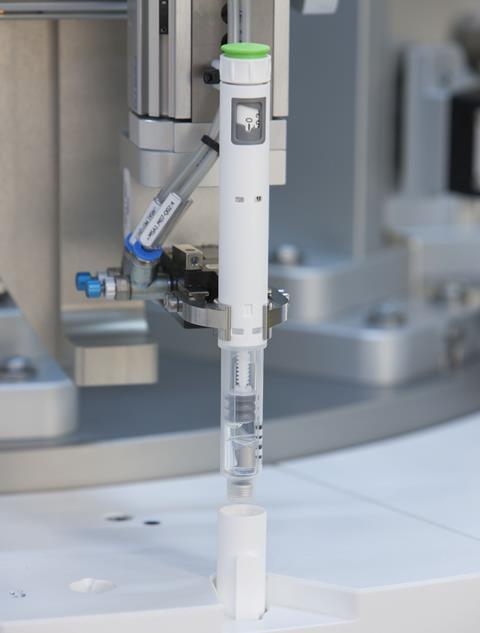 The pen assembly machines from Moeller & Devicon are designed for standard four-piece disposable pens consisting of a pen cap, a cartridge holder, the cartridge itself and a dosing mechanism. The machines for auto-injectors are designed to assemble either all single components – upper part, lower part, the syringe and the tool to hold the syringe – or a combination of pre-assembled and single components. Thanks to a scalable level of automation, the assembly equipment can be adapted to different requirements and processes. When it comes to first clinical trials, small manual workstations are an ideal solution. Once the trials have been realised successfully and a switch to commercial production is needed, semi-automated or fully-automated assembly machines can be used. Thanks to the scalable approach, process validation of the equipment can be transferred from one machine to another. This saves a lot of time and costs when production enters the commercial scale.
Building a competence triangle
The machine portfolio from Moeller & Devicon enables manufacturers to establish flexible assembly processes with a minimum of downtime between batches – resulting in more cost-effective production processes and ultimately in faster delivery times. The modular design of the machine platforms makes it possible to adapt and retrofit them easily for future market requirements. For example, the integration of robots for specific process steps can be accomplished with only minor adaptations. In line with Bosch's pharmaceutical line competence, the assembly machines can be complemented by equipment for container handling, filling and closing, inspection, labelling and end-of-line packaging.
Moeller & Devicon teams up with pharmaceutical companies and pen manufacturers at an early stage to define all necessary parameters of the final product and the matching assembly equipment. Working together in this competence triangle makes it possible to develop the best solution for each purpose and accordingly align the machine design to the exact requirements – always with the aim of delivering devices that make self-administration as convenient as possible and make patients' lives a little bit easier.