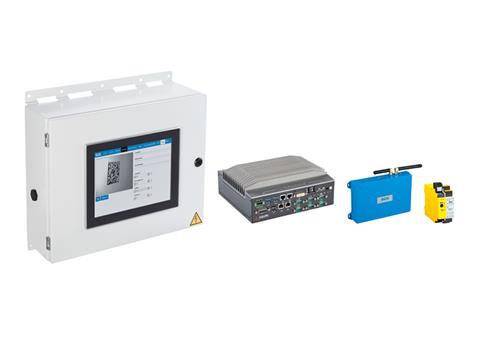 Global sensor solution manufacturer SICK has revealed a new product, the MQCS (Modular Quality Control System) – an "off the shelf", multifunctional machine vision system, delivered as a ready-to-use package of hardware and pre-written software.
Originally developed as a solution for non-contact 3D inspection of chocolate moulds in the confectionery industry, the MQCS demonstrated its versatility to be adapted for other applications such as "right product/right packaging" code matching, counting and aggregation of varied packages, monitoring the cycle life of materials handling equipment, and other 3D inspection and measurement tasks in the food industry.
Customers purchase the MQCS as a complete system with pre-written software, control cabinet with touch-screen HMI, and a SICK (Telematic Data Collector) application controller, which can be combined with SICK vision sensors such as the LECTOR image-based code reader and the Ranger 3 camera.
With a PLC interface module for real-time processing of sensor outputs and a network switch, the company says that it is easy to configure even complex 2D and 3D image processing into production controls.
Along with the basic software modules, additional application plug-ins enable specific machine vision tasks such as pattern matching, shape evaluation, counting, OCR verification or quality inspection to be configured via the set-up.
System data is automatically logged and can be viewed via the HMI touch screen on the control panel supplier, or a web server. The system's digital outputs enable users to set up alerts and alarms to monitor process quality and efficiency.
The SICK MQCS is supplied with basic functions that can be supplemented by software modules and hardware components as required for the individual application.
"In the past, often there has been no option but to start from scratch when designing and developing machine vision applications for specific applications, generally a time-consuming and laborious process," says Neil Sandhu, SICK's UK product manager for imaging, measurement and ranging.
"Now, with the MQCS, you can take our ready-made package and adapt it easily for the task in hand. It's scalable, easy to configure with other sensors or devices as necessary, and has the versatility to integrate into higher controls. So, users can get the accuracy of a high-speed, high-resolution vision sensor, such as the Ranger 3, without the need for extensive programming skills that would normally require."