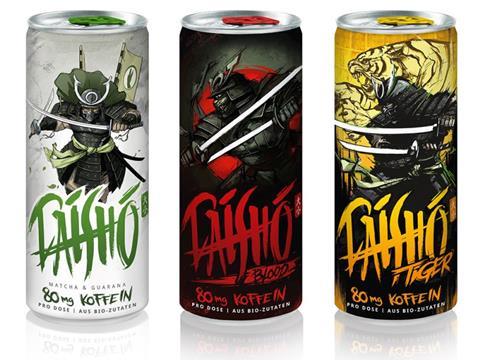 Ball Corporation has collaborated with Attila Hildmann Empire GmbH to produce complexly designed cans for its organic drink, Daisho.
The central design element of the 25-centiliter Slim cans depicts a Samurai warrior with a pair of traditional swords called Daisho. To highlight the sophisticated design in the best possible way, the cans feature Ball's popular HD printing technique. Produced at the Gelsenkirchen, Germany plant, the cans will be available at retail stores in Germany from July in three flavours: Litchi-Lime, Berry-Vanilla and Mango-Pineapple-Coconut.
With the vibrant colored tabs adding to the striking impact of the design, Daisho contains solely natural ingredients such as organic fruit juices, with sweetness from grapes instead of sugar. The caffeine originates from premium organic Japanese maccha, organic guarana and coffee beans. Both the design and the high-quality ingredients differentiate Daisho from conventional energy drinks. However, with 80 grams of caffeine per can, Daisho is a true pick-me-up. For each can sold, Attila Hildmann supports a tiger conservation project in Kaziranga and Pobitora National Park in India.
With 1.6 million vegan cookbooks sold nationwide and numerous TV appearances, Attila Hildmann is developing and promoting high-quality products of organic quality, such as Daisho, that hit the market in 2017 in 0.5-litre glass bottles and has been listed since then in all major German organic supermarkets, including Alnatura, Denns and Bio Company.
To cover new market segments in food retail and meet the demands of his target audience, Attila Hildmann is now putting his trust in Ball's stylish and easy-to-transport 25-centiliter cans.
"The market has long been waiting for a high-quality organic product with premium ingredients and pleasant effect, filled in HD-printed cans, which also allow consumers to support animal welfare. "Daisho will continue to grow and capture new markets – and I see that cans are truly beneficial for logistics. What's more, they chill quickly and provide a great drinking experience. We're very happy with the result, the product looks awesome and our graphics really stand out on the cans."
To ensure smooth project management, Attila Hildmann cooperated with inodrinx functional beverages, specialized on managing and filling innovative products and brands. Due to a close partnership with Ball, selecting the perfect can manufacturer was a clear choice for Martin Wunderlich, CEO of inodrinx: "When I saw the first drafts of these sophisticated designs, it was clear to me that Ball would be the ideal production partner. In my view, Ball's HD-technology delivers the best printing quality on the market. Once again, the whole team was great in supporting us – not only in terms of graphics and design, but also with individual service that was exactly tailored to our project requirements."
Uwe Schmolling, Sales Manager Germany for Ball, adds: "We really appreciate working together with innovative newcomers that bring a fresh breeze to the beverage market. Daisho is a very good example of a meticulous product concept that doesn't make any compromise. Clearly positioned products like Daisho bring true added value to the German beverage market."