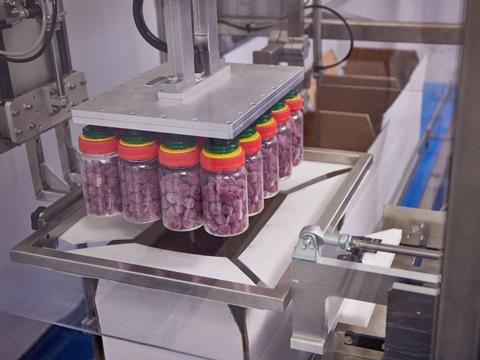 In this edition of The Spotlight, Shemesh Automation discusses developing a turnkey packaging solution for gummies, which prevents downtime associated with coagulation and boosts the accuracy and speed of packaging lines for multiple container types.
Manufacturers in the fast-growing gummies sector have, until now, faced a sticky situation when it comes to maximising the efficiency of their packaging operations.
Because of their natural stickiness and irregular shapes, gummies and jellies are renowned in the food, supplements, and nutraceuticals sectors for being one of the most awkward, hard-to-handle products.
Indeed, when gummies coagulate, filling accuracy can be compromised and production can even face temporary halts due to doses being dispensed in 'clumps' that become too large to fit into narrow container openings.
Global packaging machinery manufacturer Shemesh Automation have channelled over 30 years of market experience into developing a total A-Z turnkey packaging solution for gummies in round, squared and shaped containers that finally gives gummies manufacturers exactly what they need – a high-speed complete packaging line that keeps waste and downtime to an absolute minimum.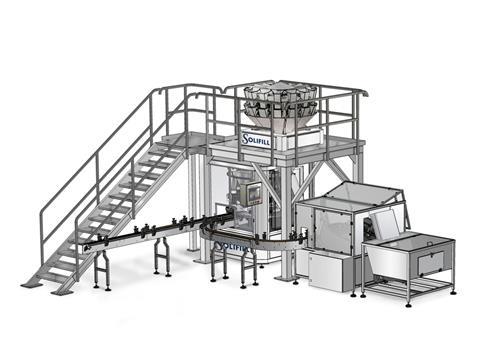 The TKS-G60: A 60 products per minute A-Z gummies packaging line from Shemesh Automation
TKS-G60 is built to GMP standard. It seamlessly combines a unique sequence of technologies that automatically feeds, fills, induction seals, caps, labels, case packs and palletizes bottles and gummies of all common sizes. Quality control, CAT-IV safety, low utilities consumption and industry 4.0 are also embedded across the line design.
Gummies manufacturers understand only too well the importance of a 'one-stop-shop' for machinery. With such a complex product, it's vital for all machines within a line to have maximum compatibility, and just as important for a manufacturer to know who to turn to when issues arise. Shemesh Automation is the only manufacturer in the world to provide an entire uninterrupted bottling line for gummies and jellies where all the core machinery in the line is made by just one manufacturer. That means the Solution, Service and Support all come from the same globally renowned supplier – a huge plus for any gummies or dietary supplements producer!
Also, with the TKS-G60 electrical, mechanical and control systems are all seamlessly integrated to maximise productivity and minimise downtime.
TKS-G60: Engineered for gummies and jellies packaging
The TKS-G60 line features SOLIFILL – a continuous rotary multi-head-weigher based filling machine engineered specifically to tackle the challenges presented by the filling of gummies and jellies.
SOLIFILL includes the following unique processes and features that ensure gummies and jellies are separated, don't stick where they shouldn't and are accurately deposited into containers with either wide or narrow openings:
Containers are fed through a timing screw into an infeed-starwheel which in turn feeds the main turret. Once in the main turret the combination scale filler is timed with the rotary platform to ensure accurate weight transfer.
The product dose is weighed TWICE before being dispensed into the containers. Once when the product is in the multi-head weigher cells, and again after the dose has been dispensed into an interim hopper.
Certain critical areas of the machine are built with a stippled Stainless-Steel surface in order to reduce the level of direct product contact and therefore eliminate sticking
The product passes through a vibration section within the turret to allow for the transfer and settling of the entire dose into a narrow container/bottle opening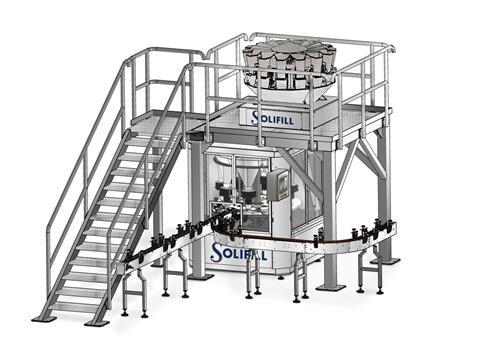 Operating at speeds of 30 to 150ppm depending on the models chosen, the TKS-G60 also features:
An unscrambler that can be either mechanical where bottle choice is limited or robotic where multiple shapes and unlimited types of bottles are involved
An induction sealer which reduces oxygen and moisture thus improving shelf-life
An automatic capping machine for all common cap types
A labeller built to handle all common bottle types - perfect for niche co-packers who frequently switch between product lines
Case Packing and Robotic Palletizing
QC points throughout the entirety of the line to ensure pinpoint accuracy
Contact the Shemesh team for a consultation on how the TKS-G60 can revolutionise your gummies or jellies production.
This content was sponsored by Shemesh.