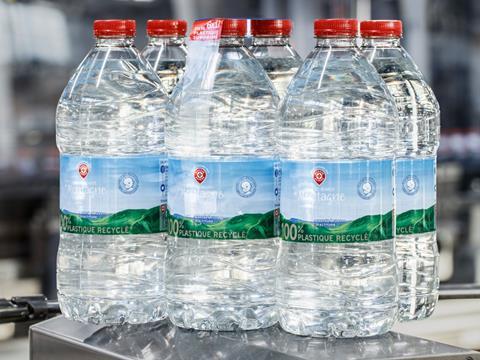 In this edition of The Spotlight, KHS Group discusses its collaboration with Aquamark and French retail chain E.Leclerc on the Nature MultiPack, a resource-conserving shrink packing solution for multipacks of PET beverage bottles.
French retail chain E.Leclerc has an ambitious target: to significantly reduce the amount of packaging material used for its own brands. It thus began looking for an environmentally-friendly alternative to classic shrink film for its water brand Marque Repère. In KHS the company ultimately found a competent partner that was able to reliably meet its exacting requirements.
In 2020 and 2021, Aquamark subsequently invested in two Innopack Nature MultiPack machines from the Dortmund systems supplier. With this resource-conserving system, the bottler will save more than 250,000 metric tons of plastic per annum in the years to come.
Aquamark specializes in the bottling of still and carbonated water into PET bottles. For many years the beverage producer relied on classic shrink film to package its 0.33, 0.5, 0.75, 1.0- and 1.5-liter containers.
"Film packaging has obvious advantages for consumers. The packs can be safely and easily transported and unpacked with little effort," explains Hubert Decroix, Aquamark's general manager. "However, when it comes to sustainability and environmental protection, conventional secondary packaging doesn't do so well."
The use thereof clearly contradicted the bottler's sustainability strategy, which for several years has stipulated that very light PET bottles made of 100% recyclate are used, thus saving significant amounts of plastic.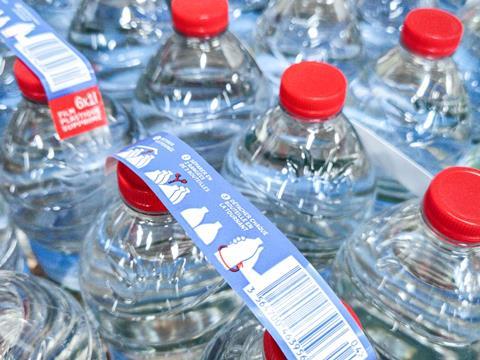 Conscious decision for more environmental protection
In the Nature MultiPack from KHS, Aquamark found a resource-conserving and environmentally-friendly alternative.
In May 2021, the first machine with an output of up to 25,000 bottles an hour was successfully commissioned. Since September of last year, the new six-packs have been marketed at E.Leclerc's around 750 supermarkets throughout the nation – with great success. Since the market launch, sales have increased by 15%.
"This new style of packaging is very popular with our customers. They understand that we want to make a valuable contribution to the protection of our environment with our Nature MultiPacks," Decroix explains.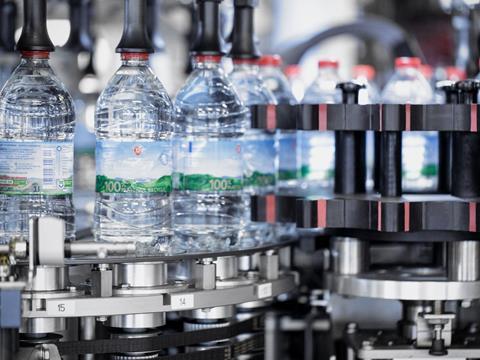 Moreover, the new acquisition proves convincing as it consumes less energy than the shrink packer previously used thanks to the omission of the heating tunnel. With this saving and by cutting down on the amount of adhesive needed, costs per pack have been considerably reduced.
Decroix estimates that he will have a full return on his investment in two years. "At the start of the project we of course studied all of the systems on the market. None of them could match the benefits of KHS' plant engineering as regards sustainability, efficiency and economy," he says. "The Nature MultiPacker has definitely exceeded our expectations. It has an efficiency of 98% – which is a marvelous result."
This high level of productivity also has a positive impact on the work performed by the operators. The old shrink packer required frequent routine tasks to be carried out, one of which was to change the film reel on a regular basis, with the machine then temporarily stopped. "In contrast, the KHS system is designed in such a way that it operates fully automatically. This considerably eases the operators' workload," Decroix adds.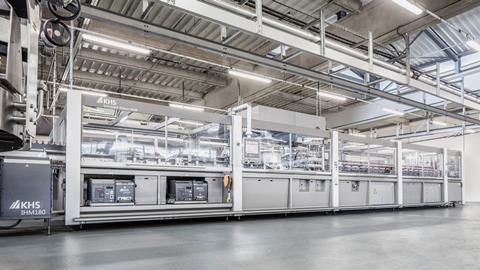 Showcase project for the French market
Such outstanding results made Aquamark's decision to procure a second Innopack Nature MultiPack machine an easy one.
This content was sponsored by KHS Group.