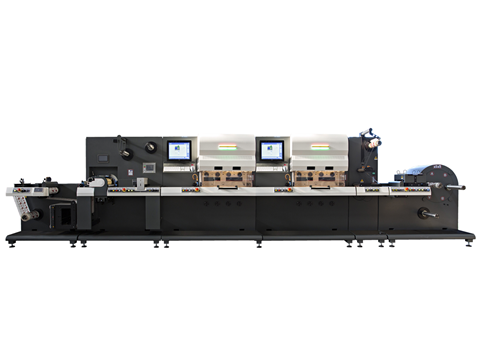 SEI Laser, a dynamic and innovative company in the world of laser technology, was present at the Labelexpo with a completely renovated stand, an evolution of what has been featured in the international fairs over the past few years.
Operating in the market since 1982, the company wanted to give relevance to the logo that will be remembered in the stand, through a game of triangular shapes. The samples were different and exposed in light boxes that created an experience corridor going along Labelmaster, the leading laser system of this trade show.
Labelmaster, the most complete and professional "roll to roll" system available for label die-cutting and digital finishing, is the perfect solution for the production of self-adhesive labels in all sectors: wine, food & beverage, care and clean products, beauty, textile, flexible packaging, promotional items, and many more. During the four days of the fair, visitors had the opportunity to see the processing of different types of labels featuring special finishing and printed on different supports in reel, from paper in different finishes to PP passing through the technical fabric.
A wide range of materials to appreciate the versatility and excellence of this laser system, the result of the SEI Laser engineers work, who have spread Italian excellence over the past 30 years.
During Labelexpo, SEI Laser has made an important partnership with LECTA (to which Cartiere del Garda belongs), the leading European manufacturers and distributors of specialty papers for labels and flexible packaging, coated and non-coated paper for publishing and commercial printing, along with other high value-added print media. Labelmaster will process Adestor self-adhesive reels, Lecta's brand of self-adhesive materials.
Labelmaster has unique technical features. Available from 1 to 4 laser heads, Labelmaster reaches a maximum speed of 100 meters per minute, which is costant thanks to a "traction control system" that works in synergy with the control unit of the material shift, guaranteeing high quality of the working process.
Labelmaster is the first and only modular system that can be customized upon purchase or afterwards with a series of optional upgrades. It has several finishing options: laser die-cutting/coding/micro-perforation, semi rotary die-cutting, full rotary flexo varnishing, semi rotary flexo varnishing/printing, semi rotary Hot Stamping, overlamination, self-wond/liner lamination, Label Shifting, detecting table, sheeting, slitting.
Labelmaster is the laser system specifically developed to meet the demands of converters and label manufacturers can benefit from an intelligent system that will increase productivity and therefore their profits: in an increasingly competitive market, the barcode reader allows you to change the work "on the fly", thus guaranteeing high productivity. The new control software is fully compatible with the most common digital workflows, this feature makes it the solution that guarantees extremely innovative workmanship of great quality and efficiency.
More info: