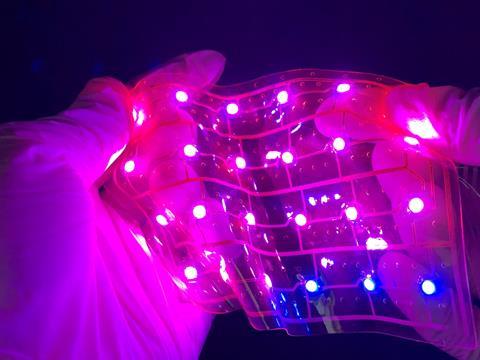 Panasonic has introduced BEYOLEX™, a new thermoset stretchable film polymer substrate for printed electronics (PE). This novel material is based on a proprietary non-silicone thermoset polymer chemistry developed by Panasonic researchers at the Electronic Materials laboratory in Kadoma, Osaka, Japan.
BEYOLEX™ features softness, conformability, high-temperature resistance, and ultra-low permanent deformation after stretching, says the company. The stretchable film is 100 microns in thickness, delivered on a high-temperature polyethylene naphthalate (PEN) carrier for mechanical stability during processing and a thin PET or polyester coversheet for protection.
The high surface energy of the material makes it compatible with a wide variety of functional inks and pastes, including screen-printed stretchable silver composite pastes, sintered metal pastes and liquid metals like eutectic Indium Gallium alloys.
These properties make BEYOLEX™ an attractive substrate for many end-use applications including, but not limited to, health/wellness, automotive, sensors, haptics, Internet of Things (IoT), gaming, augmented reality (AR), soft robotics, and aerospace, according to the company.
In conjunction with AIPIA member Printed Electronics Ltd the developers have produced two demonstrators using the new substrate and PEL's conductive inks. The first, an NFC demonstrator, shows good stretchability and conformability, say the companies.
An array of LEDs provides visual indication of the NFC tags communication status. Thanks to the high-performance of the thermoset polymer used the LEDs and circuitry are protected by a second layer of the same film. The device can work in harsh conditions and even works underwater, they state.
The companies believe this type of device has the potential to expand NFC usage into many different industries and applications.
The second demonstrator is an addressable coloured LED array. This device can be used for lighting, decoration or digital signage. It is very thin and lightweight compared to other conventional constructions, they say. In addition, it is stretchable, pliable, foldable and rollable. It can even be crumpled which is a first for flexible LED arrays they believe. Because of its pliability the device can be attached to just about any surface, including clothing and unusually shaped objects.
While Panasonic is not currently aware of anyone testing BEYOLEX in the packaging sector, Tsuyoshi Takeda, product manager, electronic materials business division, which is part of the general business management division at Panasonic Industry, says that the substrate can open up the usability of NFC tags with great potential to contribute to the packaging industry. The company hopes to explore these options with interested parties.
This article was created in collaboration with AIPIA (the Active and Intelligent Packaging Industry Association). For a full update on active and intelligent packaging, come along to the AIPIA World Congress (co-organized by Packaging Europe) in Amsterdam on 14-15 November. The only smart packaging event covering the entire technology spectrum, the World Congress is a meeting place for the global active and intelligent packaging industry where brand owners, innovators, and other stakeholders can network and see and discuss the latest trends and innovations. Register to attend here.